Winteronkruide om mee rekening te hou ná die someroes
July 2016

ELBÉ HUGO en MARLENE VAN DER WALT, LNR-Instituut vir Graangewasse, Potchefstroom
Vogbewaring en die bestuur daarvan raak krities vir volhoubare gewasproduksie. Winteronkruide is net sulke sterk kompe teerders vir vog en voedingstowwe soos someronkruide. Daarom is dit tog belangrik om winteronkruidinfestasies dop te hou en te beheer wanneer dit welig groei.
Saadstorting in die winter moet ook bekamp word sodat die probleem nie oor tyd eskaleer nie. Winteronkruide ryp nie dood nie en om te skoffel is nie wenslik nie, omdat te veel grondvog verlore gaan.
Die mees algemene winteronkruide wat voorkom waar somergewasse geplant was, is radiatorbossie (Senecio consanguineus), sydissels (Sonchus spp.) vaalskraalhanse (Conyza spp.) en witblomblou dissel (Argemone ochroleuca).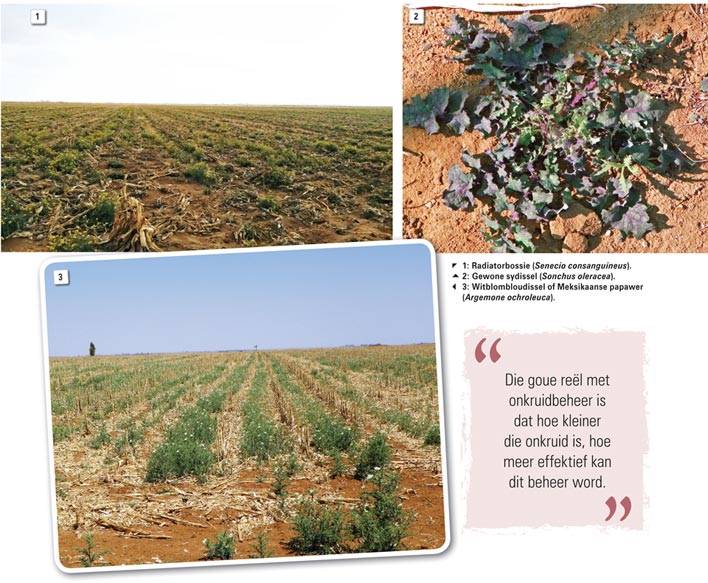 Sommige onkruidspesies kan wel ook laat in die somer begin ontkiem en deur die winter saad stort. Sulke onkruide sluit kakiebos (Tagetes minuta), kleinkakiebos (Schkuhria pinnata), knapsekêrels (Bidens spp.) en Kaapse duwweltjie (Emex australis) in.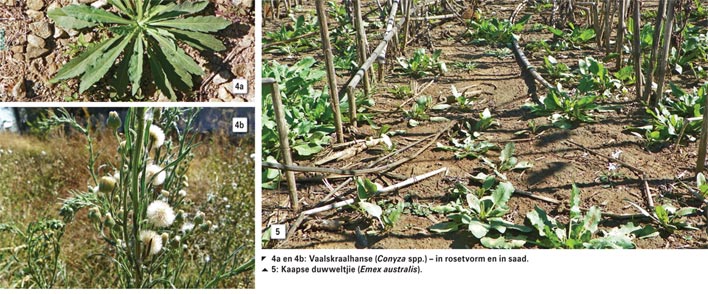 Gedurende die afgelope paar seisoene het die voorkoms van Kaapse duwweltjie verhoog en wanneer dit toegelaat word om onbeheerst te groei, kan dit 'n paar bespuitings kos om getalle weer onder beheer te kry. Die meeste winteronkruidspesies is breëblaar-spesies (dikotiele) en kan effektief met na-opkomsonkruiddoders beheer word. Onkruiddodertoediening met 'n hoogloopspuit is ideaal omdat be spuitings gedoen kan word terwyl gewasse (afgedroog) nog op die land staan.
Onkruide kan sodoende meer tydig beheer word. Trekkerspuite en/of implemente sal heel moontlik eers na-oes in die lande kan inkom – wat dan gewoonlik te laat is. Dit beteken die onkruide het al te groot geword, wat na-opkomsonkruiddoders se effektiwiteit kan benadeel. Die goue reël met onkruidbeheer is dat hoe kleiner die onkruid is, hoe meer effektief kan dit beheer word. Dit geld ook vir winteron kruide wat meestal eers 'n roset-groeivorm as saailing het voordat dit vertakkings begin.
Tabel 1 gee 'n kort opsomming van na-opkomsonkruiddoders wat in somergewasse gebruik kan word om winteronkruide te beheer. Raadpleeg elke onkruiddoder se etiket vir optimale aanbevelings rakende dosisse.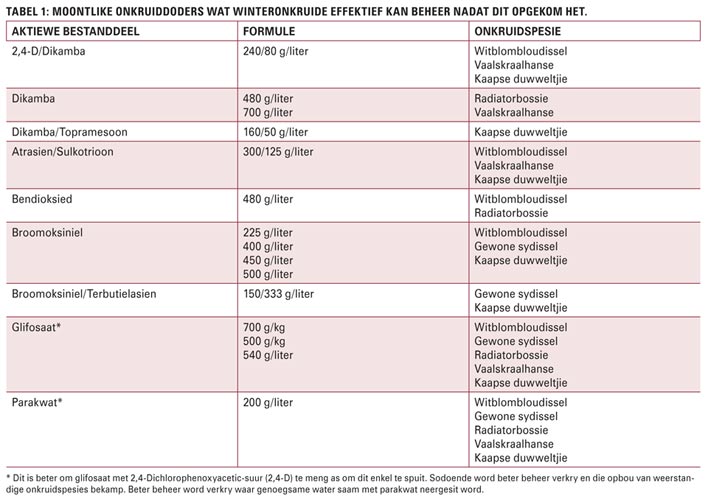 Vir enige verdere navrae kontak dr Elbé Hugo by HugoE@arc.agric.za of me Marlene van d Walt by VDWaltM@arc.agric.za.
Publication: July 2016
Section: On farm level