Winter Cereal Trust Bursary Scheme:Nine years of achievements reviewed
October 2015

ISHMAEL TSHIAME, CEO: GFADA and COBUS LE ROUX, general manager: ARC-Field Crops Division
The Winter Cereal Trust (WCT) Bursary Scheme was established in 2006 with the aim of helping students start their careers in the field of small grains research. With the Bursary Scheme, the WCT increases the industry's pool of appropriately qualified scientists in an equitable and transparent manner.

The WCT aims to award ten bursaries every year to post-graduate students to help finance their masters or doctoral studies in the small grains related field. In addition, a further three bursaries are awarded to students in their final year of undergraduate and/or honours studies and who are planning post-graduate studies related to small grains at least to the level of an MSc degree. The latter three are allocated specifically to previously disadvantaged students.
Key principles that are applied with the allocation of said bursaries are firstly pairing a distinguished study leader with a post graduate student with a sound academic record. Secondly, the field of study will focus on finding outcomes to pressing challenges within the grain value chain.
The mentor will keep the WCT informed of the student's progress and guide the student in his or her studies.
Bursary allocation from 2006 to 2014
Since the bursary scheme began in 2006, the WCT has awarded ten bursaries for BSc Honours degrees, 63 bursaries for MSc degrees and 21 bursaries for PhD degrees (see Table 1). Since 2006 to date, the trust has awarded 94 bursaries as shown in Table 1.

In 2006, the WCT Bursary Scheme started with three bursary awards, two awards for MSc and one award for a PhD and grew to a significant 14 bursaries awarded in 2014. In terms of monetary value, the Winter Cereal Trust has invested the sum of R5,59 million over the past nine years, averaging a R621 00 investment per annum (see Graph 1).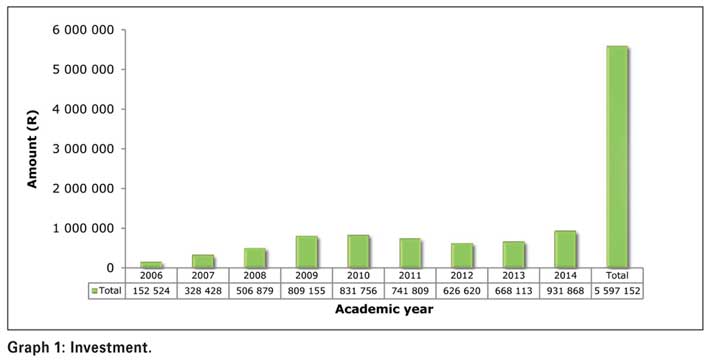 Breakdown of bursary awards according to fields of study
Graph 2 indicates the various funded fields of studies since 2006. Taking a closer look at the profile of these funded fields of study, Food Science dominated with 32,93% (Honours 4,21%, MSc 23,40% and PhD 5,32%), Genetics with 26,59% (Honours 1,06%, MSc 17,02% and PhD 8,51%) and Plant Breeding with 21,27% (Honours 1,06%, MSc 13,83% and PhD 6,38%).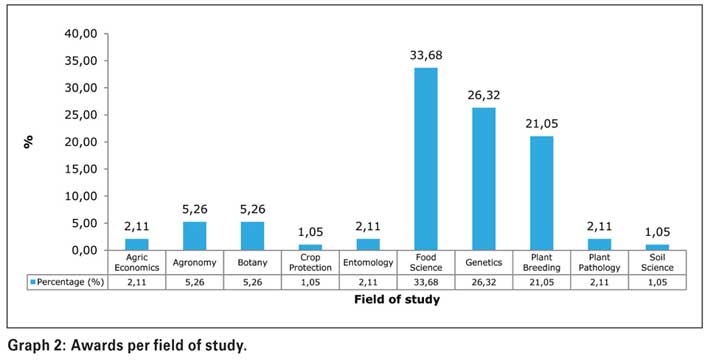 Although Food Science came out on top regarding the overall awards, it came third with regards to PhD awards (5,32%) compared to the Plant Breeding and Genetics fields, respectively, with PhD awards of 6,38% and 8,51%.
Skills and development
To date, the WCT Bursary Scheme has awarded 42 students with bursaries from 2006 to 2014. Of them, 29 have successfully completed their studies, one student is currently writing her dissertation, while nine have just started their studies. Only four students did not complete their studies due to personal reasons.
Graph 3 further shows that ten students have been awarded PhD bursaries since 2006. Out of these ten bursary holders, three completed their PhD degrees and five students are busy with their studies, while only two students did not complete their studies due to health problems and personal matters.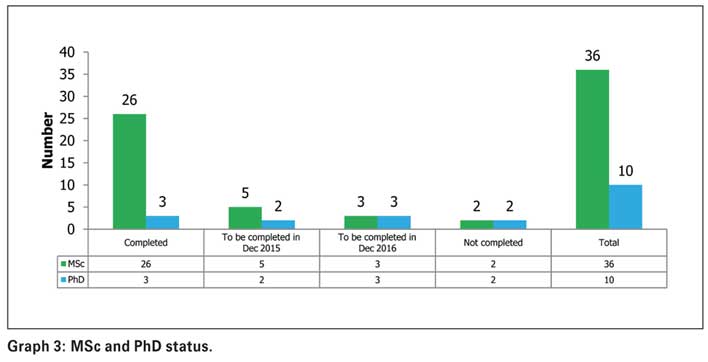 Employment status of the bursary holders
Graph 4 outlines the employment status of the successful students since the inception of the bursary scheme. Most importantly, 24 are employed within the following sectors: 16 have permanent employment and three contract employment. The remaining five are busy with internships at grain related institutions.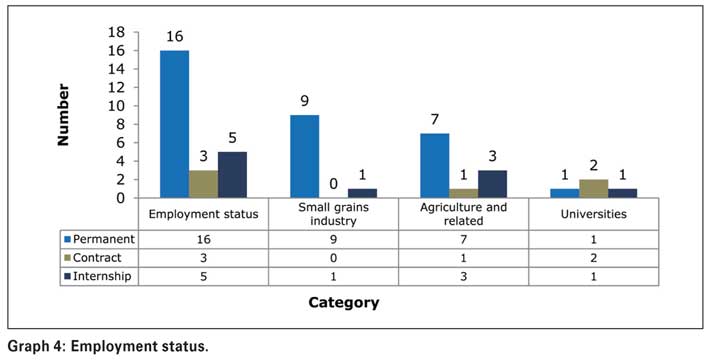 It should also be noted that four bursary holders continued with their PhD studies, but funded by different fund providers and institutions.
In conclusion we can say that the small grains value chain should be commended for their continued and successful implementation of the WCT Bursary Scheme through the Winter Cereal Trust. In the process they have opened up careers and opportunities for various young South Africans, including those coming from a disadvantaged background.
Furthermore, they have trained and made available 29 much needed scientists in an endeavour to make South Africa food secure.
The bursary scheme continues to contribute positively to transformation in the small grains industry by proactively seeking appropriately qualified students to support via the scheme.
Publication: October 2015
Section: On farm level