Winsgewendheid bo-aan Graan SA se 2019-lysie
January 2019


JANNIE DE VILLIERS, HUB
Om die Januarie-uitgawe se Standpunt te skryf, bly altyd 'n groot uitdaging. Nie alleen is die sperdatum vir die rubriek reeds aan die einde van November nie, maar dit is 'n tyd van die jaar wat die weer 'n uiters belangrike invloed het op hoe ons die nuwe jaar ingaan.
Die tydsverloop tussen einde November en middel Januarie wanneer die rubriek gelees word, is geweldig groot en sóveel kan gebeur. Met die skrywe hiervan het die weste nog geen reën gehad nie en staan die planters maar bek-af in die skure en wag. Die Oos-Vrystaat het ook nog nie klaar geplant nie en die nagte bly koud – ten spyte van bloedige warm dae.
Die suide het klaar gestroop en beskou 2019 effe optimisties, aangesien daar teen jaareinde 'n deurbraak in die koringgradering plaasgevind het. Ten minste is daar een goeie rede waarom dit in 2019 beter in die koringbedryf behoort te gaan! Hulle het so lank aan die agterspeen gesuig dat hulle dit amper nie gemaak het nie.
Graan SA kan ongelukkig nie die weer beïnvloed nie, behalwe om die navorsing op só vlak te kry dat ons minstens weet watter manier die beste is met die oog daarop om die skommelinge en onstabiliteit teen te werk. Die ongenaakbaarheid van die natuur laat alle graanprodusente maar broos.
My hoop is dat 2019 rigting in grondhervorming sal bring. Al die pyne en gepraat van 2018 moet een of ander tyd tot 'n punt kom. Georganiseerde landbou het aan die einde van November 2018 ons beste plan aan die Presidensie gaan voorlê om landbou op 'n nuwe groeitrajek te kry. Om dit te doen, het ons mekaar nodig en daarom gaan Graan SA alles in die stryd werp om 'n paar nuwe boustene vir landbou te pak.
Die graanbedryf se winsgewendheid staan bo-aan ons 2019-lysie. Sake wat aandag moet kry, is legio, maar as ons die een oor winsgewendheid mis, dra die res min waarde. Elke kilogram per hektaar is nou krities en so ook elke rand per ton in koste of prys.
Daar is geen waarborge dat 2019 'n beter jaar gaan wees nie, maar na 2018 is ons almal emosioneel sterker. Ons het saam 'n uiters uitdagende 2018 gehad. Tog is ons daardeur. In graanboerdery het 'n mens nie net 'n sterk balansstaat nodig nie, maar ook 'n sterk emosionele balansstaat. Ons huwelike, gesinne en gemeenskap het dit ook nodig. Ons spandeer menige ure aan ons besighede, maar konsentreer maar min op ons eie ontwikkeling. Ons moet aandag daaraan skenk om groter kapasiteit te bou ten einde al die uitdagings te kan hanteer. Maak seker dat daar in 2019 iets op jou program is om in jou eie vaardighede te belê ten einde 'n beter produsent, huweliksmaat en ouer te wees. As ek so na die tydperk in ons land se geskiedenis kyk, is dit juis die mensvaardighede wat ons in sulke uitdagende tye kan deurtrek.
Graan SA het ten doel om hierdie jaar weer so naby as moontlik aan ons lede te beweeg sodat ons presies sal weet waar ons 'n verskil kan maak. Ons wil dan al ons kennis, hulpbronne en verhoudings aanwend om oplossings vir dié uitdagings te vind. Om voor te loop in onstuimige tye soos hierdie vereis nie net dapperheid nie, maar ook oneindige wysheid. Moet asseblief nie ophou om vir ons leiers te bid nie. Ons is saam met julle in die stryd.
Sterkte vir 2019!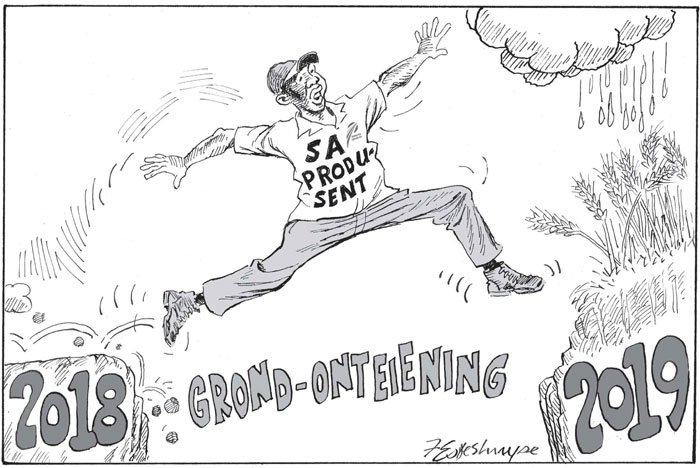 Publication: January 2019
Section: Features