NICO HAWKINS, BESTUURDER, SUID-AFRIKAANSE GRAAN INLIGTINGSDIENS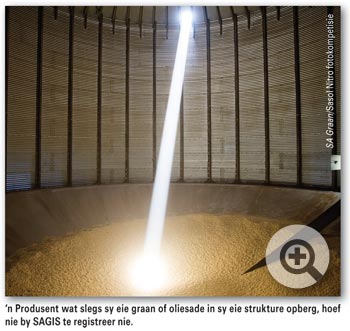 Op versoek van die graan- en oliesadebedrywe is die Suid-Afrikaanse Graan Inligtingsdiens (SAGIS) in November 1997 tot stand gebring. SAGIS se hoofdoelstellings is die versameling, verwerking, analisering en tydige beskikbaarstelling van graan- en oliesade-inligting aan alle rolspelers.

Markdeelnemers (medewerkers), soos opbergers, verwerkers asook in- en uitvoerders, word statutêr verplig om by SAGIS te registreer en inligting in 'n voorgeskrewe formaat te verskaf.
Wat die registrasie en verpligtinge van opbergers betref, is die volgende definisies in die Statutêre Maatreël onder die Wet op die Bemarking van Landbouprodukte (Wet 47 van 1996) belangrik:
"Kommersiële doeleindes" – waar 'n inkomste of voordeel verkry word
"Opberger" – 'n persoon met opbergingsfasiliteite van 500 ton en meer, waar graan of oliesade vir kommersiële doeleindes hanteer word
Die klem is dus op opberging vir kommersiële doeleindes en 'n inkomste moet uit die opbergingsaksies verdien word.
In kort kom dit dus daarop neer dat 'n produsent wat slegs sy eie graan of oliesade in sy eie strukture, ongeag die kapasiteit daarvan, opberg, nie by SAGIS hoef te registreer nie.
Indien 'n produsent egter graan vir iemand anders teen vergoeding sou opberg en hanteer en die strukture se kapasiteit groter is as 500 ton, is so 'n produsent verplig om te registreer en inligting aan SAGIS deur te gee.