White bean project empowers developing farmers
April 2023

JENNY MATHEWS,
MANAGEMENT AND DEVELOPMENT
SPECIALIST AND EDUCATOR
White beans are a nutritional powerhouse, packed with fibre and protein. They are a good source of micronutrients such as copper, iron, folate, magnesium and vitamin B6. These beans are high in antioxidants and have many health benefits. Consumers are becoming more aware of these health benefits, so it is a good time for farmers to learn how to grow and market this superfood successfully.
Grain SA is proud to support the Schoeman Group initiative, which assists and mentors developing farmers participating in the small white bean project known widely as Zamukele, which means 'adopt' in isiZulu.
THE ZAMUKELE PROJECT
Kallie Schoeman, chief executive officer of the Schoeman Group, a leading commercial farmer and proud member of Grain SA, says the Zamukele project aims to empower emerging dry bean farmers towards becoming commercial farmers.
Established in 2017, the project identifies and supports farmers of small white beans by providing access to mentorship, technical advice, certified seed, fertiliser and local and international markets. Farmers are provided with the seed and fertiliser at the start of the growing season and then they make payment for these inputs after the crop has been harvested. The project participants are effectively contract growers, as they know that whatever they harvest will be marketed to the Schoeman Group.
Kallie believes there are many people with a love for soil and a true passion for farming. But, he says, that alone is not enough! You must find someone who can guide you – someone with experience. When doing this, one learns from experience, avoids making costly mistakes and the farm enterprise becomes more sustainable.
According to Grain SA's regional development managers, this system is working well and is giving many small farmers a great start. The same team from the Schoeman Group's Zamukele project sends out expert extension officers, who visit the farmers frequently during the growing season and are well equipped to advise them.
The Grain SA team of managers and mentors further supports the farmers who participate in this project through trainers in the field, who travel to the regions to present a course designed by
Grain SA, 'Introduction to dry bean production'. The farmers who have attended these courses report that they have found them very useful and that the new knowledge has given them more confidence.
The Zamukele programme also has other strategic partners who assist farmers with additional input support, such as:
TriFert, who supplies fertiliser at the start of the season and deducts the money owed to them when the farmers deliver their bean crops.
Laeveld Agrochem has developed a spray programme for optimum bean production, ensuring that the farmers use the correct dosage.
Agri Technovation provides leaf nutrition recommendations, soil samples and fertiliser recommendations.
Pannar provides seed discounts and assistance.
Each farmer receives five visits from the project mentors, who visit them at critical times during the production stages. At the end of the season, the farmers deliver their dry white beans to the bean plant in Delmas. Here the beans are cleaned and sorted and then supplied to the food processing industry.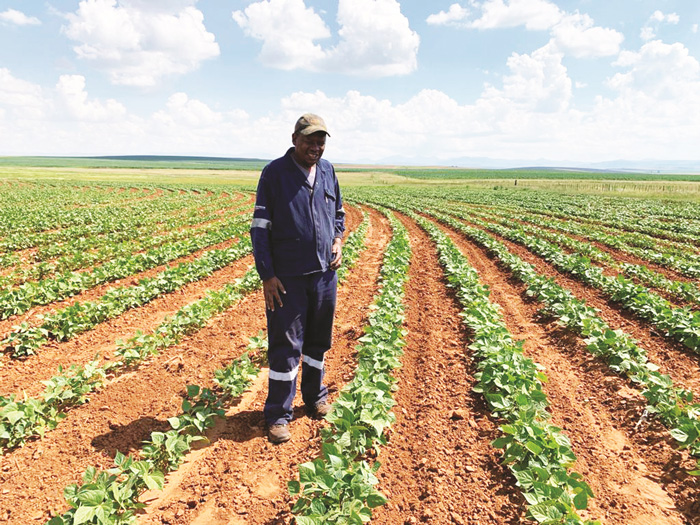 MARKET DEMAND
It is very important for farmers to familiarise themselves with the consumer demands for the crop that they wish to grow. There is no point producing something when there is no demand, for that commodity. It is equally important to find out who will buy your product before you even plant the seeds.
The demand for dry white beans has seen tremendous growth in South Africa and abroad. South Africa consumes 45 000 tons of beans per year, and countries such as the United Kingdom consume 359 000 tons of beans per year.
The Schoeman Group has identified this as an opportunity, so in anticipation of the growth in demand a cleaning facility, which delivers directly to canning factories, was set up in Delmas. The cleaning plant has the latest in grain sorting technology and can produce 18 tons of canning grade beans per hour.
With the plant established, they have aimed to ensure a steady supply of dry white beans. This prompted the project with contracted farmers around the country, with both commercial and developing farmers.
White beans are a difficult crop to grow, its grading process is stringent and the risks are high. However, the Schoeman Group supports bean farmers by offering a fixed price before they plant to avoid price fluctuations.
ACKNOWLEDGEMENT FOR HARD WORK
The Schoeman Group held a day of celebration on Wednesday, 7 September 2022, to honour the developing farmers who had achieved outstanding successes in the Zamukele programme this year. They are:
Grain SA board member, Ramoso Pholo from Lichtenburg in North West, who achieved the best yield, averaging 1,6 t/ha.
Another farmer from Lichtenburg in North West, Athalia Lolwane – wife of the late Thando Lolwane, a previous Grain SA Developing Farmer of the Year – is now farming in her own right and produced the cleanest grain with no foreign material.
Former Grain SA vice-chairman and member of the executive, Ramodisa Monaisa from Gelukspan in North West, was recognised as the farmer whose production has improved the most over the past three years.
Farmer Petrus Tsotetsi from Kestell in the Free State was acknowledged for the best maintained fields, which he kept weed-free throughout the season.
Results such as these are encouraging and show that there is enormous potential in the new era farmers – it is just waiting to be unlocked and encouraged. Grain SA is inspired by role-players such as the Schoeman Group, who is making an impact for positive growth in the sector.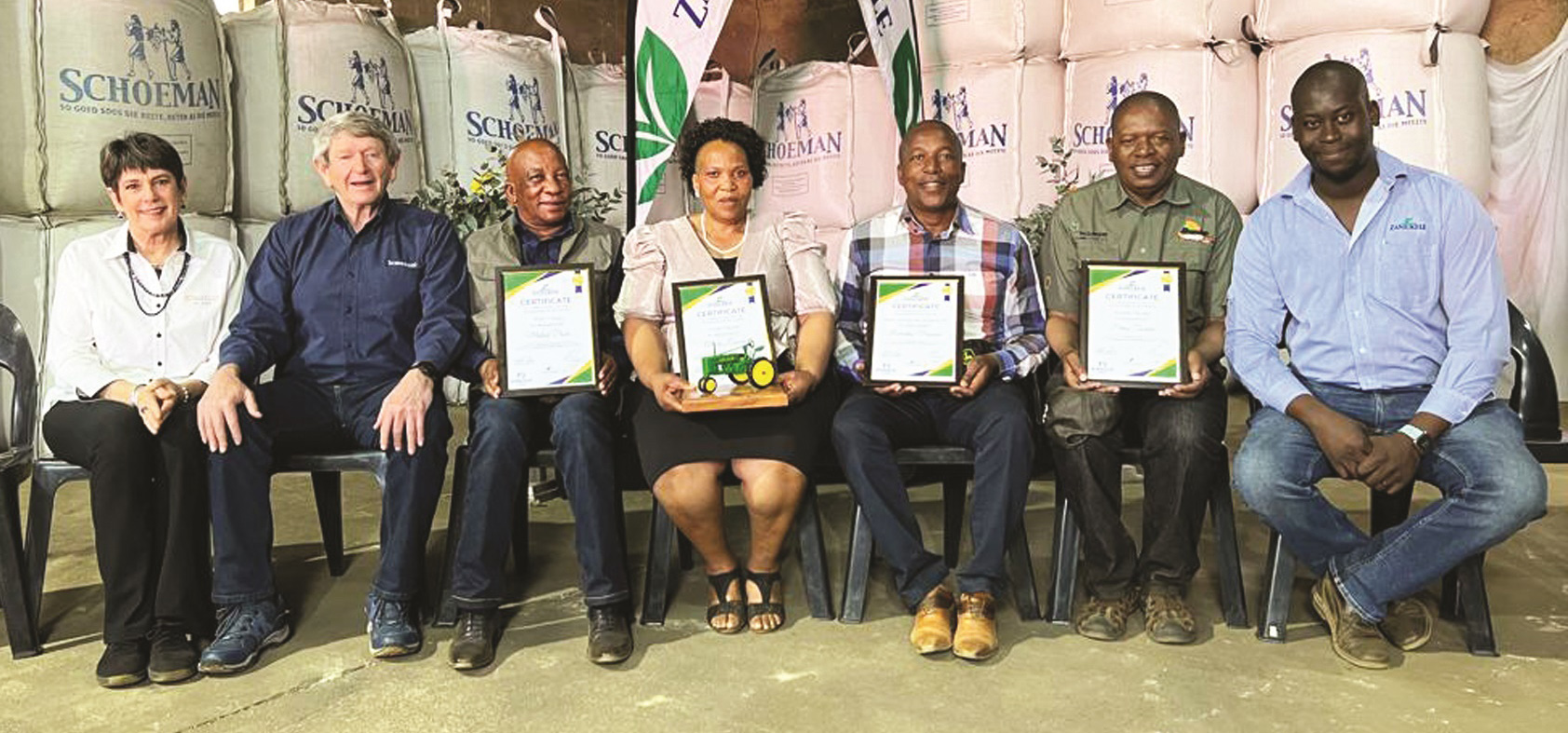 Publication: April 2023
Section: Pula/Imvula