When the going gets tough, farmers have to keep on going
May 2016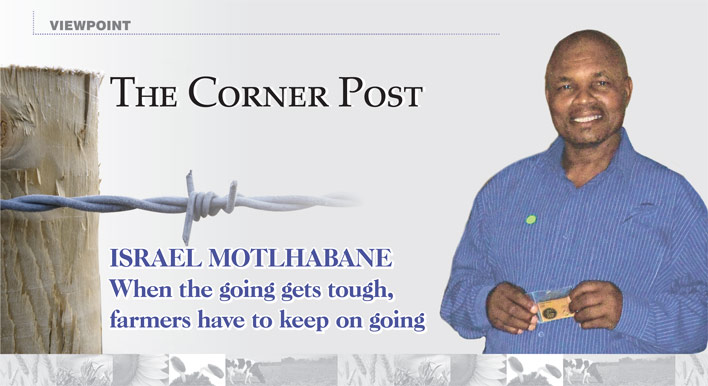 To Israel Motlhabane the Grain SA/ Absa Developing Grain Producer of the Year award he received in 2012 was the highlight of his farming career. It encouraged him to invest in skills and training to ensure a successful farming operation. However, as all farmers know, there are many ups and downs in this industry and success in farming depends on the weather, which is something that a farmer cannot control.
The past two years have been difficult ones for Israel, especially with the drought and extreme heat conditions of the past season. This has however not discouraged him and he firmly believes that conditions will change favourably so that the next season will be a better one. 'My wish for all the farmers of our country is good rains so that we can continue producing food,' he adds.
He feels that his story of good and bad times on the farm can inspire other emerging farmers. He shares the following advice which he learned first-hand:
Love what you do – always be passionate.
Learn from everyone who has more experience and knowledge than you so that you can become a better farmer.
Work hard and follow the correct farming practises.
Plan ahead to ensure that a bad year does not destroy you.
Never think of money; focus on farming.
Don't lose hope. Have faith that things will be better – because it will improve.
Becoming a producer of food, a farmer who owns his own land was a childhood dream of Israel's. This dedicated farmer grew up in the Hoopstad district where his father was a farm worker on a commercial farm. 'I had to farm, because it is in my blood. I loved the land and dreamed of having my own farm one day,' he reminisces. In 1996 this dream became a reality when he purchased Annasvlei, a farm of 568 hectares, at an auction in Wesselsbron. On that day he made a conscious decision to do everything possible to become a successful grain producer and that is why he will keep on going even in these difficult conditions. Israel means God will prevail (triumph) and his strong faith that conditions will improve may have something to do with the meaning of his name.
In 2008, he expanded his land base with a further 328 hectares when he purchased another farm in the same district with the financial support from the Department of Rural Development and Land Reform. On Uitkyk Farm there is 200 hectares of arable land with the rest being used for grazing.
During a good season he managed a yield of approximately 5 tons per hectares on his maize and 2 tons per hectares on sunflower. Due to the drought he was not able to plant maize this year, but is hoping for an average sunflower crop at least. To Israel farming is a business and profit is of the utmost importance. He has therefore decided to sell more than half his Bonsmara herd to cover debt and living costs. 'It is also easier to provide grazing and feed for only 25 to 30 cattle in these conditions,' he adds.
Israel still attends Grain SA Farmer Development Programme study group meetings in his area. He has attended various training courses presented by Grain SA and the Department of Agriculture and has also empowered his farm workers through relevant courses. He says that opportunities like these presented by knowledgeable, experienced people have expanded his knowledge of farming. He always keeps his eyes and ears open for any information about farming. He is especially grateful to Grain SA and Johan Kriel (Grain SA Farmer Development Co-ordinator in the Free State) who has played a major part in his development as a grain producer.
This 'man of vision' (as Johan Kriel describes him) is married to Nunu, a teacher. They have three children: Daughter Lipuo (a paralegal), and sons Gomoco and Kamogelo, whom he hopes will follow in his footsteps.
He is not a political man and feels politics is hurting farmers. 'Wrong decisions made by government affect us at ground level,' he says and adds, 'Government should start investing in the future of agriculture'. With money losing value and prices increasing South Africans are not positive about the future, but he is trying to remain positive. His dream for all developing and commercial farmers is that conditions will improve so that South Africans can buy local produce and not imported products.
There is an interesting Congolese proverb which says, 'When the leg does not walk, the stomach does not eat'. To Israel giving up is not an option – he will keep on working hard to help feed the people of this country.
This month's edition of The Corner Post was written by Louise Kunz, Pula Imvula contributor.
For more information, send an email to louise@infoworks.biz.
Publication: May 2016
Section: Pula/Imvula