Wheat outlook for 2018/2019
March 2019

This article outlines wheat prospects for both local and international markets, in terms of production, supply, demand, trade and ending stocks.
International prospects
World 2018/2019 wheat supplies are expected to increase by about 0,8 million tons due to additional carryover from Russia and Canada, which offset a reduction in Australian production.
Based on the updated ABARES estimate, Australia's production is lowered by 500,000 tons to 17,0 million. This would be the lowest Australian wheat output since 2007/2008. Canada's wheat production is by raised 300,000 tons to 31,8 million, based on the latest estimate by Statistics Canada.
Projected global 2018/2019 trade is lower, as reduced Australian, EU, and U.S. exports are partly offset by higher Russian exports, which have increased 1,5 million tons to 36,5 million.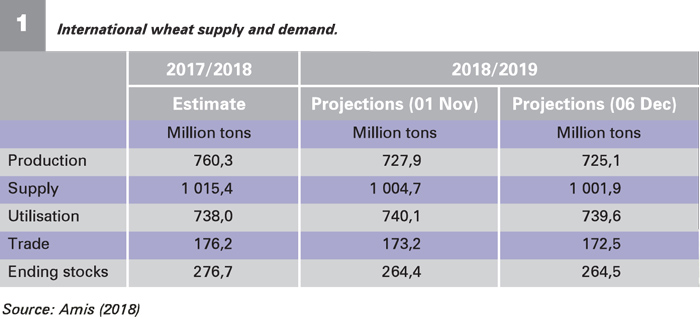 Russia and other Black Sea suppliers continue to displace EU and U.S. exports in several markets in the first half of 2018/2019 but are expected to be less competitive in the second half based on reduced exportable supplies. Australia's wheat exports are lowered by 1,0 million tons to 10,5 million as the export prices are expected to remain uncompetitive and more supplies are consumed domestically for feed.
Global ending stocks are raised 1,4 million tons to 268.1 million, primarily on increases for the EU and the U.S. but are 4% lower than last year's record 279,9 million.
Local prospects
Wheat supply is projected at 3,9 million tons for the 2018/2019 marketing year; this includes about 700 000 tons of opening stocks as at 1 October 2018, local commercial deliveries of 1,8 million tons and imports of 1,4 million tons, together with a surplus of 8 000 tons.
Demand for wheat is projected at 3,3 million tons; this includes 3,2 million tons for human consumption, 3 100 tons released to end consumers and withdrawn by producer together with 19 000 tons of seed for planting purposes.
Exports are projected at 37 000 tons of processed products and 80 000 tons of whole wheat.
Wheat stock levels are projected to be about 600 000 tons on 30 September 2019, with an average processed quantity of 260 000 tons per month, representing available stocks for 68 days.

Publication: March 2019
Section: Pula/Imvula