04 Dec 2017
SUMMER GRAIN PRODUCTION: FALL ARMYWORM SURVEILLANCE
Dr Marinda Visser, Manager: Grain Research & Policy Centre, Grain SA
The introduction of Fall Armyworm (FAW), a highly invasive pest into South Africa, has led to the establishment of a permanent FAW steering committee. The national status of the pest, surveillance, diagnostic capacity, damage assessment, pest management and control regulations are the points of deliberation for this committee.
Grain SA, SANSOR and the Department of Agriculture Forestry and Fisheries (DAFF) contracted CROP WATCH AFRICA to setup an area wide surveillance grid in the Western Cape to monitor for the presence of the Fall Armyworm (FAW), a newly introduced invasive pest in South Africa.
The initial surveillance program has kicked off in Limpopo, Mpumalanga and Kwa-Zulu Natal. Important to note that there were positive catches of FAW in the Thabazimbi, Groblersdal, Middelburg, Belfast and Komatipoort areas.
Results of the monitoring in the summergrain production region will be reported as it becomes available. Further surveillance work in the summegrain production regions is anticipated.
Please visit Grain SA's website for a complete list of the registered list of agrochemicals by clicking here
---
AGRICULTURAL CONDITIONS
Petru Fourie, Research Coordinator & Agricultural Economist, Grain SA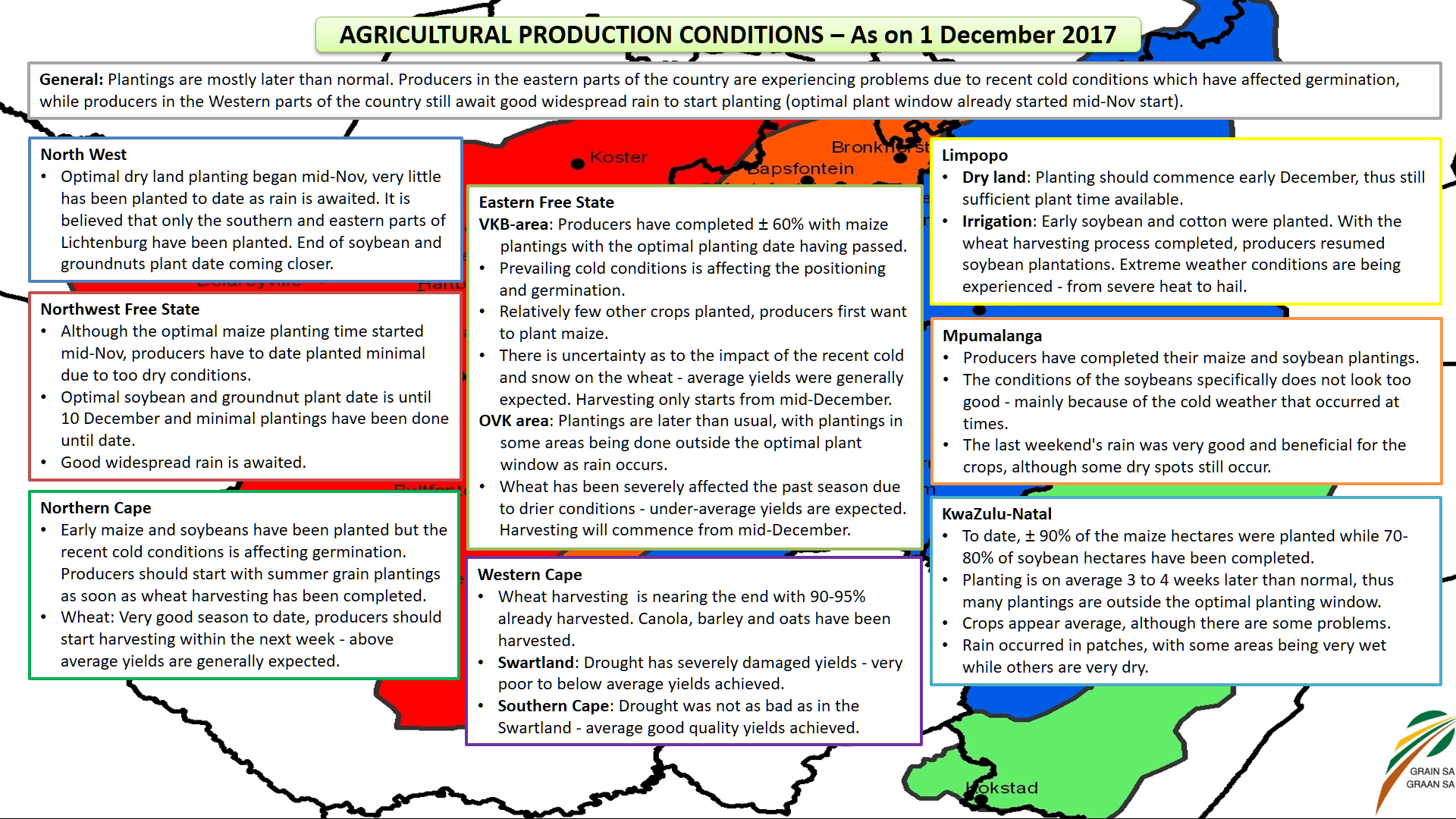 ---
SUNFLOWERS FOR CHRISTMAS


Estie de Villiers, editor: SA Grain / Grain
Keep a lookout for the sunflower cover of the SA Graan/Grain, which should be in readers' mailboxes.
Dr. Safiah Ma'ali (ARC-Grain crops) write about the impact of late sunflower planting can have on yield (page 34) and Jolanda Nortjé (Southern African Grain Laboratory) talks about the quality of the 2015/2016 sunflower harvest - page 34.
In the Grain Market Review, Luan van der Walt (Grain SA) discusses supply and demand scenarios based on plant intentions (page 18) and Corné Louw (Grain SA) looks back on key economic indicators and input trends of 2017.
You can also browse the new and previous editions of the SA Grain/Grain e-book on the Grain SA website. Happy reading!