20 Oct 2017
GRAIN PRODUCER OF THE YEAR
Grain SA celebrated the cream of the country's grain producing crop during a prestigious gala awards evening, held at The Theatre on the Track in Midrand on Friday, 13 October 2017. This year's awards ceremony commemorated the 18th year of the grain awards and was attended by Hon Ms Naledi Pandor, Minister of Science and Technology, senior governmental officials, representatives of the various Trusts, organised agriculture as well as academia, industry leaders and the guests of honour – our grain producers from around the country.
The 2017 Grain SA/Syngenta Grain Producer of the Year was awarded to AC van Wyk, from Bultfontein in the Free State. Planting maize since childhood, Van Wyk's roots date back to 1841 and following his completion of a B.Agric (HONS) at the UOFS, and a learning experience in the US, he returned to their farm, Warmhoek and has not looked back since. Favouring crop production, van Wyk plants only maize which is ideally suited to the majority of his approximately 6,000 ha of arable land, consisting of water table soils. He focuses much of his time and effort on both entrepreneurship and management, continuously planning based on value-estimation and profitability. In the Western Free State, maize as a single crop, can be planted profitably without damaging the soil as a resource, and agronomic sustainability can be achieved with a 15-20% of fellow lands. The other finalists in this category were Willem & Hein Visagie from Visagie Boerdery in Porterville and Jan Boshoff from Delmas.

The 2017 Grain SA/ABSA/John Deere Financial New Era Commercial Farmer of the Year was awarded to Edwin Thulo Mahlatsi from Bothaville in the Free State. Edwin, walking away with a brand new John Deere 5065 MFWD OOS tractor sponsored by John Deere Financial is a grain producer on the farm Swartlaagte, which is where he grew up, later worked as a foreman, and in 2012, obtained a lease agreement on the farm through the government's PLAS system. After joining Grain SA, Mahlatsi was able to put his 210 ha of good, arable soil to best use and having navigated through a difficult 2015/16 season, Mahlatsi's maize this year yielded a substantial 5-and-half tons per hectare. The other finalists in this category were Remember Mthethwa from Dundee and Lolwane Vuyani from Lichtenburg.
View the photo gallery below to catch a glimpse of the evening's highlights
The Grain Producer of the Year is proudly sponsored by Syngenta South Africa
---
DAY OF CELEBRATION
Grain SA celebrated the successes of its farmer development programme during a jubilant event held in Bloemfontein on Thursday, 5 October 2017. The function, which was attended by more than 300 guests included government representatives, agricultural stakeholders and approximately 190 emerging grain producers. Consisting of four categories, the Day of Celebration honours Subsistence, Smallholder, Potential Commercial and New Era Commercial farmers and their contribution to the country's food security. The Potential Commercial category is a new category introduced this year for farmers with access to more than 100 hectares of arable land, but currently not able to use all the available land, yet they are in a position to become 250 ton New Era Commercial Farmers..
The 2017 Grain SA/ABSA/John Deere Financial Subsistence Farmer of the Year was awarded to Mavis Nomvula Hlatshwayo from Hereford, Mpumalanga. Mavis joined Grain SA and became a study group member in 2005 and regularly attends study group meetings, workshops and courses organised by Grain SA. Mavis is a member of Sizanani Society, an organisation for female members only. They support each other and give donations to community members living below the bread line. This remarkable woman dreams of access to more land to farm on and to create job opportunities for the unemployed in her community. The other finalists in this category were Simphiwe Elliot Gumbi and Ghaasa Solomon Dhlongolo both from KwaZulu-Natal.
The 2017 Grain SA/Syngenta Smallholder Farmer of the Year was awarded to Thembalihle Hopewell Tobo from Bizana in the Eastern Cape. Tobo joined the military in 1986 and was a soldier for ten years before his love for the land brought him back to his roots in Nduge. He started farming with maize and livestock in 1996 and cultivates 25 ha of communal land and owns a tractor and the necessary implements. In the 2015/16 planting season Thembalihle planted 14 ha of dry land maize and despite the drought managed to harvest 41 tons. He also planted 2 ha under the Jobs Fund project on which his yield was 3,5 t/ha. He believes that with agricultural activities in the area, the prevailing poverty could be drastically alleviated and by working together the Ndunge and Bizana farmers could become the feeders of the nation. The other finalists in this category were Meluxolo Mfoxo from Ugie in the Eastern Cape and Hamu Samson Shuwisa from Sheepmoor in Mpumalanga.
The 2017 Grain SA/Monsanto Potential Commercial Farmer of the Year was awarded to Paul Mvelekweni Malindi from Edenville. Paul obtained the 441 ha farm Dankbaar, close to Edenville, through PLAS, joining Grain SA's Farmer Development Programme. It took Paul a couple of years to realise that there are no short cuts in agriculture and things need to be done correctly or not at all. Malindi now leases land to graze his cattle on and planted 140 ha of sunflower and 180 ha of maize this season. Paul's first priority is to take care of his family and workers. He believes in his own capabilities and the future of the South African agricultural sector. The other finalists in this category were Ruben Mothlabane from Bultfontein in the Free State and Tshediso Daniel Maqala from Ficksburg.
A highlight on the Grain SA calendar, and fondly referred to as the "Harvest of Farmers", the 2017 Day of Celebration is a testimony to the investment of the organisation in farmer development.
View the photo gallery below to catch a glimpse of the day's highlights

The Day of Celebration is proudly sponsored by ABSA AgriBusiness and John Deere Financial
---
SORGHUM MARKET IN PERSPECTIVE
Luan van der Walt, Economist, Grain SA
It is again the time of year when producers should start making decisions for the season ahead in terms of production and what should be planted. The current season will be remembered as an excellent production season with new records specifically in the maize and soybean markets. The maize production for the season is estimated at 16.7 million ton, making it the biggest production crop in SA's history. Sorghum production for the season is estimated at 151 335 ton, produced on 42,350 ha. The average sorghum yield for the season was therefore 3.57 ton/ha. The big maize crop, however, brought about its own challenges with prices under pressure which are likely to trade at an export parity again in the coming season. However, the profitability of maize is under pressure and producers are beginning to look at alternative crops to plant for the coming season, including sorghum, amongst others. However, if producers are considering planting sorghum, a couple of factors must be taken into account.
Supply and demand
The overall demand for sorghum in South Africa has declined considerably over the past few years and the market has dropped from around 400,000 ton per year to around 160,000-190,000 ton per year. Local consumption which has fallen significantly over the past few years can be attributed to several factors, amongst which, most importantly, is that sorghum predominantly compete with maize (both in terms of production and consumption), as well as the fact that new technological advances have taken over a large part of the malted sorghum market. However, the sorghum consumption for flour has shown an increasing trend over the past few years, but only to the extent of covering the decrease in the malt market's consumption, and has not increased sufficiently to raise the overall drop in sorghum consumption.
The use of sorghum in the animal feed market has also declined significantly, resulting in a further loss in sorghum consumption. The volatility of sorghum production, with market shortages in one year and overproduction the next also has precariously prices as a result. The extent of the domestic market is such that in most instances, the country can, with low to medium sorghum production and relatively few imports, provide for domestic consumption. As a result, there is high risk of surpluses should with average to above-average productions.
Figure 1 indicate local sorghum supply and demand as from the 1997/98 marketing season. It clearly illustrate a decline in domestic consumption over the past few years, with volatile yields and large variations. In Figure 1, the actual annual hectares planted are shown by the yellow columns, while the grey columns indicate the total hectares that would have met domestic demand, given the season's average yield and starting stocks. Average South African consumption over the past 5 years amount to approximately 170,000 tonnes, while the average yield over the past five years was approximately 2.5 ton per hectare. This signify that if, under normal circumstances about 50 500 hectares are planted together with an average opening stock of approximately 45 000 tonnes, average domestic consumption can be met. The expected carryover sorghum stock for the current season amounts to approximately 50 000 ton, indicating the possibility of an over-supply of sorghum in the market if excess hectares are planted and average yields obtained. This can cause pressure on prices in the coming season, and producers should consider these factors when deciding on next season's production.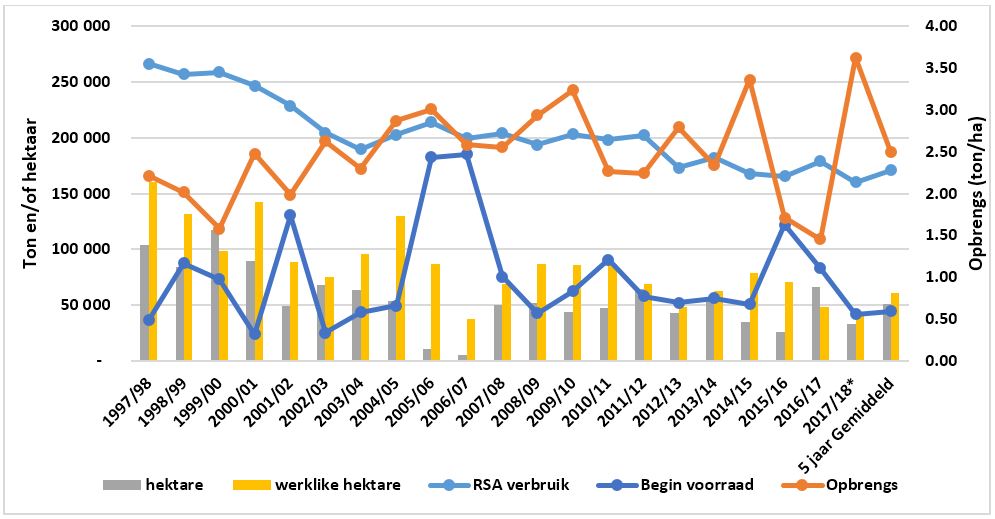 Figure 1: Graphic representation of supply and demand figures of sorghum in SA
Source: SAGIS and Grain SA
New season
The new season presents several challenges to producers and will therefore necessitate the good decision-making concerning crop planning and marketing. Many producers are looking for alternatives to maize due to the crop's profitability which is under pressure. If sorghum production for the season is considered, take note of the following:
Domestic sorghum consumption quite limited and therefore overproduction occurs easily.
Overproduction of sorghum can lead to significant price reductions, which will place its profitability under pressure.
Sorghum generally compete with maize in terms of production areas, in the flour market, on shelves, and its inclusion in animal feeds.
Producers should seriously consider having pre-season contracts in place when they want to plant sorghum rather than planting with no form of price hedging in place.


---
EU WHEAT IMPORTS: WHO IS THE "FIRST COME, FIRST SERVE BASIS" REALLY SUPPOSED TO SERVE?


Michelle Mokone, Economist, Grain SA
Since the signing of the new Economic Partnership Agreement (EPA) between the European Union (EU) and Southern African Development Community (SADC) in June 2016, there has been one main subject that raised questions, particularly amongst wheat producers, which was the duty-free wheat imports from the EU but further to that was a concern as to how the duty-free benefit will be allocated amongst importers.
Under the agreement, 300 000 tons of wheat is allowed access into the SADC region under duty-free. The quota allocation per country is based on historical trade data; South Africa was allocated 248 000 tons of duty free wheat imports, while the remainder was allocated to the BLNS (Botswana, Lesotho, Namibia and Swaziland) countries, of which 80% of any unutilised wheat quota by the BLNS countries is then reallocated to South Africa. On average, South Africa imports 1.5 million tons of wheat annually,
According to the SADC-EU EPA, the wheat import quota is to be granted on a first come, first served basis which of cause became the main point of concern as this created uncertainties about how the duty-free will be allocated amongst local wheat importers. It was not long after the agreement became effective, that only a few large companies saw the opportunity and got the full benefit of the deal, causing the first come, first serve clause to come under scrutiny.
After consulting the International Trade Directorate at the Department of Agriculture, Forestry and Fisheries, it was indicated that the intention behind the quota was mainly to benefit local millers and consumers, however the result of the First come, First served system did not fulfil its mandate, instead benefiting one or two big companies.
After a number of complains on the First come, First served system, Grain SA and other industry players made it a point of discussion at various Agricultural Trade Forum (ATF) meetings held monthly by DAFF in order to try and find a more plausible system of allocation.
Since this was a new roll out of the wheat import quota under the EU, it was expected that there would be some challenges that would have to be addressed, one of which is the allocation of the quota, which became an even bigger concern that heightened complaints within the wheat industry. In response to address these challenges, the Department of Trade and Industry has written to the EU Commissioner to communicate the ineffectiveness of the First come, First Served system while trying to find a way to make sure that this deal benefits the intended parties; which are the local milling companies and wheat consumers.
Such negotiations will take place during October and depending on the outcome, the industry challenges could be addressed when duty-free imports resume again in February 2018.
---
WESTERN CAPE: AGRICULTURAL CONDITIONS
Petru Fourie, Research Coordinator & Agricultural Economist, Grain SA
Swartland
The winter grain harvesting season is around the corner and it is expected that the northern parts of the Swartland, as well as parts closer to the West Coast can harvest very little to no crops. Poor to average yields is expected in the middle-Swartland while below average to average yields are expected in the Southern Swartland.
Canola was planted at a different time and average to poor yields are generally expected. Plant population conditions are poor, with different areas displaying different potential. Pastures are struggling in drier areas while the silage is average. Producers are cutting grains for use as feed and to utilise as much as possible before not being able to havest anything.
Rûens / Southern Cape
The Southern Cape has average crop potential. Pastures are under pressure and producers are continuing to feed their weaners to round them off as quickly as possible. Some producers in the Southern Cape started harvesting.
Producers between Riversdale and Mosselbay planted only in July, thus any rain still present can benefit the crops. Crops are generally in a good condition and average yields are expected.
---
OCTOBER SA GRAAN/GRAIN ON THE WAY
Estie de Villiers, editor: SA Grain/Graan
Remember to check your mailbox: the October issue of SA Graan/Grain should arrive soon! In this edition there is a special focus on irrigation as well as a focus on the winter grain region. You can also download the eBook here