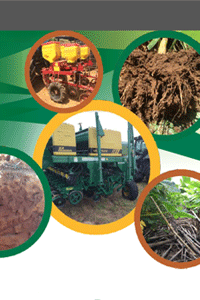 The "No-Till" Club of Ottosdal, in collaboration with Grain SA and the Maize Trust, once again presented a very successful and insightful conference on 13-14 March at the Ottosdal Showgrounds. With approximately 180 producers in attendance, this year's theme focused on Diversity's key role in the regeneration, resilience and profitability of conservation agriculture.
Dr Roelof Botha, part-time economic adviser at PriceWaterhouseCoopers and with the University of Pretoria's Gordon Institute of Business Science (GIBS), discussed the economic progress for South Africa expected in 2018, and with his positive outlook, left conference goers full of courage for the future.
Prof Johnie van der Berg of North West University's presentation on conservation agriculture and biodiversity was incredibly insightful, followed by Prof Chris Danhauser, who continued with a presentation on diversity in crop production and cover crops. Producers were able to acquire first-hand knowledge from Izak Dreyer, farmer from Vrede, about his experiences of conservative agriculture after his visit to the USA and Gerrie Trytsman (ARC Animal Production) and Dr Andre Nel (Independent Researcher) discussed several Ottosdal cover crop trail results. After a delicious lunch, a visit was made to the trials on George Steyn's farm, with emphasis on different cover crops and the utilisation thereof, as well as a ground cover field grazed by cattle.
Conservation agriculture in South Africa was the second day's focus, and Dr. Hendrik Smith, Conservation Agriculture Facilitator at Grain SA emphasised, among other things, soil health, conservation agriculture principles, soil carbon content and the opportunity producers have to address global warming. Further contributions were also provided by GP Schoeman (AgriSol) who covered soil analyses and recommendations, Hennie du Toit, (Animal and Grazing Scientist from Obaro), who discussed advantages of high pressure grazing in the North West Province, and Dr. Ronel Hendriks, (ABM Africa) who discussed soil health and microbiology. The day concluded with a producer panel discussion discussing conservation agriculture in practice. It was clear that there is no blueprint for conservation agriculture but that certain principles should be applied to tackle the issue, of which healthy soil is a very important first step. The prize for the best speaker was shared by Izak Dreyer (Vrede) and Koos Bezuidenhoud (Migdol).