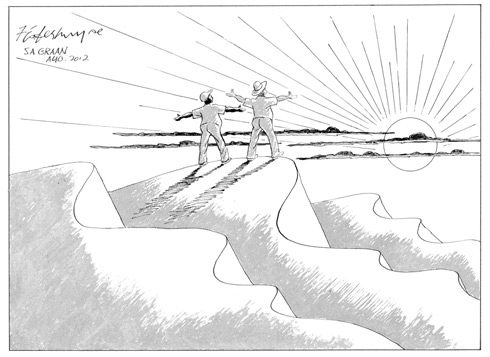 Graan SA is 'n organisasie van mense. Ons fokus is om produsente van graan en oliesade te help om volhoubaar te produseer, maar vandag wil ek so iets sê van die ander kant van ons besigheid – iets oor ons menskant. Mense wat van vlees en bloed aanmekaargeweef is deur ons Skepper, maar ook vol emosies is en deur Sy genade, vol van Sy Gees.
Ons ervaar blydskap wanneer die reën op 'n jong koringland val, of as ons die syfers van die stropermonitor in 'n mooi jaar met een oog dophou, en die emosie om ná 'n lekker reënbui sommer net saam met jou vrou en seun deur die lande te ry en die reuke en rye te geniet. Dan praat Koos ook altyd van die dae wat hy, in plaas van om 'n boek te lees, eerder die bakkie vat en daar tussen die beeste deur gaan ry om sommer net te kyk – en te geniet!
Ek wil graag uitkom by die punt wat ek wil maak: Wat sê ons vandag vir medeprodusente wat ná 'n brand na tientalle dooie stoetramme kyk, of 'n land wat deur 'n tornado platgewaai is of vir 'n ma wat haar laerskoolkind Maandagoggend by die koshuis aflaai en die stilte in die kar alleen moet trotseer? Meer nog, ná die tragedie van geliefdes wat jy verloor in ongelukke langs die pad. Daardie alleengevoel as alles op die plaas stil word en dis net jy, jou God en die emosies van die lewewat oorbly. Wanneer jy soos 'n Kaleb staar na die berge en die reuse wat daar bly en jy weet daar is nie 'n ander pad as teen die berg uit nie en alles loop nie noodwendig soos jy gedroom het nie.
Ek lees die ander dag die volgende aanhaling uit die boek Strengthening the soul of your leadership deur Ruth Barton: "The great illusion of leadership is to think that man can be led out of the desert by someone who has never been there."
Ja, dieselfde Skepper wat verantwoordelik is vir daardie ongelooflike ervarings en emosies wat ons baie keer as bewerkers van die aarde beleef, is ook dié Een wat ons soms die woestyn in neem om daar alleen aan ons karakter te gaan verander. Dis nie 'n lekker tyd nie, maar dis só nodig – sodat dit ons tot groter diensbaarheid kan lei. Diensbaar vir ons Skepper, ons eggenoot, gesin, medeprodusente en ons land.
As Graan SA wil ons vandag 'n oomblik wy aan die menskant van ons besigheid. Ons wil dink aan hulle wat op watter wyse ook al, deur die westewind die woestyn ingewaai is. Ons wil bid dat God die werk wat Hy in jou begin het, sal volvoer totdat Hy weer kom. Ons bid vir vertroosting vir dié wat geliefdes of werkers aan die dood afgestaan het, dié wat met siekte gediagnoseer is, dié wat skade gely het en dié wat stoei met finansiële oorlewing.
Ons bid vir elke werknemer en hulle gesinne wat daagliks hul tyd en energie daaraan wy om die landbou-omgewing 'n beter plek te maak en laastens bid ons vir ons land, sy leiers en sy mense.
Mag God jou genadig wees en jou lei deur watter siklus jy ook al mag gaan, om dié mens te word waaroor Hy droom.
"...jy weet daar is nie 'n ander pad as teen die berg uit nie en alles loop nie noodwendig soos jy gedroom het nie."

Jannie de Villiers, Uitvoerende hoofbestuurder