Veranderinge in die gradering van sojabone vir die 2015/2016-seisoen
April 2015

DR SIERK YBEMA, besturende direkteur, Sierk Ybema Graandienste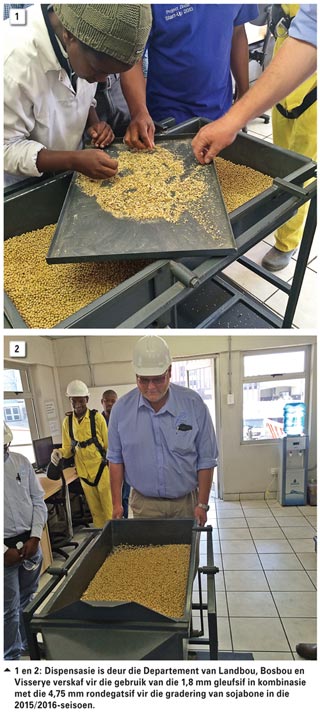 Dispensasie is deur die Departement van Landbou, Bosbou en Visserye verskaf vir die gebruik van die 1,8 mm gleufsif in kombinasie met die 4,75 mm rondegatsif vir die gradering van sojabone in die 2015/2016-seisoen.
Die gradering van fyn materiaal, soos sand en fyngebreekte sojabone verskaf aan die gradeerder groot probleme. Dus het die bedryf wetenskaplike ondersoeke uitgevoer om die probleme op te los en meer akkurate gradering te verseker. Uit die ondersoek het dit duidelik geword dat 'n kombinasie van siwwe die oplossing bied.
'n Gleufsif in kombinasie met 'n 4,75 mm rondegatsif (die sojaboonsif) sal die probleme oplos. Uit die ondersoek was dit duidelik dat 'n 2,2 mm of veral 2,5 mm gleufsif die aangewese oplossing is. Die siwwe is egter nie direk beskikbaar nie, aangesien dit meer as drie maande sal neem om hoëkwaliteit siwwe te vervaardig.
Vir die 2015/2016-seisoen is daar besluit om die 1,8 mm gleufsif te gebruik aangesien hierdie siwwe meer algemeen beskikbaar is en vir die gradering van koring, sonneblomsaad en graansorghum gebruik word. Die moderne siwwe is so vervaardig dat die siwwe op mekaar pas en saam gebruik kan word.
Die verandering in die gradering van sojabone kan soos volg opgesom word:
Die 4,75 mm rondegatsif (boonste sif) word in kombinasie met die 1,8 mm gleufsif (onderste sif) gebruik vir die bepaling van vreemde voorwerpe.
Al die materiaal wat deur beide siwwe gaan, word deel van vreemde voorwerpe. Alle voorwerpe wat nie deur die 1,8 mm gleufsif gaan nie en wat anders is as sojabone, glas, steenkool, mis, sclerotinia of metaal en los saadhuide asook sojaboonpeule is deel van vreemde voorwerpe (soos in die verlede).
Aangesien 'n 1,8 mm gleufsif saam met die 4,75 mm rondegatsif gebruik word, word die hoeveelheid stote verhoog vanaf 20 stote na 30 stote om seker te maak dat al die voorwerpe kleiner as 1,8 mm wel deur die sif beweeg.
Die graderingstabel moet ook aangepas word aangesien daar 'n groter hoeveelheid vreemde materiaal in die vreemde voorwerpe beland met die voorwerpe onder die 1,8 mm gleufsif wat ingesluit word. Die maksimumtoelating vir vreemde voorwerpe word vanaf 4% na 5% verhoog. Gevolglik word die maksimum van die kombinasie van vreemde voorwerpe en sclerotinia vanaf 6% na 7% verhoog. Die res van die graderingstabel en toe latings bly dieselfde.
Sojabone en gedeeltes van sojabone wat deur die 4,75 mm rondegatsif gaan, word gedurende die 2015/2016-seisoen boop die 1,8 mm sif bepaal. Die maksimumtoelating bly 10%, soos tans.
Die volgorde van die graderingsproses word ook aangepas, aangesien die gradering van vreemde voorwerpe verander. Dit word diagrammaties in Figuur 1 voorgestel.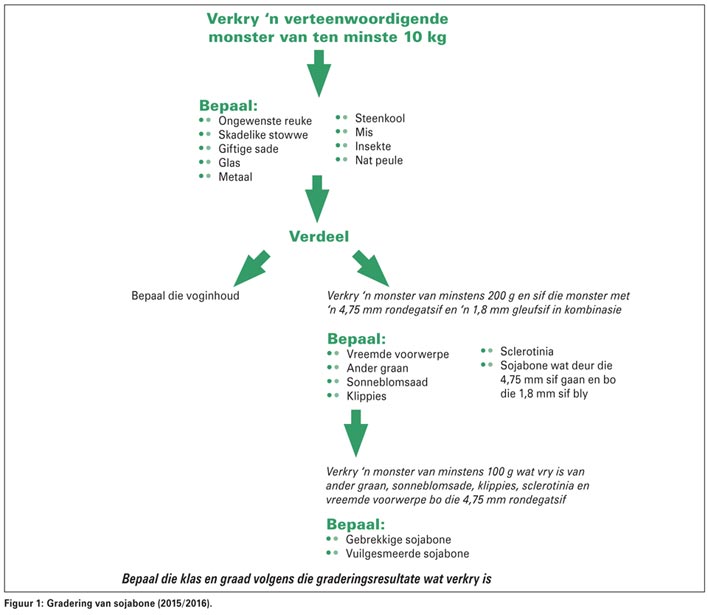 Publication: April 2015
Section: On farm level