Vals kommandowurms — vertel motvlugte ons iets?
September 2015

GODDY PRINSLOO, LNR-Kleingraaninstituut, Bethlehem en HANNALENE DU PLESSIS, Noordwes-Universiteit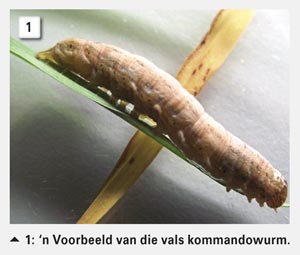 Motvlugte van vals kommandowurm (Foto 1) word sedert 2013 met emmertjie-feromoonvalle gemonitor. Die feromoon
is 'n reukstof wat in die val geplaas word en die mannetjies aanlok.
Hierdie monitering word gedoen om die vlugpatrone van die motte vas te stel en 'n vroeë waarskuwingsisteem in plek te kry om veral garsprodusente te waarsku. Vals kommandowurm was in 2010 verantwoordelik vir meer as R8,5 miljoen se skade aan gars in die Noord-Kaap-besproeiingsgebiede Monitering word in vyf verskillende gebiede gedoen; vanaf Douglas in die suide tot Viljoenskroon in die noorde.
Reuse-motgetalle
Baie groot getalle motte is gedurende 2014 op Viljoenskroon in die valle gevang alhoewel daar op die besproeiingsland waarby monitering plaasgevind het, vir twee seisoene nie koring geplant is nie.
Die patroon het ook nie baie by ander lokaliteite verskil nie. Dit is dus duidelik dat die motvlugte nie aan die gewas op die land gekoppel is nie, maar dat die motte uit die omgewing waar die valle geleë is, kom. Spesifieke natuurlike gasheerplante waarop hulle floreer, is nog nie in die omgewing geïdentifiseer nie.
By Viljoenskroon is daar gedurende Mei motgetalle van ongeveer 274 per dag aangeteken, wat bykans sewe keer meer was as dieselfde tyd in 2013 (Grafiek 1).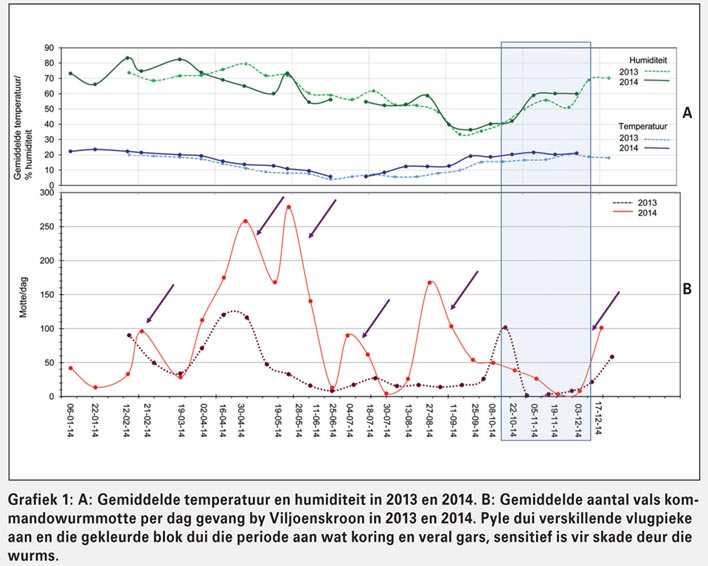 Gedurende Julie het daar 'n vlugpiek voorgekom wat ook ses keer hoër was as die ooreenstemmende tyd in 2013. Die volgende vlugpiek het einde Augustus plaasgevind en was ongeveer elf keer meer as die vorige jaar. As die ontwikkelingstyd van die eiers en die wurms in ag geneem word, kan ons dus verwag dat daar in Oktober groot getalle wurms teenwoordig moet wees.
Op Jan Kempdorp en Hartswater is min of meer dieselfde tendens waargeneem, met groot getalle motte gedurende April en Mei en daarna weer in September en Oktober, terwyl daar op Hartswater ongeveer tien keer meer motte voorgekom het as in die vorige jaar (Grafiek 2).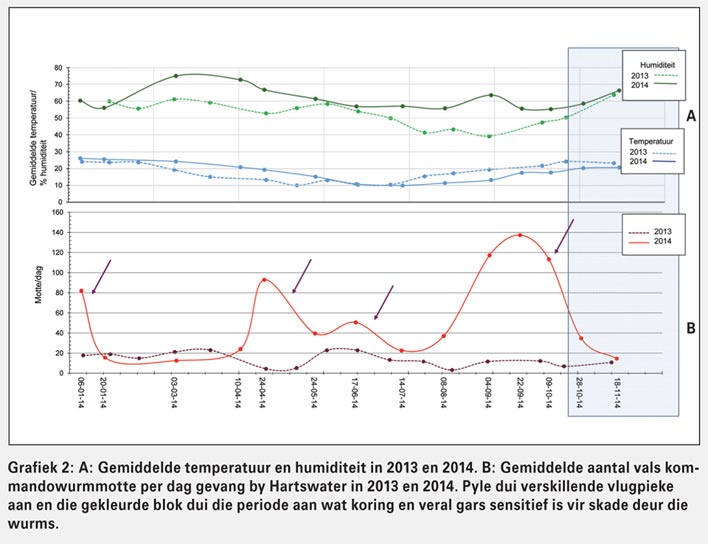 Hierdie hoër motgetalle het vir ons aanduidings gegee dat 'n uitbraak verwag kon word. Daarom is daar reeds in die eerste week van Oktober opnames in die Vaalharts- en Taung-gebied gedoen vir die teenwoordigheid van vreetmerke en wurms.
In verskeie lande, veral in die Bull Hill- en Taung-areas, is daar vreetmerke en ook wurms gevind (Figuur 1). Oor die algemeen was daar egter baie minder vreetmerke en wurms opgemerk as wat verwag is. Daarna is produsente egter gewaarsku om op te let vir vreetmerke en om bespuitings toe te pas indien nodig. Bespuitings het wel plaasgevind
en geen berigte van skade is ontvang nie.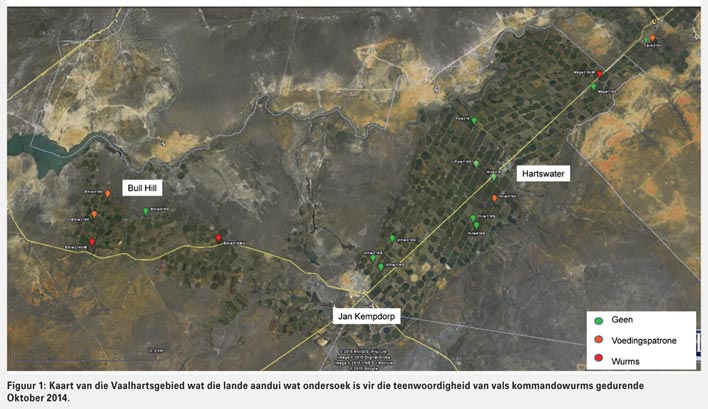 Moontlike redes vir laer as verwagte wurm getalle
Bespuitings vir blaarmyner het op groot skaal voorgekom. Aangesien die effek van insekdoders wat vir blaarmyners toegedien word nog nie op vals kommandowurms getoets is nie, kan daar nie met sekerheid gesê word dat dit 'n invloed gehad het nie.
'n Goeie aanduiding dat dit wel 'n invloed kan hê, is egter in twee lande aan teenoorgestelde kante van 'n pad in die Hartswaterarea gevind. Een land was vir blaarmyner bespuit en die ander een nie. Die ongespuite land het wel vreetmerke en larwes gehad, waar die bespuite een nie eers vreetmerke getoon het nie.
Aangesien die valle by Viljoenskroon vir ons aangedui het dat die motte wat versamel word, nie noodwendig van die gewasse onder die spilpunt afkomstig is nie, kan dit ook wees dat die groot hoeveelhede motte hulle eiers op ander grasse buite die lande gelê het en die wurms dus buite die lande gevoed het. Hierdie moontlikhede moet nog ondersoek word.
Motgetalle 2015

Resultate tot op hede toon dat die voorkoms van motte vanjaar baie laer is as in die vorige seisoen en in die Vaalharts-area selfs laer as in 2013. Die voorkoms van motte deur die winter word nou gemonitor en produsente sal vroeg in Oktober weer in kennis gestel word van wat hulle te wagte kan wees. Motvangste oor baie jare is nodig om vas te stel of hierdie vlugpatrone siklusse oor jare vorm.
Enige navrae in dié verband kan gerig word aan Goddy Prinsloo by 058 307 3435 of Prinsloogj@arc.agric.za.

Hierdie navorsing is moontlik gemaak deur die samewerking en finansiële ondersteuning van die Wintergraantrust, Landbounavorsingsraad, Noordwes-Universiteit en GWK.
Publication: September 2015
Section: Focus on