Trots Suid-Afrikaanse graanprodusente en leiers in graanindustrie vereer
November 2014

RUTH SCHULTZ, SA Graan/Grain medewerker; Foto's: HELENUS KRUGER
'n Inspirerende Graan SA-toekenningsgeleentheid wat op 17 Oktober vanjaar in Midrand gehou is, tesame met 'n deurbraak wat by die voorafgaande Agri SA kongres plaasgevind het, het produsente en leiers in die graanindustrie, wat by dié spoggeleentheid vereer is, net weer laat besef dat hul voete stewig op Suid-Afrikaanse grond sal bly.
Ná 'n suksesvolle Agri SA kongres, waar mnr Gugile Nkwinti (Minister van Landelike Ontwikkeling en Grondhervorming) Agri SA se grondhervormingsplan aanvaar het, het mnr Senzeni Zokwana (Minister van Landbou, Bosbou en Visserye) by die Graan SA-toekenningsgeleentheid in 'n gesprek met mnr Louw Steytler (voorsitter: Graan SA) onderneem om die kampioen van landbou in Suid-Afrika te word.
Mnr Richard Hobson van Set lagole in die Noordwes Provinsie is aangewys as die Graan SA/Syngenta Graanprodusent van die Jaar. Die Ontwikkelende Produsent van die Jaar toekenning het vanjaar drie kategorieë gehad, wat produsente op verskeie vlakke in landbou die geleentheid gegee het om deel te neem. Die drie wenners is in Oktober by Graan SA se jaarlikse Dag van Feesvieringe (Day of Celebration) in Bloemfontein aangekondig en hulle is ook weer by die Graan SA-toekenningsfunksie vereer vir hul uitnemende prestasies.
Die Graan SA/Absa Bestaansboer van die Jaar (0 ha - 10 ha) is mnr Enoch Khumalo, van Piet Retief, terwyl me Lungelwa Kama, van Maclear, weggestap het met die Graan SA/Syngenta Kleinskaalboer van die Jaar-titel (10 ha, maar minder as 250 ton). Mnr Ralph Swart, van Elim, het die toekenning ontvang vir die Graan SA/Absa Nuwe Era Kommersiële Boer van die Jaar (250+ ton).
Syngenta is trots om saam met Graan SA die borg van die nuwe Kleinskaalboer van die Jaar-kategorie te wees. "Syngenta se doel is om binne die volgende vyf jaar 20 miljoen kleinskaalboere te bereik. Ons werk hard om dié produsente by te staan, sodat hul produktiwiteit met 50% kan verbeter," het mnr Antonie Delport (besturende direkteur: Syngenta Suid-Afrika) gesê tydens 'n DVD-vertoning, waarin hy en mnr Jannie de Villiers (uitvoerende hoofbestuurder: Graan SA) gesels oor die belangrike rol wat Syngenta en Graan SA in die landbou speel.
Graan SA glo ook in die ontwikkeling van kleinboere en is ewe verbind tot landelike ontwikkeling. "Graan SA is altyd op soek na maniere om die gaping tussen klein- en kommersiële produsente te oorbrug. Landbou is die ruggraat van plattelandse gemeenskappe en die graanbedryf is die primêre voorsiener van voedselsekerheid," het De Villiers gesê.
'n Inspirasietoekenning as blyk van waardering vir die deurlopende bydraes wat 'n individu of organisasie tot die graanindustrie maak, wat aanhou om buitengewone resultate te bereik en die industrie te inspireer om meer kompeterend te wees in sy verbintenis tot uitnemendheid, is oorhandig aan die Buro vir Voedsel- en Landboubeleid (BFAP). Prof Ferdi Meyer (direkteur: BFAP) het dié toekenning namens BFAP ontvang.
Erkenning is ook gegee aan individue wat die graanindustrie met uitnemendheid gedien het en bygedra het tot die welvaart van die industrie deur hul tyd, ondersteuning en toewyding. Mnre Neels Ferreira, wyle Gert Pretorius en Fanie van Zyl het elkeen só 'n spesiale toekenning ontvang. Ter afsluiting van die aand, het Steytler gaste gevra om as ware patriotte deel te neem aan die groter landboudebat, sodat die samelewing verander kan word in een waarop almal kan trots wees – een waar veiligheid, honger en armoede aangespreek word, sodat ons 'n beter toekoms as die een wat ons geërf het, vir ons kinders kan agterlaat.
"Ek is geweldig trots om 'n lid en voorsitter van Graan SA te wees – 'n organisasie wat baie omgee vir ons land se toekoms," het Steytler gesê.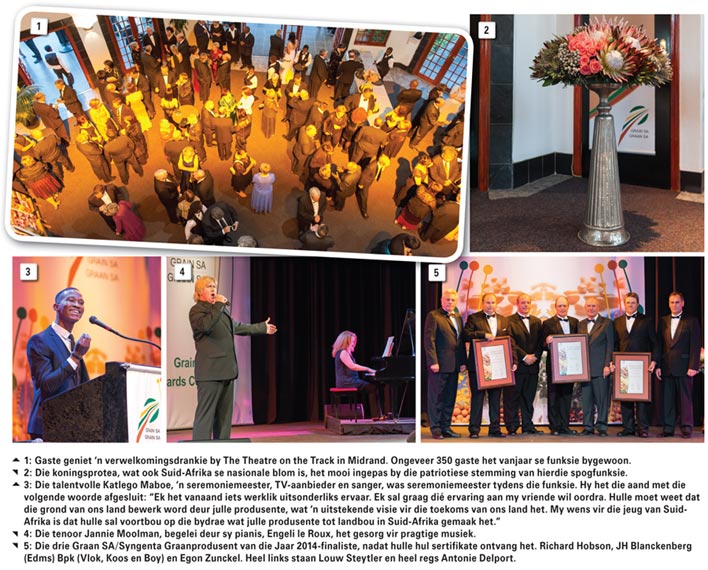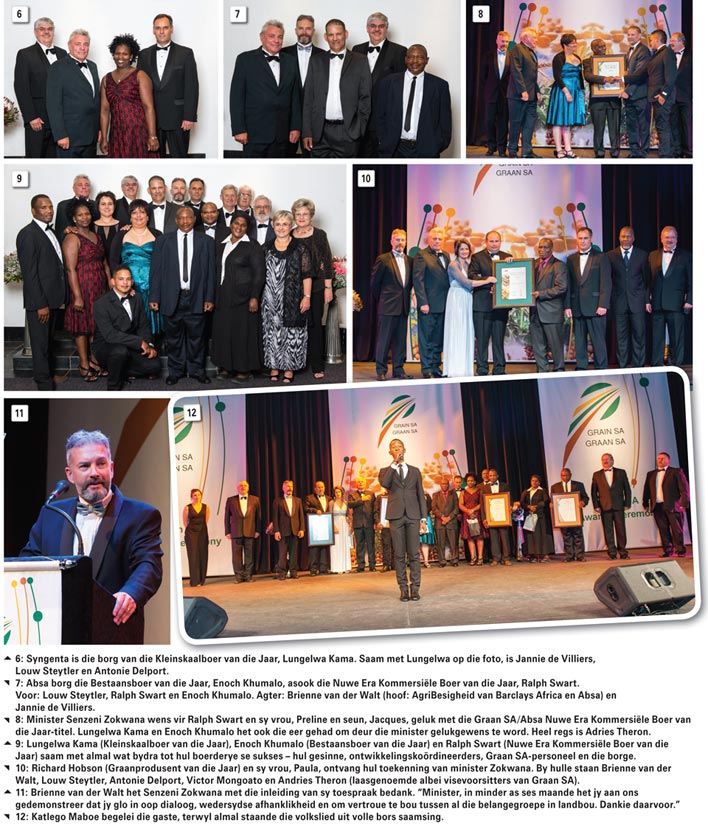 Publication: November 2014
Section: Grain SA