Toe val die rand die aarde mis
February 2016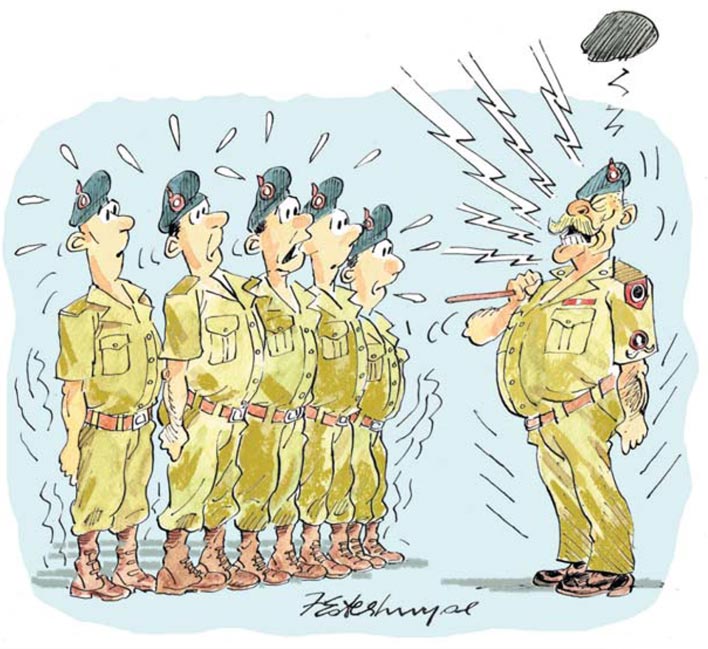 Beste Grootneef,
My samjoor in die Army was, om dit sagkens te stel, 'n rowwe diamant: Wilder as die wildtuin; stil, soos 'n landmyn. Maar as hy eers vlam gevat het, het selfs die olifante druipstert padgegee om plek te maak vir 'n groter dier in die bos.
Vir hom was 'n bajonet 'n tandestokkie. Boeliebeef het hy met blik en al geëet. Vir 'n korporaal of generaal het hy ewe min agting gehad. Sy kussing was 'n mortier en 'n Ratel was op enige plek 'n tydelike basis.
Maar hy het ook 'n sagte kant gehad. Hy het eendag in 'n swakker oomblik gebieg dat hy hou van die mooi dinge in die lewe – soos bier en bobbejane. Hy het graag via die Pronk-tydskrif met dames tussen 18 en 23 gekorrespondeer onder die skuilnaam "Grensvegter". Hy het veral gehou van meisies met Isuzu-bakkies en dan 'n foto van die bakkie in sy staaldak rondgedra.
En wel ter tale! Hy het 'n besondere aanleg gehad vir die fyner nuanses van die FAK-bundel. Hy kon 'n hele peloton vir agt minute en 40 sekondes besig hou met hul fortuin, sonder om een gevleuelde woord te herhaal.
Hy was ook 'n baie goeie motiveerder. Hy het graag vir nuwe troepe vertel dat hul laer as haaibollie-skadu op die seebodem was. As 'n roof gedink het hy is kaas, het samjoor hom gou laat voel soos 'n polonie.
Hy was ook altyd bekommerd oor sy troepe se welstand. Hy het almal altyd daaraan herinner dat as hulle nie trap waar hy trap nie, die landmyn hul sal blaas tot in saal 6, 7 en 8.
Hy het baie belanggestel in ruimtereise. Só het hy eendag na 'n "oppie", die arme saalsak wat laaste onder sy full kit ingestrompel het, persoonlik gaan bemoedig. Samjoor het die troep luidkeels meegedeel dat hy sy pas moet versnel, by gebreke daarvan samjoor hom met 'n vyfpuntplan sal lanseer, sodat hy wat troep is, drie dae waterpas sal trek en die vierde dag die aarde sal misval. Dit was só 'n besondere inspirerende boodskap, dat troep net daar in sy spore omgedraai het en op die roete teruggedraf het. Tot vandag toe nog soek...
Ou Neef, die week het ek nogal baie aan samjoor gedink. Want dit lyk of iemand die rand 'n klap gegee het en die arme rand nou die aarde misval.
Buurman vertel graag van die voorval toe die Reserwebank van Zimbabwe beroof is. Die Zim-polisie het na die tyd 'n verklaring uitgereik dat hul nie 'n motief vir die roof kon bepaal nie. As onse ou randjie nou so aanhou val, kan dit ook by ons gebeur dat niemand meer die Reserwebank se deure in die aande hoef te sluit nie. Want niemand sal die moeite doen om die rande wat oor is, te herverdeel nie.
Met só 'n pieperige rand gaan ons sukkel om in Oktober te plant. Want bykans elke dieseldampie en kunsmiskorrel word ingevoer. En met sowat R23 vir een miserabele Engelse pond, wat gaan dit kos om 'n oes in die grond te sit?
Ou Neef, waar is samjoor nou? Dalk sou hy met 'n enkele drilsessie weer die ekonomie in pas kon kry.
Om te dink, na alles in die Suid-Afrikaanse Weermag, is hy op pad Durban toe die hiernamaals in. Hy wou graag die see sien toe hy uitgeklaar het, maar hy het nie die lorrie gesien wat voor hom ingedraai het nie.
Vasbyt, min dae.
Kleinneef
Lesers is welkom om 'n e-pos aan Kleinneef te stuur by kleinneef@graingrowers.co.za.
Publication: February 2016
Section: Features