Think out of the box, think AGRITOURISM
March 2017

You will be justified to ask the question: Why an article on tourism in agriculture? To motivate – over the shorter term the recent drought, has once again emphasised that droughts are part and parcel of the South African environment and is a risk which needs to be managed to at least soften the blow of droughts.
Secondly the challenges of agriculture in South Africa are becoming more and more. Our farmers are experiencing challenges with regards to their farming businesses all the time. We experience political insecurity, marketing challenges and a cost-price squeeze to name but a few challenges. Thus, in the business world of today, especially agriculture, the businesses environment is ever changing and shifting making survival very difficult.
In previous articles we have emphasised the aspect to diversify your business to address these challenges. Investigate to diversify your business into a few enterprises aiming to increase your income and manage risks. The advantages of diversifying – improved cash-flow, spreading of risks, increasing of profit – outscores the disadvantages. If you do not consider to diversify your business you will battle to survive as a farmer in South Africa. To establish an agritourism activity on your farm is an alternative to the normal way of diversifying.
Normally diversification entails a combination of farming enterprises that are not subject to the same risks. For instance, diversify into crops that have different growth periods and are not equally susceptible to drought. The addition of a livestock enterprise will have a great effect on lowering risk. The more diverse enterprises are, and an agritourism activity is just that, the more risks are countered.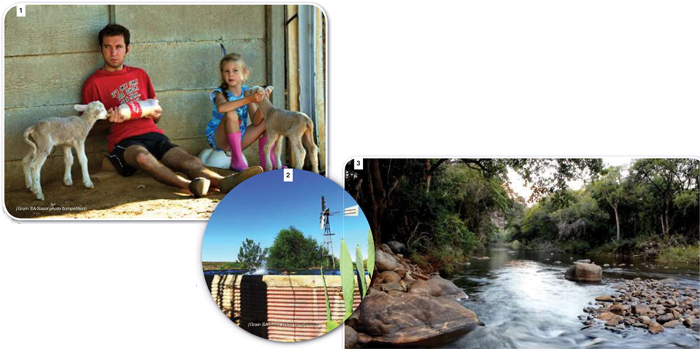 As of late, reports indicate, that farmers who are surviving the difficult business environment, are the ones that think out of the box. They have all realised that they need to do something else to ensure the survival of their farming businesses. The one aspect that has come to the fore is agro-tourism. Why?
The needs of tourists, being local or international, are changing as shown by research. Tourist want to do something else, they are looking for 'different' experiences outside the urban environment. Tourists often also want to buy locally produced articles and goods. Consumers have also become much more aware of the fact that food needs to be produced eco-friendly and according to good agricultural practices and they want to experience this. Thus, the need to visit farms and see for themselves is on the increase. Capitalising on agritourism opportunities can assist farmers to generate more income and can become a lifeline for those struggling to keep their farming businesses profitable.
Farmers often think they do not have the capacity and resources (funds, property, staff or activities) to open their farms to visitors. However, you do not need five-star accommodation or complex activities to attract tourists especially the younger generation. Concentrate on extraordinary and friendly service delivery and see to it that whatever you do is done at a high standard.

Farmers who do not have the necessary funds to invest in agritourism can start small. You can for instance start with a one-bedroom bed and breakfast facility and/or a small restaurant serving local traditional foods and/or a small shop especially selling local and self made articles. If you could add some outdoor activities – cycle trails, horse rides, excursions on a donkey cart, ox wagon, tractor and trailer or an opportunity to fish – you could be on your way to ensure a constant additional income.
Remember, tourists will also be interested to experience your farming practices – how do you plant your maize, or other crops, how do you produce wool, broilers, pigs or whatever. Show them what you do on your farm and even let them experience this with some activities. Remember many urban people of today, especially children, have never seen a cow, let alone touch one or drank milk direct from a teat.
Of course, just as the rest of your business, this agritourism enterprise will also have to be managed properly by good planning, organisation, implementing and control of all the management areas. The one management area that will need a lot of attention is marketing. But here again for starters make use of social media at a very low cost.
Assistance and training is available through a number of NGO's and the South African Tourism Services Association (SATSA). More specifically the Association for Agritourism in South Africa (AASA) is available to assist especially with marketing of agritourism opportunities. Contact these organisations for assistance and remember tourism is one of the fastest growing businesses in South Africa.
In conclusion: The core message of this article is that if you want your farming business to survive you will have to think quite differently about your business. Incorporating am agritourism activity in your business is but one example of thinking differently.
Article submitted by Marius Greyling, Pula Imvula contributor. For more information, send an email to mariusg@mcgacc.co.za.
Publication: March 2017
Section: Pula/Imvula