The team who put grain farmers first
September 2022

JENNY MATHEWS,
MANAGEMENT AND DEVELOPMENT
SPECIALIST AND EDUCATOR
Grain SA is an organisation that lobbies on behalf of the grain farmers of South Africa. It also acts as a watchdog, monitoring many diverse aspects of the agricultural sector – from input quality to government policymaking, from diesel rebates to import tariffs. Every aspect of the industry that can affect the farmer's pocket comes under the magnifying glass of this highly skilled and competent team.
THE ROLE OF THE EXECUTIVE MEMBERS
The Grain SA staff members are employed by the grain farmers who are members of Grain SA. This means that the farmers have elected members out of their own delegates to the congress, who are also actively involved in the day-to-day activities of the organisation. The executive members are the farmers' voice and the only way they can address issues that concern the farmer, is by talking to them.
Because they are also farmers, they understand the challenges farmers deal with on a daily basis. They are active on all the committees within the organisation and ensure that the personnel are well informed about farmers' challenges. The executive members also serve on numerous external committees in the broader agricultural sector and act as the voice of the grain farmer on these platforms.
At this year's Congress the two people elected to serve as vice-chairpersons on the executive are Richard Krige, who farms near Caledon in the Western Cape, and Jeremia Mathebula, who farms near Amersfoort in Mpumalanga. Together with Derek Mathews, the chairman, they serve as the management committee and work closely with Grain SA's chief executive officer, Dr Pieter Taljaard, and other key management personnel.
They are further supported by Jaco Breytenbach, Ramoso Pholo, Danie Minnaar, Sarel Haasbroek and Ramodisa Monaisa, who serve on the management committee overseeing day-to-day business at Grain SA, including financial matters and personnel appointments.
MEET JEREMIA MATHEBULA
After serving as a farmer representative on Grain SA's executive, farmer Jeremia Mathebula's leadership qualities and farming expertise led to him being elected by delegates to the 2022 Congress to serve on the management committee as one of two vice-chairpersons of Grain SA.
Jeremia has always had farming in his blood and grew up in a family who are all passionate about farming. His father was a hardworking small-scale farmer and in his heart Jeremia always knew he would like to follow in his dad's footsteps. Although he successfully studied for his Bachelor of Commerce: Administration degree, the call of agriculture was strong.
He soon realised he needed his own place, so he approached the Department of Agriculture, Land Reform and Rural Development for help. He began farming with ten cattle in 2009. He now farms on Klipplaatdrift, a 1 300 ha farm near Amersfoort in Mpumalanga. Jeremia plants maize and soybeans, and also has a 600-head strong livestock component.
He believes in continuing education and even after his degree continued with a number of general agricultural courses to better equip himself. Although he continues to enjoy mentoring from other farmers, in particular the commercial farmers around him, he in turn passes on his knowledge by mentoring others and helping them to make informed decisions within their farming businesses.
Jeremia believes farmers need to learn about modern farming methods, precision farming and the newest technologies. For him moving with the times means improved on-farm efficiency, better timing of activities, using the correct fertiliser and planting the right number of seeds per hectare. He practises crop rotation by planting his fields with 60% maize and 40% soybeans, since he has learned this is a way to improve soil health and increase disease resistance.
In his role as representative of the grain-farming sector, Jeremia has served on numerous committees within Grain SA, such as the Maize and Farmer Development Working Groups and the newly established Phahama Grain Phakama NPC.
Looking beyond Grain SA, he has also served on the Agri SA Centre of Excellence: Natural Resources committee, the Oilseeds Trust and the Oilseeds Advisory Committee. He has also represented his farming community as a delegate to the Agri SA and Mpumalanga Agri congresses.
Jeremia's dream is to see more successful developing farmers enjoying the fruits of their labour. He believes this will happen when farmers get the most out of the natural resources they have at their disposal. He is also convinced that farmers all need to be given title deeds to their farms to facilitate ease of access to the necessary finance that every commercial farmer relies on.
A big thank you to Ramodisa Monaisa for his term as vice-chairperson of Grain SA. Ramodisa is now an additional member representative of Farmer Development.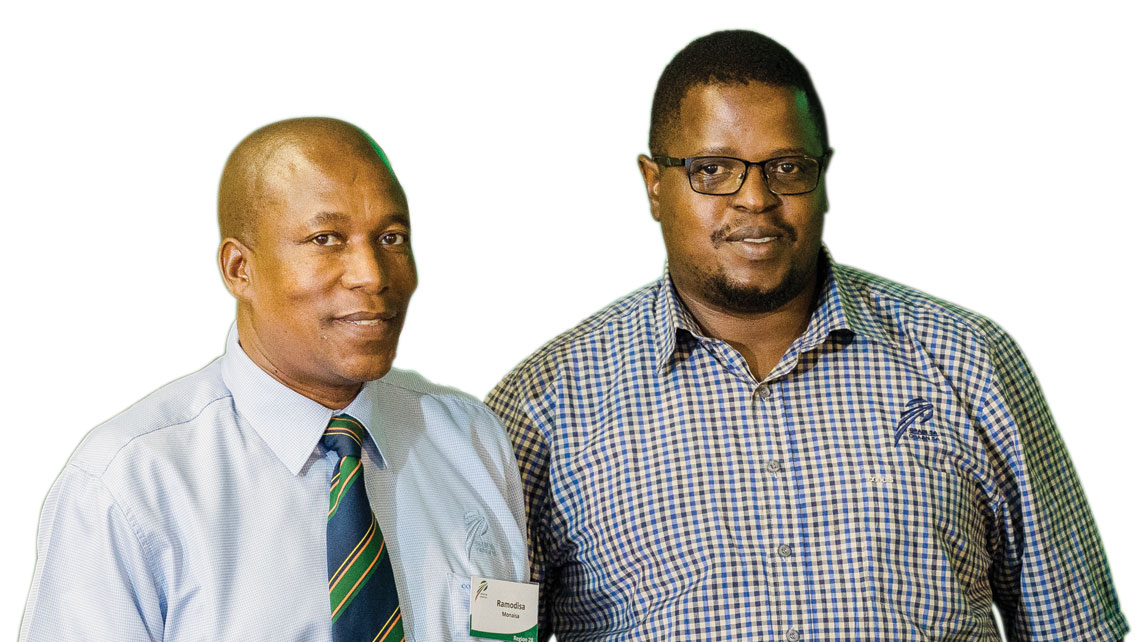 Publication: September 2022
Section: Pula/Imvula