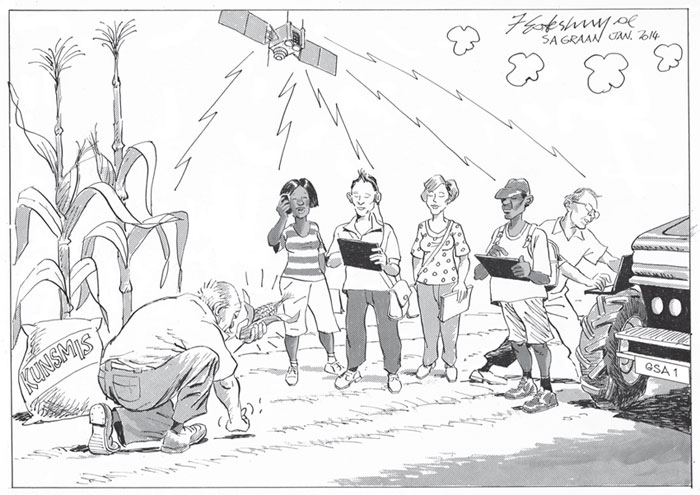 At the end of each year all the agricultural magazines and media request a forecast for the new year. After preparing a document for this purpose, I was actually surprised at the good prospects in the demand for grains and oil seeds.
Yes, I know there are also those issues that do not look too good, but those are mostly matters that we can do little about. The whole season was a month late. The producers from the south had to wait an extra month for the rains to dissipate so that they could start the harvest and then the producers in the north had to wait a month for the rain before they could start planting.
Perhaps this is just something we have to take with us into the new year: Let's not worry about that which we can do nothing about. The process of land reform will continue and the weather and markets will remain unpredictable. Poor service delivery and corruption will most likely, like the poor, remain with us in 2014.
However, one cannot deny the fact that the demand for grains and oil seeds continue to grow strongly. With the ever growing focus on agriculture in Africa and the food security it must provide, good times for producers are forecasted.
In 2014 our attention as organisation will remain focused on sustainability. All this expected growth in demand (locally and/or internationally) must be translated into profitable production opportunities.
As part of sustainability, we as organisation will be looking at our next generation with new ardour and vision…Next generation technology, but especially the people of the next generation. Where are the researchers, agricultural economists, market analysts and leaders of tomorrow? Who is training them? Where are the next generation farm workers who will be manning our highly sophisticated implements? They are probably somewhere in their twenties now, occupied by their cell phones, ear phones and hormones! Maybe they do not yet know of gerbils, Sclerotinia and diesel rebates, but they are ready to learn about it – if there was only someone to show them the way. In my reflections about the next generation, I have also considered how wrong the word transformation and transfer can be.
Transformation sounds like taking something from one and giving it to another and then you do not have it anymore. With land it could still probably work like that, but with information and knowledge it cannot be similar. Surely, I do not lose something when I teach it to another. We therefore need to develop a new image regarding the transfer of knowledge.
In November I one day gathered the "youngsters" (mostly in their twenties) of the Grain SA staff and gave them some basic lessons about life. I also threw in a few Economics 101 lessons, just in case they missed out on them at university; the outcome was however very positive.
Everyone had a better understanding about where Grain SA stood and where we were heading. The reasons why an organisation like Grain SA existed and the things they had to learn to take the responsibility for sustainability and food security to the next level, were clearly explained to them. Afterwards I felt richer and not poorer.
I had lost nothing, but was able to instil some knowledge into energetic and talented young people for the benefit of our members and the people of South Africa. It also gave me hope that irrespective of where my children and as yet unborn grandchildren will one day be, there will be new agricultural economists and workers to take forward what I have been busy with these past 29 years, and they'll be able to improve on it.
Best wishes for the new year and may you too encounter the opportunity to transfer knowledge to the next generation, so that it may also leave you feeling richer.

Jannie de Villiers, CEO