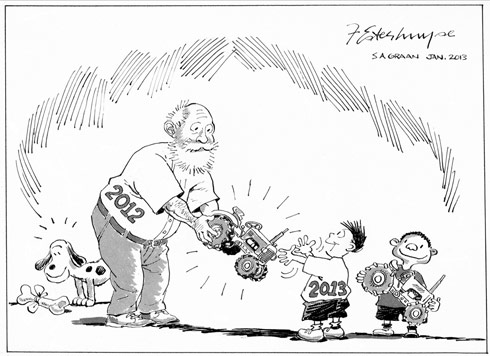 2012 was a good year for Grain SA. Despite the patches of rain, the country realised a good harvest and our producers achieved good prices. The 2013 season started off anxiously.
Labour unrest, political instability and current weather patterns makes you wonder whether one can still make a living from grain production. For other producers who will be benefitting from the re-capitalisation programme, it is a year with a great start! An end to the long wait for support from the government.
The building blocks of our organisation falling into place over the past two years, gives us a solid base from which to launch 2013. There is a saying that goes: "One does not launch a torpedo from a canoe, but from a real battleship."
Grain SA is definitely such a ship. We do not have room for passengers. Each one has a task and a vision and our goals for 2013 are fixed: We want to produce grain and oilseeds sustainably and profitably and in doing so, guarantee food security and job opportunities for South Africa. Every member, whether a producer, role-player in the value chain, representative, member of the Executive or staff member – he/she knows their tasks and instructions.
What lies ahead for us, we cannot predict, but that it will be exciting is for sure! We are looking ahead at the growth in our partnership with the government to take agriculture forward in a stable political climate.
We trust that the weather will be favourable and that we may be able to contribute to the country realising its harvest. Our colleagues, especially in the USA, have been experiencing difficult crop conditions these past few years, and despite the fact that we benefitted from it through higher prices, we also wish them a better season.
I am not one to hand you a list of New Year's resolutions, but I do wish to leave one challenge for 2013 with you: Won't you identify at least one person from the next generation close to you and start walking alongside that person on the road ahead?
You have so much that you can teach others. Many of our next generation, at all levels, have a real need for some human touch, love and someone to show the way. To progress from success to meaningfulness, you have to start investing in people and not objects.
Maybe 2013 is your year to make this move. If you truly cannot think of, or identify someone of the next generation, then plant a tree – at least it's also something for the next generation.
Have a prosperous 2013!


Jannie de Villiers, CEO