The effects of drought on agriculture
February 2020

This article looks at the implications that drought has on the agricultural sector as well as coping strategies that can be put in place to minimise the effects thereof.
THE RIPPLE EFFECTS
Drought has a great impact on different sectors, depending on how much water is used. For agriculture, the effects are dire as the sector uses about 60% of water resources for irrigation while the secondary and tertiary agricultural sector also requires considerable amounts of water to operate.
Depending on how often drought occurs during consecutive seasons, this usually leads to a shortage of supply in produce. This would result in more imports for the country (moving towards import parity) and in general higher prices for produce. Livestock farmers suffer losses of their animals due to unavailability of enough water. This therefore has a large impact on the profit margins of producers and their livelihoods, influencing how much labour they can keep and repayment of their loans. In extreme situations, the effects of drought can easy lead a farming business to close shop.
Due to drought, a drop in agricultural activities in the country means the sector contributes less to the country's GDP. Considering the agricultural value chain, downstream input suppliers will be affected in terms of sales, while upstream agro processors will also be faced with limited supply of produce, which is then costly due to shortages.
Eventually the effects of drought trickle down to consumers, as the increased cost of food will affect their pockets and mostly those that are vulnerable in terms of their financial situation. Overall, the country's food security is at risk, because this means not everyone will have reliable access to a sufficient quantity of affordable, nutritious food.
GOVERNMENT INTERVENTIONS
It is evident that the consequences of drought are enormous for the country. The government needs to be intentional about coming up with adaptation strategies to assist producers in dealing with the effects of drought.
Establishment of national or provincial drought funds in the form of grants so that producers in drought-affected areas can be covered.
Introduction of an insurance fund for producers at municipal level for anticipated drought periods.
More investment towards infrastructure such as reservoirs, on-farm water storage tanks and access to ground water where it is available.
More investment into research that will identify drought resistant cultivars as well livestock breeds that will assist producers to reduce the effects of drought. There should be intensive research towards more technological advancements that will assist producers to use water in a more cautious way, e.g. conservation agriculture for grain producers and the use of hydroponic systems for vegetable producers.
Government should raise awareness about drought and the impacts thereof and train producers on innovative ways to recycle water.
For South African agriculture to survive the adverse effects of drought, the government needs to be deliberate in their financial planning regarding support and the investment towards the sector in terms of mitigation strategies as well as coping mechanisms, especially for the developing farmers who have everything to lose with just one season of drought.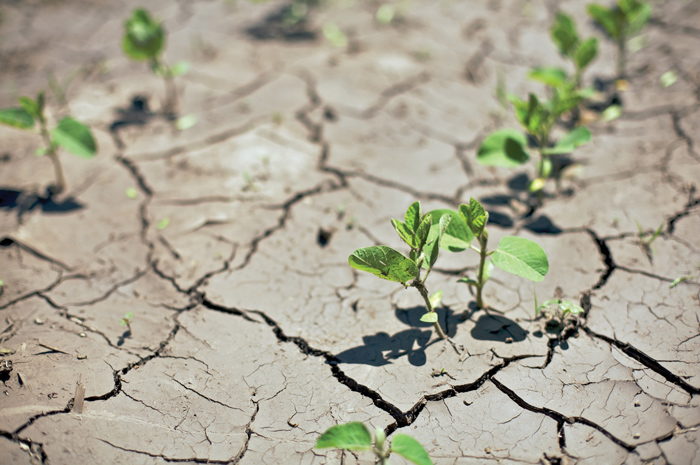 Publication: February 2020
Section: Pula/Imvula