The Corner Post
May 2017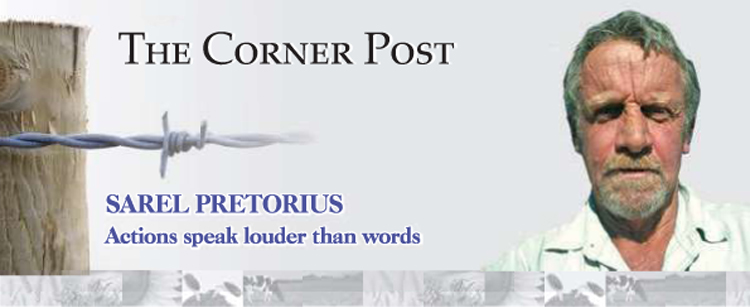 In this new series, The Corner Post will feature the mentors who form part of the Grain SA mentorship programme. A mentor is that person who gives you advice on how to achieve your own goals and dreams.
One of the quotes of the well-known Chinese philosopher, Confucius, is 'I hear and I forget. I see and I remember. I do and I understand'. Mentor Sarel Pretorius from the Eastern Cape believes in this method to increase knowledge concerning farming practices. He has seen that practical demonstrations of what needs to be done deliver the best results. 'Sometimes not everyone understands when you explain methods verbally, but when they get involved and see first-hand what the results of the action are, they get on board quickly,' he explains.
Although Sarel is no longer farming actively, he still lives on his farm between Elliot and Barkly East where he was a cattle and sheep farmer for many years. Apart from the mentorship programme he keeps busy doing pregnancy tests on sheep and cattle in the area during the breeding season.
Practical demonstrations lead to successful farming
Sarel, who can speak Xhosa, got involved in the Grain SA training sessions nearly six years ago, and was approached by the Farmer Development team to become a mentor nearly four years ago. Initially he would only have helped for six months, but it has since become part of his daily routine. With 14 groups falling under his mentorship, he is kept busy from Monday to Friday, travelling nearly 300 km per day. Although four of the groups were allocated to another mentor earlier this year, he is mentoring all 14 groups again. He manages to visit each study group every two weeks, but as there are so many groups he sees two groups per day. 'It really is a full-time job, but a very fulfilling one especially when you see the improvement that your advice brings about,' he adds.
In his area, not all farmers own a whole hectare of land. Sometimes one hectare is divided between four people with each responsible for their own plot of land. Four gardens form a hectare and a group's chief is appointed. As it is not always possible for Sarel to visit every farmer, he speaks to the chief who then conveys the necessary information to the others in the group.
From the beginning Sarel found that a lack of knowledge was one of the biggest stumbling blocks the farmers faced. He has tried to give guidance on some of the most important agricultural practices and has seen a lot of growth in these groups – knowledge has increased and so have their yields. 'It was important to first explain how maize grows, what it needs to grow and why weeds have to be eradicated. Once the farmers understood this and saw the difference it made to their maize growing, they were on board. There really is nothing more gratifying than seeing big smiles on the faces of happy farmers.'
Seeing the success of farmers using no till practices has resulted in more farmers turning to this farming method – without Sarel telling them what to do, which proves that actions speak louder than words. With the smaller plots, he has taught farmers how to make straight rows using string. 'When I visit the plots, it is very clear to see who has been working hard' he adds. Those that achieve better results always inspire the others to get involved, without any recommendation from his side. This shows once again that actions speak louder than words.
Sarel finds it exciting to see how this programme gives people hope and a dream, and how it enlarges their vision – one farmer who started planting on a plot, is now planning to plant 20 hectares. 'It definitely gives them a better future,' he says.
To him one of the highlights of his time as mentor, has been the success achieved by farmer Ngubengcuka Christian Moyo, who is currently the chairperson of the Ngqayi study group in the Louwsburg region. Realising he can make a living through farming, Moyo left his job at the Department of Agriculture, Forestry and Fisheries and started farming in 2008 on communal land. With the help of the mentorship programme, he became the 2015 Grain SA/Absa Subsistence Farmer of the Year.
This month's edition of The Corner Post was written by Louise Kunz, Pula Imvula contributor. For more information, send an email to louise@infoworks.biz.
Publication: May 2017
Section: Pula/Imvula