THE CORNER POST
May 2018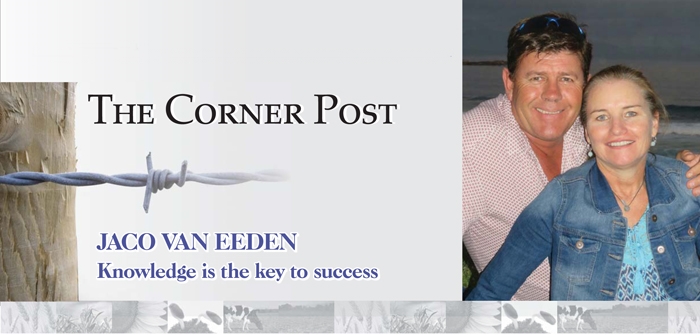 Grain SA is contributing to the dream of a united and prosperous agricultural sector in South Africa. The Farmer Development Programme is one of the core business units of Grain SA.
As farming requires more than just hard work, a lot of effort is spent on equipping emerging famers with the necessary skills.
Grain SA realises that farmers develop at different rates and have therefore identified certain factors that can address the development of agriculturalists. To make this feasible, people who share this dream are needed. The Corner Post has already featured a few of the mentors who are helping farmers reach their potential. Training courses are presented regularly to expand farmers' knowledge about a variety of subjects.
A little knowledge can go a long way
One of these trainers who is helping to improve a lack of adequate knowledge about tractors and other equipment is Jaco van Eeden. Jaco, who farms in the Overberg region a few kilometres outside Swellendam, qualified as a diesel mechanic in 1989. He currently has a mixed farming enterprise comprising of crops, a dairy and sheep. About five years ago he was approached by Grain SA to get involved in the training programme.
In 2017 he presented 18 courses in the Western Cape – from Velddrif to Riversdal – as well as in the Overberg area. 'I love conveying information to people,' he says about his involvement in the programme and adds, 'Being part of this programme has made me realise I may have missed my occupation. I should have become a teacher, not a farmer!'
Although the courses are primarily for farm workers and emerging farmers, several commercial farmers have also made use of Jaco's service to broaden their mechanical knowledge. Attendees must complete a theoretical exam and practical evaluation on completion of the course. A certificate is issued to all successful attendees.
It may seem like a lot of effort to some, but Jaco believes that if you attend the course and put in some effort for the pure joy of gaining knowledge, it won't even seem like hard work. 'If you do not do something with joy, you may as well not even start,' he shares his opinion about expanding knowledge.
These three courses presented by Jaco to expand mechanical knowledge last two days each:
An introductory tractor training course where the fundamentals are covered. Ten to 20 attendees can be accommodated per course. This is an introduction to how a tractor is assembled and the basics of how it works is explained. (Did you know that the word tractor was taken from the Latin word, trahere, which means 'to pull'. The first tractors could basically just pull things. They were little more than replacements for farm animals.)
This course is a follow-up of the first one where closer attention is paid to the satisfactory and timely maintenance of tractors to keep it working for a long time at a minimum cost. This course also has room for ten to 20 attendees. Special attention is also given to precautions to prevent tractor accidents.
Over the past three years Jaco has also been presenting a welding course for which Grain SA has issued him with a fully equipped specialised welding cart. Because this is a more specialised field only five or six attendees are accommodated per course. To obtain a qualification in the welding exam, the attendees need to achieve 70% or more.
Although the basic material is provided by Grain SA, Jaco has also added information from his own experience to expand on the course material. Jaco tows a trailer with a tractor inside with a sectional sideview to the courses to clearly illustrate the mechanics thereof to all present. It is then connected to an electric motor to demonstrate the workings – from pistons moving up and down to the gearbox, diff and side shafts.
It's about more than knowledge
Jaco is certain that if you do not know your implements and equipment, you cannot and should not use it. Even though the knowledge about the equipment is the most crucial aspect of the course, in the end it is about more than just knowledge. 'If you really have a desire to know more, you should be prepared to put in some effort to learn,' he says. As the well-known proverb states, practice makes perfect – or as Hong Kong and American martial artist and actor, Bruce Lee, put it: 'I fear not the man who has practiced 10 000 kicks once. I fear the man who has practiced one kick 10 000 times!' Taking time to really understand the equipment will help a person use it to its full capacity.
It is said that if you are not willing to learn, no one can help you. However, if you are determined to learn, no one can stop you. Remember, the best project you will ever work on, is not the tractor, but yourself. In the end, a little knowledge that is used effectively is worth infinitely more than a lot of knowledge lying idle (Khalil Gibran).
This month's edition of The Corner Post was written by Louise Kunz, Pula Imvula contributor. For more information, send an email to louise@infoworks.biz.
Publication: May 2018
Section: Pula/Imvula