The Corner Post
December 2016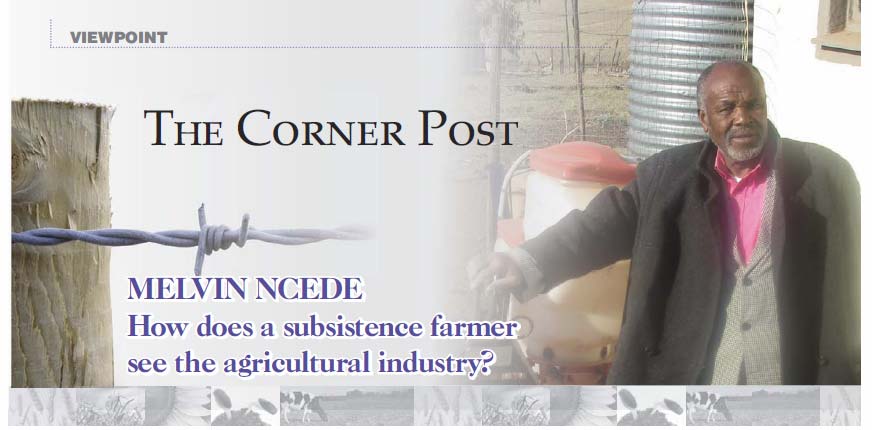 The role Melvin Ncede, a smallholder farmer from the Eastern Cape, is playing in agriculture is helping to make an impact in the agricultural industry in South Africa. Although he is at this stage only producing food for his local market in Engcobo, which is situated in the western part of the former Transkei, he knows his hard work is making a difference.
'Being a farmer in this community allows me to be seen as an important individual to the people of this community because of the role I am playing in ensuring food security,' he says. He adds that feeding the masses begins with the small-scale farmers feeding their community in the rural setups. This viewpoint is similar to one shared by a Catholic saint – the wellknown nun and missionary, Mother Teresa, who once encouraged people to get involved in feeding the hungry by stating: 'If you can't feed a hundred people, then just feed one.'
Melvin says that small-scale farmers should all feel part of the bigger agricultural industry. The reason is that the work they do as farmers is crucial to those in their communities who depend on them and their produce for survival. According to him subsistence farmers may only be farming on small pieces of land, producing primarily for themselves and selling whatever surplus is leftover for financial returns, but the impact they are making in ensuring food security is huge. The saying, 'Tall oaks grow from little acorns ' means that great things come from small beginnings. This is exactly how Melvin sees the role of the smallscale farmer in the bigger agricultural picture.
To him the term agricultural industry represents the production of crops by all farmers – small and commercial, the marketing of the farmer's produce, financial resources, land and land access, bank loans to ensure that production can continue, the variety of agricultural products – whether it be mechanisation or seed and herbicides as well as the representatives of these products.
When asked what needs to be done differently in the agricultural industry he answers: 'A different approach in supporting small-scale farmers is required. Access to land and ownership thereof is paramount to small-scale farmers. The need to access production credit at financial institutions will position the farmers to grow and develop the vast amount of hectares which lay fallow in this region of the Eastern Cape.' In addition, skills development and access to relevant information is also crucial towards ensuring that small-scale farmers develop into productive farmers in the communal areas.
Melvin adds that at this stage, Grain SA is the only organisation that has been providing up to standard assistance. 'The government is battling and cannot sustain their method of supporting farmers,' he says. 'Although a lot has been practiced theoretically in ensuring that smallholder and subsistence farmers are absorbed into the main stream of the agricultural industry, this industry has sidelined and under-estimated the role which could be played by small-scale farmers.'
In his opinion what is important to the industry is the continuous assistance of smallholder farmers through financial and skills development. This will enable them to play a bigger role with regards to food security at poorer household levels. What is needed for this to transpire is the access to productive land. Furthermore, the empowering of youth to become farmers should also be a priority so that this sector is sustained and can survive.
This enthusiastic farmer farms mainly with maize, sheep and cattle. Melvin is married to Kuthazwa Ncede and they have six children, of which two are actively involved in the business. 'I want to become a successful farmer within the communal land setup, because the ground in this area has a lot of potential. As small farmers we must trust that success can be achieved from farming the lands of the Eastern Cape,' he shares his wish for the future. Together this supportive family dreams of the day that Melvin will be a 'mighty oak' farmer.
A special word of thanks to Sinelizwi Fakade, Grain SA Provincial co-ordinator in Mthatha, Eastern Cape, for his support to subsistence farmers in the area as well as his assistance in acquiring the requested information from Melvin Ncede for this article.
This month's edition of The Corner Post was written by Louise Kunz, Pula Imvula contributor. For more information, send an email to louise@infoworks.biz.
Publication: December 2016
Section: Pula/Imvula