THE CORNER POST
March 2017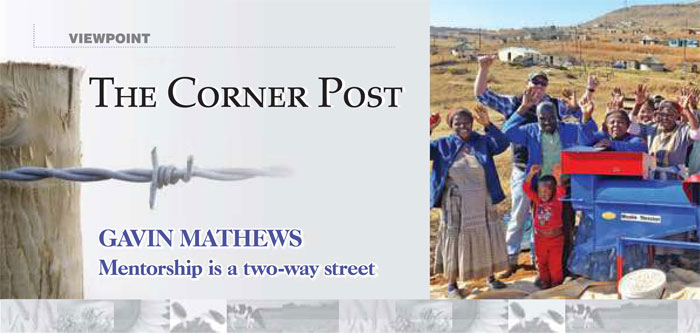 In the August 2015 issue of Pula Imvula, Jannie de Villiers (CEO of Grain SA) writes the following: 'Mentorship differs a lot from coaching. A coach has his own game plan and tells you what to do to achieve his goals. A mentor however, is a person that gives you advice on how to achieve your own goals and dreams.' In this new series, The Corner Post will feature the mentors who are part of the Grain SA mentorship programme.
Mentoring makes a difference
In 2016, with more than 160 farmers under his mentorship, Gavin Mathews managed to inspire a winner. Mzwayi Zuma's dream came true when he became the 2016 winner of the Grain SA/Absa Subsistence Farmer of the Year, thanks to hard work and the input from his mentor and study groups. This award has become one of Gavin's highlights since he joined this programme two years ago, to assist emerging farmers in the Estcourt district in KwaZulu-Natal, where he has been farming for the past five years.
Gavin, who has a degree in Environmental Management, has always been interested in development. He is also one of the contributors for Pula Imvula. When the opportunity arose two years ago, to become part of the mentoring programme, he didn't hesitate to join. Currently he mentors 77 farmers mainly in the Giant's Castle and Hlatikhulu areas.
These farmers have been divided into two study groups, Mtchezi and Mhlungwini. They meet twice a week and after sharing relevant information there is an opportunity for one on one mentoring. The whole study groups visit the different plots to discuss everyone's crops and address any issues. 'It is not possible to visit everyone every week, but I try to see as many farmers as often as I can,' he says. The practical teaching in the field is Gavin's preferred method of conveying information as farmers can see the difference correct farming practices make.
You get out what you put in
Gavin believes that enthusiasm is part of the recipe for success – the enthusiasm of the mentor about the mentees and their enthusiasm about their own farming operation. He says that once the farmers see that a mentor is truly interested in their operation and improvement, they will open themselves up to you and apply your advice. 'Continuity is also important for the success of this programme,' he says and adds that mentors must stay involved and teach the farmers as the seasons and circumstances change. To enable him to stay involved and still have time for his own business, he decided to reduce his group this year.
To him the most important problem to address in the rural areas is weed control as it is of the utmost importance to ensure a good crop. 'Currently we are making very good inroads with weed control and farmers are being taught that weeds are the number one enemy. If they stick to the guidelines their yield can improve through management and spray programmes,' he adds.
Although the mentorship programme has been created to change the lives of subsistence and small-scale farmers, it has definitely made an impact in his own life. 'Personally, this programme has opened my eyes to see the great need there is amongst our smallholder farmers,' he shares. According to Gavin 60% to 70% of food produced in Africa is produced by smallscale farmers. 'Africa operates in a small-scale farmer system. If we do not get involved in training and mentoring these farmers, we are missing the boat,' he adds. He urges commercial farmers to get involved in mentoring subsistence farmers to make a difference in food security and improve livelihoods.
Gavin also feels that too little emphasis is placed on the small-scale farmers in the agricultural industry. "If all the communal land and land that is available to subsistence and smallholder farmers can be utilised, production in our country can be increased tremendously. As it is impossible for all farmers to become commercial farmers, they must be shown what they can achieve
– that what they produce can be at commercial level and can contribute to food security.'
Get involved
With several communal projects launched in rural areas it is challenging to get people involved. 'People must realise that all the organisations have one goal in mind: To improve subsistence farming as a whole and increase production.' He encourages all small-scale farmers to get involved in a project to improve production in these areas.
About his own involvement in the programme he says: 'This job is fulfilling. It inspires me to see the farmers' excitement about what they are doing and the rewards they are reaping. This project has an impact on their lives and this keeps me interested and involved.' Gavin invites anyone who is interested in what they as mentors are doing, to follow him on Twitter as he posts a lot about his work. His Twitter handle is @gavmat1.
A quote from American author, Ivern Ball reads: 'Knowledge is power, but enthusiasm pulls the switch.' Through the mentorship programme the necessary knowledge to improve farming practices is provided, but it is the enthusiasm of a mentor like Gavin Mathews which pulls the switch.
This month's edition of The Corner Post was written by Louise Kunz, Pula Imvula contributor. For more information, send an email to louise@infoworks.biz.
Publication: March 2017
Section: Pula/Imvula