Technology strengthens a farmer's management abilities
December 2021

JENNY MATHEWS,
MANAGEMENT AND DEVELOPMENT
SPECIALIST AND EDUCATOR
Just as significant as the shift from animal power to mechanical power on farms once was, the shift over the past few decades inside the farm office has been revolutionary. Jim Carroll (American author) said that some people see a trend as a threat; but people who are progressive, future thinkers and innovators see the exact same trend as an opportunity.
Let's talk about the farm office. Are you running away from it or running towards it? Are you drowning or are you staying on top of the paper work you need to be doing every day?
CHANGE IS INEVITABLE
I have witnessed many changes in the farm office over the past 40 years:
No more weekly collections of post from bulging post office boxes.
No more endlessly overflowing office waste paper bins.
Waiting in bank queues to deposit or withdraw cash is something of the past.
Face to face meetings with SARS, Eskom and others no longer take place.
The arrival of the monstrous desk top computer brought about many changes, like learning how to get our own email address and then learning to communicate online.
Entering a learning curve as we discovered the wealth of information waiting at the touch of our finger tips via Google.
This world of fast paced and rapidly changing technological innovation is a world of satellites, antennas, laptops, tablets and smart phones – enough to take one's breath away if you had never been exposed to the world of computer literacy and information technology as a young person.
Now we simply cannot do without this world of computers, the World Wide Web, Power Point presentations, spread sheets, word processing, digital photos, hard drives and flash drives. We have to adapt and use technology as far as it suits us.
TECHNOLOGY IS FOR EVERYONE
Computer literacy is no longer reserved for a few 'clever people' – it is a competency we all need to learn. If a farmer wants to run his farming operation efficiently today, he needs to master basic computer skills. Computer literacy is as much a part of our ability to function in the modern world as the traditional 3Rs – reading, writing and arithmetic – were in the 'good old days'!
The internet affords farmers opportunities to be better informed and more efficient. It is easy to learn more about the crops you grow and to monitor market place prices or even find buyers for your produce. There are many programmes available that could become tools to strengthen the farmer's management abilities.
Our farm office is now being managed with minimal paperwork, much less travelling and standing in queues that cost us time and money. We bought useful accounting programmes that provide us with all sorts of information at the touch of a button. Yes, it still demands our time and attention but the secret lies in mastering the computer so that it works for you.
These are just some areas technology makes the farm office more efficient:
Information availability: Office management can be more efficient when information is typed and stored on your computer or 'in the cloud'. It's easier to save information and search for documents and messages on the computer. Filing correctly is important.
Business communications: The introduction of computer faxes and electronic mail systems has revolutionised the way that businesses communicate. The savings, both in time and money, have been considerable and it also speeds up information delivery.
Bookkeeping: Computer systems are used for a variety of accounting functions like cash flow analysis, tracking of invoices and payments and debts. It assists us in effective management of VAT and taxes due. Small business owners use computers for bookkeeping more than for any other purpose.
Banking: Online and mobile banking is so efficient. It is however important to learn safety measures and be wise. Never divulge passwords or personal information and banking balance and details on the phone or online. Double check accounts into which you make payments before transferring cash. Be savvy and smart.
Filing: No more files or bulky filing cabinets. Rather save and store digital files from your business institutions like banks and agribusinesses which you can share with your bookkeepers and accountant to make the bookkeeping processes more efficient.
Administration: Easy office access to printing and photocopying via computer and printer.
Employee records: Easy to keep information about each employee with start date, identity documents, PAYE and UIF records.
Stay in touch: Learn to navigate social media platforms like to learn where auctions are taking place. You can follow Grain SA on Facebook, Twitter and Instagram.
Stay informed: Find useful websites like www.grainsa.co.za. There is a wealth of information uploaded on a daily basis. Look out for Latest Reports and Market Watch. You can even read the Pula Imvula online via this website.
TAKE YOUR OFFICE WITH YOU
Increasingly tech savvy farmers are taking their office with them in their bakkies and on their tractors.
We now have the freedom to monitor the futures trading exchange minute by minute no matter where we are, and buy or sell our crop when the price is right.
Taking technology into the tractor cab can be very exciting as one is able to feed information to practice precision farming. The lime spreader that accurately reads the map of the field and deposits fertilisers specifically, the combine harvester that monitors yields meter by meter so the farmer can exactly pinpoint highest and lowest yielding patched in one field and figure out why this was the case.
We can take digital photos of a sick plant and send it to experts for diagnosis and advice on how to remedy the problem. This is time saving and efficient.
Be a good leader and an eager learner. Equip your team to work with modern technology. Stay up to date. Don't be shy to ask for guidance from experts around you. If you need courses then tell Grain SA – they will always try to make a plan.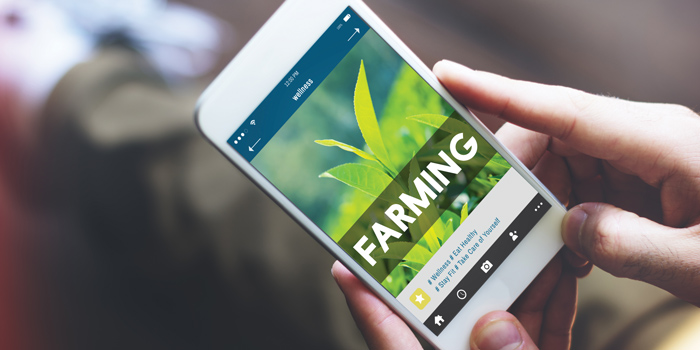 Publication: December 2021
Section: Pula/Imvula