Takel dié UITDAGING op 'n ander manier
October 2018

LOUISE KUNZ, SA Graan/Grain redaksiespan
Alhoewel plaasaanvalle en die diefstal van vee die voortbestaan van 'n boerdery-onderneming bedreig, is die diefstal van kommoditeite nóg een van die groot uitdagings waarmee produsente gekonfronteer word. In 2015 het Vrystaat Landbou 'n verslag gepubliseer waarin aangeteken is dat meer as 80% van kommersiële produsente in dié streek deur die diefstal van saad, mielies, diesel of ander kommoditeite geraak is.
Dit wil voorkom asof die meeste sulke voorvalle snags plaasvind wanneer kriminele sonder inmenging toegang tot die produkte het. Vragmotors wat met graan gelaai is en op die land gelaat word of in oop gebiede naby silo's geparkeer word, is 'n maklike teiken. 'n Produsent in die Ermelo-omgewing vertel dat hy genoodsaak was om sekuriteitsmaatreëls in plek te stel nadat al 36 planterbakke op die land oornag leeg gesteel is.
Volgens 'n dosent in penologie aan Unisa, word hierdie tipe misdaad nie behoorlik aangemeld nie, omdat diefstal net geklassifiseer word as diefstal by jou woning óf sake-onderneming. 'n Paar liter diesel wat uit 'n trekker gesteel word, val nie in een van dié kategorieë nie. Die diefstal van kunsmis uit store en saad uit saadbakke of selfs mielies vanaf 'n leweringswa, kan ook nie hieronder ressorteer nie.
Voorsorgmaatreëls word die oë agter jou kop
Vanweë die groot omvang van grond wat beveilig moet word, bly dit 'n uitdaging om 'n plaas te beveilig. Dit is bykans onmoontlik om die hele gebied te polisieer om te verseker dat geen graan, saad, kunsmis of diesel voete kry nie. In 'n artikel op Maroela Media gee AfriForum en verskeie sekuriteitsmaatskappye raad oor die beveiliging van plase. Een daarvan is om vertrouelinge, wat inligting oor onwettighede wat plaasvind of beplan word verskaf, te vergoed.
Volgens mnr Kyle Condon, die eienaar van D and K Management Consultants and Investigations, is dit belangrik om eers die uitdaging te diagnoseer voordat enige stappe gevolg word om sekuriteitstelsels te installeer. Hulle metode is om risiko te verminder deur intelligensie – óf eenvoudig gestel deur 'n geheime ondersoekdiens wat inligting kan verskaf wat nie algemeen beskikbaar is nie.
"Die uitdaging is nie wat gesteel is nie, maar wie dit doen, wanneer die misdaad plaasvind en waarom dit gedoen word," sê hy. Nadat dié inligting uitgesnuffel is, kan die nodige toerusting geïnstalleer word om die skuldiges vas te trek.
Deur werkspanne op plase te infiltreer – met gehuurde "spioene" as deel van die personeel – het hulle bevind dat die skuldiges hoofsaaklik werknemers en/of kontrakwerkers is wat dit vir finansiële gewin doen.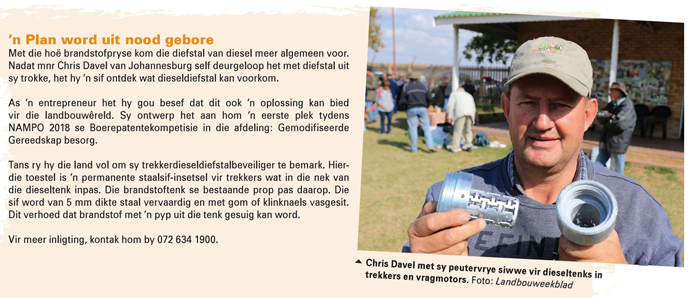 Volgens mnr Gary McKay, hoof van kommersiële bedrywighede van Fidelity ADT Commercial, is daar verskeie opsies om hierdie tipe misdaad te bekamp.
Alarmstelsels en kameras by silo's en stoorfasiliteite kan die produsent onmiddellik in kennis stel indien ongemagtigde persone rondbeweeg.
Die installering van rigstrale (beams) en bewegingsensors kan geïnstalleer word. Sommiges het 'n omvang van tot 1 km.
GSM/GPRS sein-opsporingstoestelle wat selfoonseine kan opvang sodra dit binne die omvang van die toestel is. Indien die misdadiger 'n selfoon byderhand het, kan hierdie stelsel die produsent waarsku indien daar 'n indringer op die land is. Hierdie toestel maak dit ook maklik om vas te stel waar 'n misdadiger op jou eiendom wegkruip.
Daar is ook battery- of sonkragaangedrewe mobiele oplossings beskikbaar. Hierdie toestelle, wat dien as mobiele bewegingopsporing en alarmstelsels, kan op die lande of waar nodig by trekkers, saadbakke en ander implemente opgestel word.
Termiese beeldkameras (asook die termiese beeldkamerahandmodelle) werk besonder goed in groot, oop ruimtes wat swak belig is.
'n Toestel kan ook op enige elektriese omheining aangebring word, wat jou onmiddellik in kennis stel van die presiese plek waar daar met die heining gepeuter word.
Die koste om voorsorgmaatreëls teen diefstal in plek te stel, is geweldig hoog, maar kan op die lange duur die behoud van die boerdery-onderneming verseker.
Verwysings
Vrystaat Landbou Veiligheidslessenaar. 1 Oktober 2016. Impak van misdaad op 'n veilige en volhoubare kommersiële landbousektor in Virginia. Beskikbaar by: http://vrystaatlandbou.co.za/english/images/media/persverklarings/2015/MIS­DAAD-IMPAKSTUDIE-OP-GEORGANISEERDE-LANDBOU-VIRGINIA.pdf.
Rademeyer, A. 5 September 2017. 35 wenke om veilig op jou plaas te wees. Beskikbaar by: https://maroelamedia.co.za/nuus/sa-nuus/35-wenke-om-veilig-op-jou-plaas-te-wees/.
Landbouweekblad. 8 Augustus 2013. Wat kos misdaad op plase. Beskikbaar by: https://www.netwerk24.com/landbou/Argief/wat-kos-misdaad-op-plase-201%C2%AD7%C2%AD0%C2%AD915.
Publication: October 2018
Section: Spotlight on farm Security