Take control of your debt
November 2015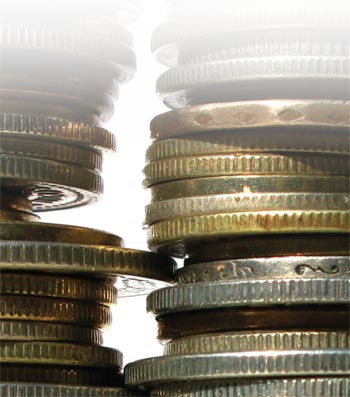 It is a fact that this year due to the drought conditions, production was not what it should or could have been. Therefore many farmers are burdened with debt, especially for production purposes, that cannot be repaid in full or none at all.
So-called outstanding or carry-over debt which is always serious debt and places your business under extreme financial pressure until the debt is repaid. With a farming business, it is not always possible to pay cash and you are at times forced to borrow money. Therefore it is not strange to be in a position like this. Many people have been in this same predicament over the years. It is the way you handle the situation that is important.
There are two ways to handle debt. One will damage the relationship you've built up with others forever. The other will see you survive and emerge more trusted and respected than ever before which a solid history of creditworthiness.
We cannot control or manage adverse situations, many a time the reason for being burdened by serious debt, but we can manage outstanding debt. What then must I do when in a similar situation?
When you have outstanding debt go and TALK TO YOUR CREDITORS (institutions you owe money). Do not avoid them. Visit each and every one of your creditors in person and explain to them your predicament. Support your explanation with facts – for instance what is your long term average production and what your production for the last season has been. Also explain to them your plans to rectify your situation. Also support this with a written explanation. And undertake to keep them informed about your recovery. You will most probably be most amazed by the positive attitude you will experience. The attitude of creditors is always first of all to assist you to keep your business – it means more money to them over the long term.
However before you go and talk to your creditors you must do some homework. Compile a revised budget (a physical and financial plan) taking in consideration the unpaid debt. Indicate what you are going to do and when and what it should cost and what your income should be. Indicate how you will repay the outstanding debt. Part of this revised plan will be to cut your business costs and your personal costs to the bone. In other words take a smaller salary for yourself. Postpone any capital expenditure (buying of assets) until you are out of the woods.
When compiling this revised budget consider alternative plans by having a good look at your business. Alternative plans may be to request a temporarily increase of the limits of your credit, to request a restructuring of your outstanding debt, to request only to pay the interest on the debt until a later date, to consider eliminating an enterprise that is not making a profit or not a good profit, and/or to consider the selling of unproductive assets such as implements/vehicles you can do without. Should you have an investment, use it to pay the debt – interest paid is always more than interest received.
Restructuring of loans implies that you request to pay back the outstanding loan over a longer period, or request exemption of payments for a period of time. Bear in mind whatever you do will cost you – you will be paying more interest. Nobody will help you free of charge. Then it is up to you to execute the plans. Spend according to your budget to keep costs and expenses under control.
Be very careful of spontaneous buying on the spur of the moment. Be disciplined – spend according to your budget. That is proper financial management. Remember you are already in trouble and you are the only one as owner/manager of your business to get your business out on a sound financial basis again. Nobody else is going to do it for you.
Lastly, it is then of the utmost importance to keep your creditor/s informed on a regular basis (perhaps at least once a month) of your progress. You are fighting for the future existence of your business and therefore your own livelihood. Keep your word.
Once again remember one of the principles we have emphasised is that everything and everybody, involved with the farming, be it the owner/ manager or employees, does or does not do when necessary, affects the profit/loss of the business. You have a legal obligation to repay any loan. By not paying it back and avoiding your creditors you are damaging any relationship with them. By managing your outstanding debt according to the aforementioned principles you will create positive relationships with them. Positive relationships are a major asset for the existence of your business. In the future you may find it far easier to acquire credit because people respect honesty and integrity.
Article submitted by Marius Greyling, Pula Imvula contributor.
For more information, send an email to mariusg@mcgacc.co.za.
Publication: November 2015
Section: Pula/Imvula