SUNFLOWERS – talk of the town at 50th NAMPO
July 2016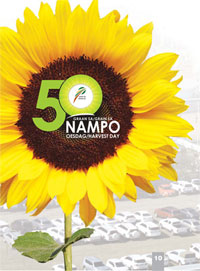 The month of May saw the presentation of the 50th NAMPO Harvest Day breaking countless records despite the drought and the tough conditions which the farmers of South Africa have had to endure this past season.
The record attendance figures and positive feedback from both exhibitors and visitors were a testimony to the resilient spirits of the farming community and their determination to rise again from the dusts of this season. CEO Jannie de Villiers captured this well, commenting on his huge respect for farmers and the way they attack risk, 'Despite difficult conditions producers are still prepared to invest in the industry. They didn't only attend NAMPO to come and look but also to make calculated purchases. They give our people hope!' he said.
Harvest Day chairperson Cobus van Coller also said that part of the value of the NAMPO experience is the opportunity it affords farmers to network and talk to one another and exchange valuable information. Farmers in conversation learn news insights and ways which they can add value to their farming enterprises.
Among the numerous interesting conversations, one kept hearing farmers talking about their amazingly resilient sunflower crops. They described fields of golden sunflower heads which though stunted and smaller than usual, have nonetheless stood strong and at least produced something of a crop this year, in spite of the merciless heat and little precipitation. One farmer even called them: 'My little golden miracles!'
The July 2015 Pula Imvula carried an article 'To Plant or Not to Plant' where we recommended that farmers should be prepared to plant sunflowers if the optimum planting period for any planned soybean crops was not achievable as they had proved themselves in the 2015 season – both in yields and in the market place. It seems that sunflowers have triumphed once again. You can read this article online: https://www.grainsa.co.za/sunflowers-or-soybeans...
The Bureau for Food and Agricultural Policy (BFAP) also conducted a study on 'The future of sunflower production in South Africa' in 2015. They acknowledged that sunflowers have become recognised as an ideal crop to grow in South Africa under conditions of lowinput farming and marginal cropping conditions. This is because sunflowers seem to have the ability to produce relatively consistent yields under adverse weather conditions and their overall characteristic of drought tolerance makes it an attractive crop for producers in dryland production. Sunflowers can also produce a crop on marginal soils 'with very little or no additional fertilisers' which is very attractive to farmers managing on a tight budget.
The one warning they issued was that due to favourable yields produced by other crops like maize and soybeans farmers tend to regard the sunflowers as their fall back or 'catch crop' so preference and prioritisation is not given to the timing for optimal planting dates and ideal climatic conditions (for example soils which are too hot or lacking moisture). When sunflowers are planted as a last resort they are left to the bitter end and planted only if it is no longer viable to plant anything else. The effects of this type of decision making will be felt in the lower yields.
There are sunflower hybrids available these days which carry the genetic potential to produce higher yields making the crop more attractive to farmers again. The introduction of advanced breeds like Clearfield Plus do offer significant benefits in the management of weeds and even afford farmers opportunities to grow sunflowers in no-till or minimum till farming systems. BFAP's conclusion is 'if sunflowers are treated as a cash crop in its own right, it becomes a profitable enterprise to consider'. (You can read more of the report on this link: https://www.grainsa.co.za/thefuture- of-sunflower-production-in-south-africa).
An October 2015 article we published about sunflower production further highlighted the importance of optimal planting times. Other key ingredients for successful sunflower production are:
Excellent field preparation for the sunflower plant's deep root system;
It is preferable to plant your sunflowers into either fallowed lands or lands where maize was produced in the previous season rather than sunflowers on sunflowers;
Do not be tempted to plant low populations. Find out what is ideal in your region. In the North West we plant about 30 000 plants/ha;
Good weed control is critical especially during germination. Avoid mechanical cultivation except for a pre-emergence 'duisendpoot' operation;
Monitor and manage the surface crust by running a 'duisendpoot' over the planted crop 3 - 4 days after planting to ensure optimal emergence; and
Excessive heat conditions can negatively influence germination potential – another reason not to always delay planting sunflowers as a last resort in January's heat.
You can also read this article online for more detailed information at: https://www.grainsa.co.za/stay-sharp-when-planting-sunny-sunflowers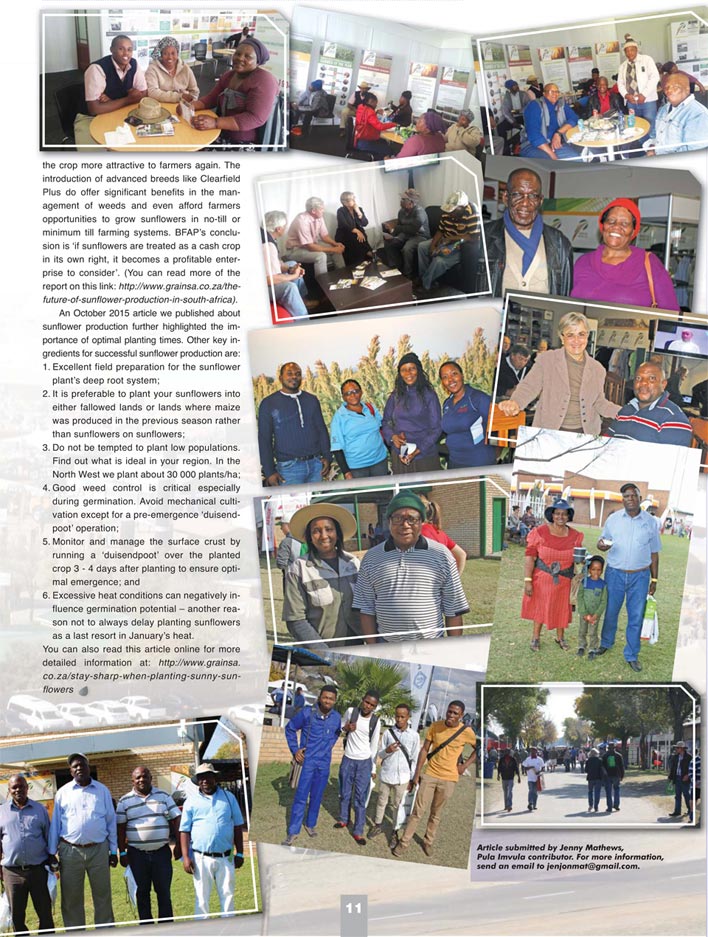 Article submitted by Jenny Mathews,Pula Imvula contributor.
For more information, send an email to jenjonmat@gmail.com.
Publication: July 2016
Section: Pula/Imvula