Sunflowers or soybeans...
July 2015

TO PLANT OR NOT TO PLANT


The 2014/2015 production season was extremely trying for farmers with wet and dry periods alternating out of normal patterns. The conditions in the early planting period in some areas were good with wet soils enabling good germination and good stands of soybeans.
In many areas, after germination, hot and cool days occurred together with very cold nights during early and mid-November. Nodulation was delayed and the crop did not have enough constant heat units in the critical first three to five weeks after planting. Together with the mid-season droughts soybean lands had a stop and start growth pattern. Under these circumstances yields were mixed, to say the least, with very light kernels being harvested in the later plantings. Kernels were weighed at an average of 0,7 grams. Even in previous bad years kernel weights above 0,11 gram were realised. Some lands realised only 0,35 tons/ha under these conditions.
In particular production areas the plants held back during the mid-summer drought and then all flowered during early March together. Some cultivars flowered 21 days later than would be expected by the cultivar heat units or growth days expected.
Market conditions and estimated production
Using the information provided by Sagis and the crop estimates committee it can be seen that the area planted to soybeans in the 2014/2015 season increased by 184 000 hectares to 687 300 hectares with a crop forecast of 942 850 tons at an estimated average yield of 1,37 tons/ha. The contribution of the increase by province of the area planted was 104 000 hectares in the Free State, Mpumalanga 42 000, North West 16 000, Gauteng 10 000 and KwaZulu-Natal 7 000 hectares with the others remaining constant.
On examination of the Commodity Derivatives Market of Safex it can be seen that soybean future prices range from R4 835 for May 2015 to R5 113 for December 2015. The increase is more a reflection of storage and handling costs than demand and supply forces. Use these future prices in your current gross margin comparisons.
In many districts the increase was contributed by farmers planting soybeans for the first time. As in all of man's endeavours the first attempt at something does not usually work out as planned. The management and planting of soybeans in particular within a certain optimum planting requires careful planning.
Lessons that can be learnt from this season that can be applied to the 2015/2016 production season
The yields realised from each land should have been recorded as well as the result for the various cultivars planted. Many new entrants to soybean production, being well advised, planted several commercial varieties as well as seed bought from their friends and neighbours. Some farmers, in what seemed to be a mad rush to plant soybeans, only completed planting between 20 and 24 December. One wonders if any of these plantings achieved yield of more than a half a ton a hectare.
It is absolutely critical to choose the correct cultivar for the soil potential and climate prevailing in your area. It can be argued that planting after the 15th of November for even medium and short season cultivars in the Free State is highly risky. The plant just does not have enough time to create enough growth and height in the plant factory to turn sun energy into a commercially viable seed yield.
For interest take some of the later planted seed and have it tested for oil and protein content. It will be found that the results show very low oil percentages less than 18% and low protein counts. These factors must also be considered when mixing rations with seed from these soybeans that have been extruded or processed for oil and soybean oil cake.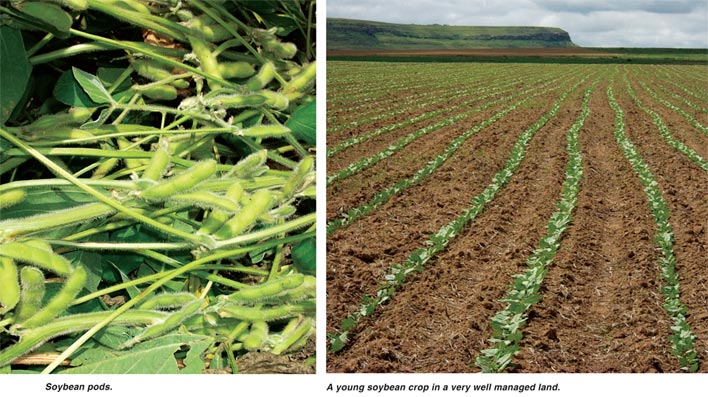 Conclusion
It is important to do a detailed gross margin analysis for all the summer crops taking into account your actual production for soybeans and sunflowers as an alternative. Sunflowers planted after the 15th of November have yielded 1,5 tons/ha, are giving a gross income of R7 250 compared to R1 680 for a 0,35 ton/ha soybean crop.
Buy enough seed for both crops so that you can change to planting sunflowers should the optimum planting period for your planned soybean crops be not achievable. Be adaptable to the uncertain and changing rainfall patterns of each season.
Article submitted by a retired farmer.
Publication: July 2015
Section: Pula/Imvula