Suid-Afrika: Wêreldleier in Russiese koringluisweerstandbiedende kultivars
May 2016

VICKI TOLMAY, LNR-Kleingraaninstituut, Bethlehem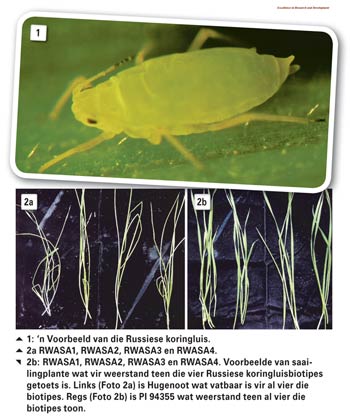 Met die eerste waarneming van die Russiese koringluis in die Vrystaat in 1978, was almal dit eens dat dit 'n ernstige probleem was. Wat niemand voorsien het nie, was hoe baie navorsing oor die byna 40 jaar daarna gedoen sou word om hierdie klein groen insek (Foto 1) te verstaan en beheer.
Suid-Afrika is een van twee lande in die wêreld wat gebruik maak van kommersiële koringkultivars met Russiese koringluisweerstand om hierdie skadelike insek te bestuur. Die ander land is die VSA. 38 koringkultivars is oor die jare in Suid-Afrika vrygestel. Uit dié wat tans beskikbaar is, is daar vyf wat weerstand teen die nuutste biotipe van die Russiese koringluis toon.
Dit is voorwaar 'n prestasie, want daar is tans vier biotipes (genome RWASA1, RWASA2, RWASA3 en RWASA4) van hierdie luis wat in die koringproduksiegebiede van Suid-Afrika voorkom. Die biotipes verskil in hul vermoë om Russiese koringluisweerstandbiedende kultivars te beskadig, maar kan nie visueel onderskei word nie. Die ontwikkeling van voortelerslyne (of in Engels pre-breeder lines) deur kundiges, word met welslae gebruik om nuwe bronne van bruikbare weerstand aan al die Suid-Afrikaanse koringtelers be skikbaar te stel in koringlyne wat nie nadelige eienskappe dra wat hul teelprogramme kan benadeel nie. Boonop voorkom dit duplikasie in verskillende teelprogramme en op hierdie manier word kostes gespaar tot voordeel van die hele koringbedryf.
Evaluasie van Russiese koringluisweerstandsdonorlyne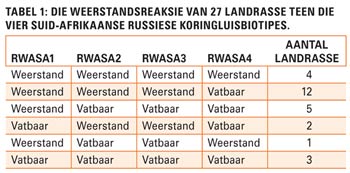 Onlangs is 27 landrasse met al vier die Russiese koringluisbiotipes in Suid-Afrika getoets om te bepaal of hulle in die voortelings program aangewend kan word Foto 2a en Foto 2b. Die inligting word in Tabel 1 voorsien. Vyf van hierdie landrasse, naamlik PI 94355, PI 243781, PI 361836, PI 626580 en CItr 2401, toon weerstand teen al vier die biotipes. Twee van hierdie landrasse, PI 094355 en PI 243781, wat nog nie in die voortelingsprogram gebruik is nie, sal ook nou ingespan word. 'n Ander landras, PI 366518, blyk uniek te wees omrede dit weerstand toon teen RWASA1 en RWASA4, maar vatbaar is teen RWASA2 en RWASA3. Hierdie lyne sal ook nou vir die ontwikkeling van telerslyne gebruik word.
Genetiese studies om Russiese koringluis beter te verstaan
Daar word tans gevorderde molekulêre navorsing op Russiese koringluis en Russiese koringluisweerstandbiedende koring gedoen. Daar word wêreldwyd gefokus op die identifikasie van die verskillende biotipes deur middel van molekulêre tegnieke. Dit is veral belangrik om entomoloë en ekoloë in staat te stel om vinnig die verspreiding van die verskillende biotipes te bepaal. In terme van weerstand teen die Russiese koringluis, word ook gefokus op nuwe tegnologie wat geen-produkte en plantfisiologiese prosesse identifiseer.
Koring besit drie kopieë ('n A-kopie, 'n B-kopie en 'n D-kopie) van elke van sy sewe kromosome – oftewel die sogenaamde A-genoom, B-genoom en D-genoom. Dit kompliseer teling en genetiese studies geweldig omdat dit baie moeilik is om te bepaal presies waar die geen is wat vir 'n spesifieke eienskap geleë is. Heelwat vordering wat gemaak word in hierdie vakgebied, word in Suid-Afrika gedoen.
Die International Plant Resistance to Insects Symposium is onlangs op Stellenbosh vanaf 5 tot 8 Maart gehou. Mnr Marlon le Roux (Universiteit van Stellenbosch) het die prys ontvang vir die beste PhD-voordrag terwyl me Kelly Breeds (Universiteit van Stellenbosch) die beste MSc-voordrag gelewer het en me Thandeka Sikhakhane (Unisa) in die MSc-kategorie tweede gekom het. Hierdie drie studente maak deel uit van tien nagraadse studente wat hul Russiese koringluisnavoring by hierdie geleentheid voorgedra het.

Met toegang tot hoogstaande gehalte navorsingsuitsette en 'n verskeidenheid weerstandsbronne wat ontgin kan word, behoort die Suid-Afrikaanse koringbedryf in die gunstige posisie te kan bly waar Russiese koringluis met sukses bestuur word.
Vir meer inligting skakel gerus die outeur by 058 307 3433 of TolmayV@arc.agric.za.
Publication: May 2016
Section: On farm level