Subsistence Farmer of the Year category (0 ha - 10 ha)
If you are patient, you will SUCCEED
November 2018

LOUISE KUNZ, SA Graan/Grain editorial team and HELENUS KRUGER (photo)
Napoleon Hill, the American author of the book Think and grow rich said patience, persistence and perspiration make an unbeatable combination for success. Ms Jenette Thembi Shoba from Mpumalanga proved this to be true.
Although Shoba had to leave school early to earn an income to provide for her family, she managed to put her siblings through school on a domestic worker's salary. With parents who were farm workers, she always knew that there was no life without agriculture. Therefore, when she returned to the farm in 1994, she set herself one goal: To fight hunger.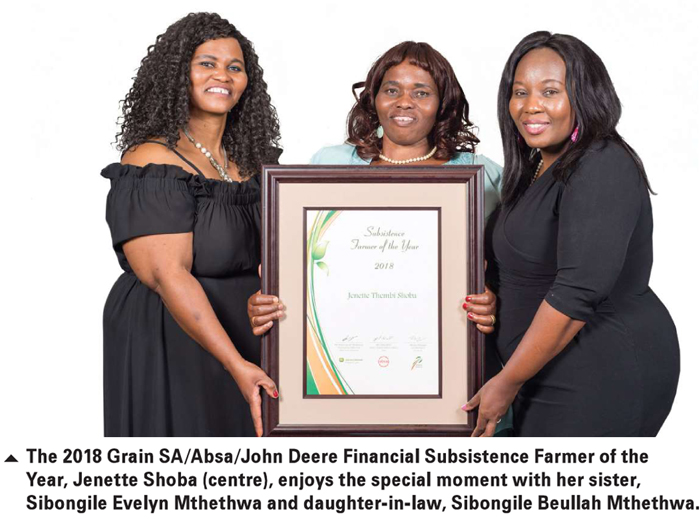 As the winner of the Grain SA/Absa/John Deere Financial Subsistence Farmer of the Year award this determined grandmother has proven that she is now one of those who fight against hunger and poverty in South Africa. She makes use of the services of the people in her community to get the harvest off the field and shares the maize with child-headed households.
Shoba became a member of Grain SA in 2014 and really began enjoying farming once she joined a study group.
'I thank Grain SA for all the support they have given me. Thank you for opening my eyes and teaching me that before I can put seed into the soil, I must understand the soil. I know now that if you are patient, you will be successful,' she said at the function on 12 October. Her patience was rewarded as she achieved a yield of 7,5 tons on her 1 ha last season.
Publication: November 2018
Section: Grain SA