Struggles and HARD WORK forgotten as SUCCESS is celebrated
November 2018

LOUISE KUNZ, SA Graan/Grain editorial team
'Farming is not about land; it is about using land. Today we are celebrating those who are using land and using it well,' said Ms Jane McPherson (manager: Farmer Development Programme, Grain SA) at the tenth Day of Celebration held on 26 September.
NAMPO Park hosted this prestigious event for the first time in nine years. In 2008 Grain SA initiated this celebration to give acknowledgment to farmers for the hard work they put in throughout the year.
About 400 guests, which included government representatives, agricultural stakeholders, emerging grain producers and Grain SA personnel, attended the event this year. Guests sported colourful traditional outfits and there was a buzz of excitement in the air.
It was evident that agriculture in South Africa was alive and well.
This competition is not about winning, but about celebrating the learning, growth, development and hard work of the thousands of farmers in the Grain SA Farmer Development Programme. It is meant to serve as a beacon of motivation and inspiration to work towards improving farming skills and achieving goals.
The selected nominees were identified for good agricultural practices and are all an example of what can be achieved.
Growing together
American businessman, James Cash Penney, said 'Growth is never by mere chance; it is the result of forces working together'. Since Grain SA embarked on a road to assist farmers to become better agriculturalists there was growth in the number of South African farmers.
Mr Jannie de Villiers (CEO, Grain SA), is extremely proud of the team involved in the programme who were instrumental in adding 29 new emerging farmers to the list of farmers who are now producing grain of commercial quality. He expressed his gratitude to every emerging grain farmer who is willing to be guided, thereby ensuring a growing harvest of grain farmers each year.
21 farmers joined the 250 Ton Club, three new members were added to the 500 Ton Club and 1 000 Ton Club respectively, and two farmers became proud representatives of the 1 500 Ton Club. 'We don't farm for farmers, but give them guidance so that they learn to farm for themselves. At this event we do not celebrate a harvest of maize, but a harvest of farmers,' De Villiers added.
The winners (and finalists) who took their mentors' advice to heart and showed the greatest improvement in the various categories are as follows:
The 2018 Grain SA/Absa/John Deere Financial Subsistence Farmer of the Year, Ms Jenette Thembi Shoba (59) from Mpumalanga, was overjoyed to be announced as the winner. She joined Grain SA in 2014 and became a more skilled farmer by attending study group sessions, producing an astonishing 7,5 tons of maize on her 1 ha. Mr Michris Janse van Rensburg donated a fertiliser spreader and Ms Helene Rhodes sponsored a threshing machine. With these gifts Shoba may even increase her yield in the next season.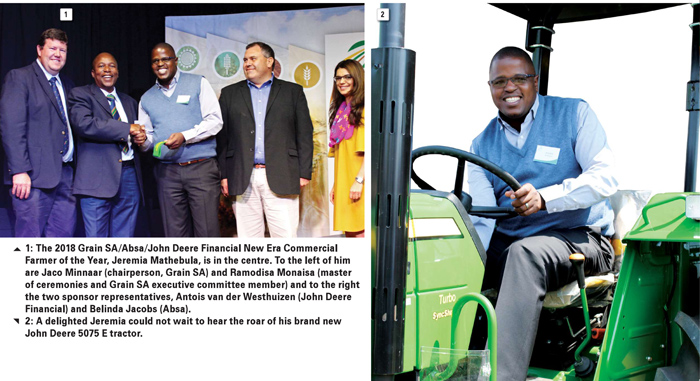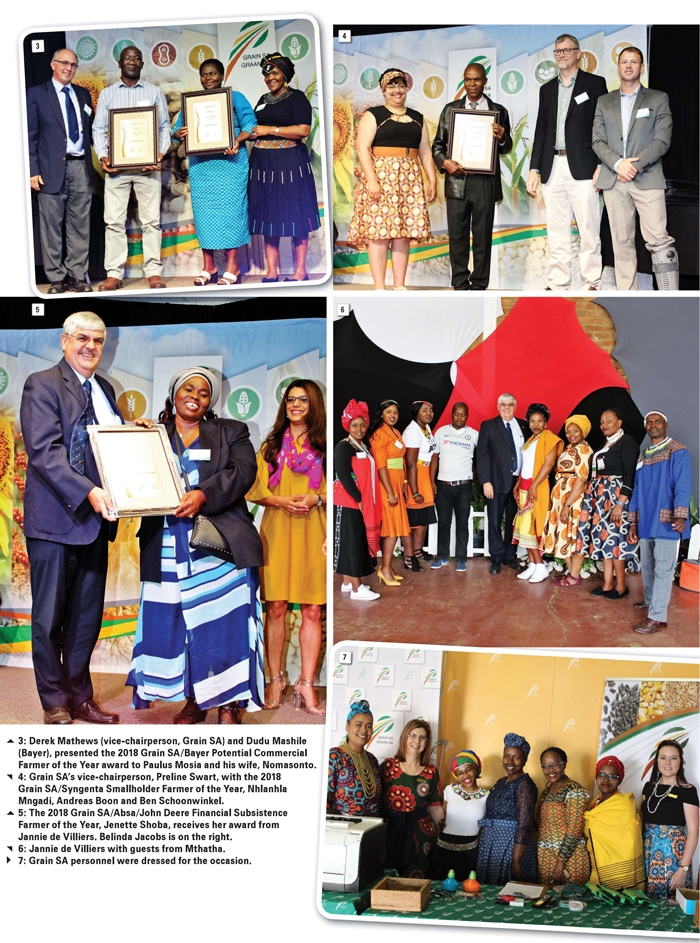 Other finalists in this category were Mr Amos Mfaniseni Kubheka from Mpumalanga and Mr Siyavuya Njeya from the Eastern Cape.
There were only two farmers who qualified as finalists in the category, 2018 Grain SA/Syngenta Smallholder Farmer of the Year: Mr Mduduzi David Mnisi from Mpumalanga and Mr Nhlanhla Sicelo Mngadi from KwaZulu-Natal. Mngadi (48), who joined Grain SA in 2015 after seeing the success his neighbour was achieving as a result of Grain SA's mentorship programme, was announced as the winner.
This is the second year that the Grain SA/Bayer Potential Commercial Farmer of the Year award was presented. This category is for farmers with access to more than 100 ha of arable land, who are currently not able to use all of the available land, but can develop into New Era Commercial farmers. The 2018 winner of this category, Mr Paulus Mosia (50), hails from the Free State and joined the Grain SA Farmer Development Programme in 2008. He is also an active member of the Edenville Study Group. Brothers Anton and President Mabaso who farm together in the Bothaville district, were the other finalists in this category.
Mr Jeremia Makhosini Mathebula (40) from Mpumalanga is the 2018 Grain SA/Absa/John Deere Financial New Era Commercial Farmer of the Year. His farming career began in 2009 when he started planting maize on only 40 ha of arable land on which he achieved about 4 t/ha. Over the past four years his maize yield has increased by 75%. He currently plants a total of 450 ha of maize and 100 ha of soybeans and manages over 400 breeding cows. His prize included a brand new tractor. The other finalists in this category, who each received a cheque for R25 000 and a watch from the sponsors, are Mr Thamsanqa Sampie Booizene from the North West Province and Mr Daniel Maqala from the Free State.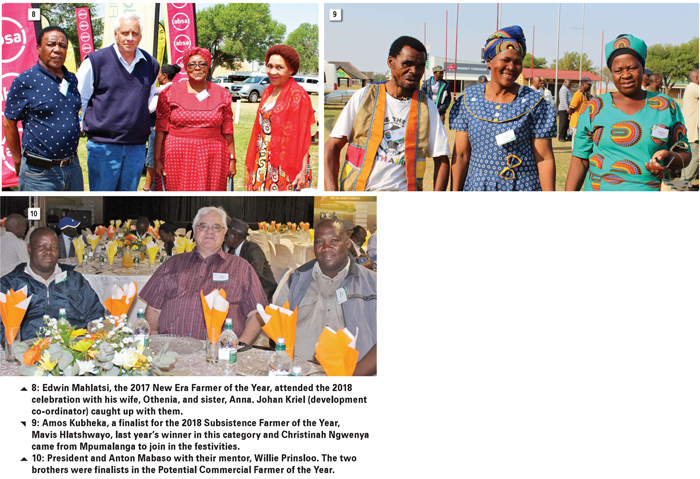 The forces who made it possible
A big thank you to the main sponsors – Absa, Bayer, John Deere Financial and Syngenta, who were represented by:
Ms Belinda Jacobs (enablement marketing manager: Absa AgriBusiness).
Mr Antois van der Westhuizen (managing director: John Deere Financial Sub Saharan Africa).
Messrs Andreas Boon (head: Technical Services, Syngenta SA) and Ben Schoonwinkel (head: Customer Marketing, Syngenta SA).
Ms Dudu Mashile (seed sales manager, Bayer).
McPherson also thanked the friends of the programme whose support ensures its continued existence and said that a day like this brings hope. 'I believe in our future – we can do so much together.' These supporters include the Maize Trust, Winter Cereal Trust, Oil and Protein Seed Development Trust, Monsanto/Bayer, Afgri, Pioneer, Pannar and Sasol Base Chemicals.
Publication: November 2018
Section: Grain SA