Soybean prospects for the 2020/2021 season
January 2021

Global soybean prices have been on the rise due to uncertainties related to weather conditions, the US soybean market trended about 9% higher since the end of September to October 2020. Production uncertainties persist for South America as less than optimal weather conditions prevail, slowing down planting in some areas.
Although weather conditions have improved in some parts of Brazil, the planting is significantly later than normal, they will probably have to import to cater to local demand. China's demand for soybeans remains high for 2020/2021 as they work towards growing their hog herd after the African swine fever wiped out about 40% of their herd in 2019. The focus will be on the South American market until early 2021. The upward movement of prices internationally have had an impact on the South African market, where prices are trending higher, but demand remains good.
LOCAL MARKET TRENDS
According to the latest SAGIS figures, producer deliveries for Soybean as of 1 September totalled 1 202 982 tons, which is about 97% of the estimates by the Crop Estimates Committee (CEC) (Table 1). The forecast for the new season in terms of production planning is looking favourable.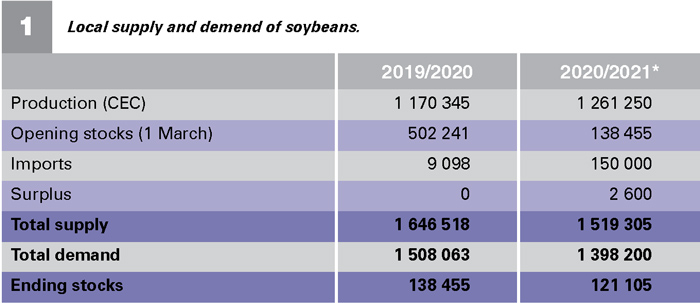 The CEC reported that the intention to plant for 2020 will possibly increase by 80 800 ha to 785 800 ha, which is an 11,46% increase compared to the previous year's 705 000 ha. Projections for closing stock levels at the end of the season (28 February 2021) is estimated at 121 105 tons, this would represent available stocks for a month, with average processing of 115 417 tons per month, this is tight considering that we require stocks for at least one and a half months to cater for the local market's new season deliveries to come in or imports can be arranged.
The local soybean market demand remains good. According to the latest SAGIS figures, the year to date overall processing of soybeans is 882 506 tons, approximately 2,6% more than the previous season's year to date pace. This is mainly due to the processing of oil and oilcake which is ahead of last year's pace by 7%.
Over the past few months, domestic soybean prices continued to increase due to the support from increasing international prices, depreciation of the rand and strong domestic demand (Figure 1). Since around April/May, local prices moved closer to import parity levels, following international price movements pushed by higher demand for US soybeans as well as uncertainties in weather conditions in South America.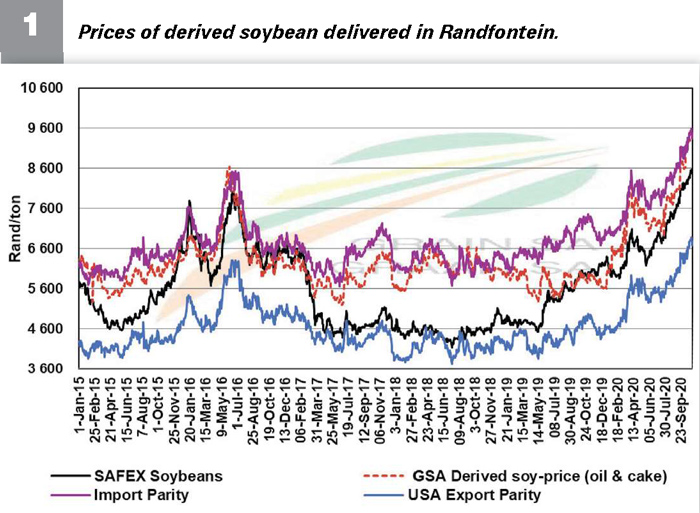 In addition, local demand for crushing has increased. The December futures price increased by 22,7% since June 2020, while July 2021 futures price is trading at around R7 200, at the time of writing this article. Prices are likely to remain relatively stable at current levels in the short term. Most of the actual plantings still need to take place; hence, there is still a lot of production risk that can affect prices.
Publication: January 2021
Section: Pula/Imvula