South African wheat market overview for the 2016/2017 season
March 2017

The previous season was quite a difficult one in the wheat market. The 2015/2016 marketing season was known as extremely dry through the largest parts of the country and also in the wheat producing areas.
The production for the 2016/2017 season in terms of wheat is looking very favourable and good yields were reported. Although 2016 was not met by very good rainfall in some parts of the grain production areas, the rain that did come certainly showed up at the right time.
Nearing towards the end of 2016 during harvest season, the Western Cape (WC) farmers yielded what is considered to be the best harvest in many years and owing to that was a combination of the correct weather timing and good farmer practices.
The expected production in the WC increased by 10% to 1,066 million tons from 969 000 tons of the previous season.
In December 2016, the national Crop Estimates Committee released the latest Crop Estimates report which indicates an upswing for the season ahead. The forecast for a bigger crop can be attributed to an increase in the area planted and the weather conditions which improved in the Western Cape area.
The estimated crop production for 2016/2017 production season has been revised to 1,876 million tons which is 6% higher than the previously estimated forecast of 1,766 million tons. The Supply and Demand estimates provides an indication of what the future holds for the 2016/2017 season in the South African wheat market.
Wheat Supply and Demand
In the previous season, marked as the 2015/2016 marketing season, South African imports were at a record high coming in at 2,067 million tons. The surge in imports was due to uncertainty of the wheat tariff and which direction it may take and as a result, the market remained with large ending stocks which amounted to 832 000 tons which subsequently lead to large wheat stocks of 144 000 tons above pipeline.
It was no surprise then, that this current marketing season's supply side would be met by high opening stocks, which are 39% higher than the previous season. The local demand has been slightly reduced by 0,15% which was mainly swayed by the reduction in the imports.
Current import expectations are 1,4 million tons with ending stocks at 682 000 tons. Following a good harvest late last year coupled with high ending stocks, we have seen shrinkage in wheat imports. So far, the country has imported 81 376 tons of wheat which is less 86% year-to-date and constitutes only 5% of the total import requirements of 1,4 million tons.
The current wheat market prospects paint a good picture in comparison to the previous season, with increased export demand and overall good harvest, 2017 is off to a good start!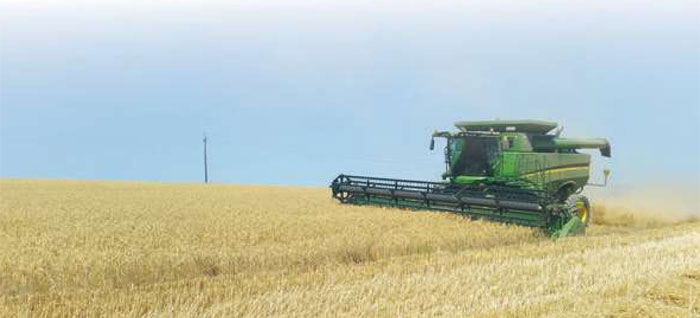 Article submitted by Michelle Mokone, Agricultural Economist: Grain SA. For more information, send an email to Michelle@grainsa.co.za.
Publication: March 2017
Section: Pula/Imvula