South Africa's soybean industry: A brief overview
March 2016


WANDILE SIHLOBO, ekonoom: Bedryfsdienste, Graan SA en TINASHE KAPUYA, hoof: Handel en Beleggings, Agbiz
South Africa has in recent years made significant investments in the domestic soybean crushing capacity. These investments led to increases in the crushing capacity of approximately 2,2 million tons plus.
Among others, investment towards soybean crushing capacity was aimed at stimulating domestic soybean production, as part of import substitution strategy. South African soybean producers responded positively to these demand changes, and for the first time the country's production reached 1 million tons in the 2015/2016 marketing season.
Despite the increasing levels of soybean production, South Africa still imports considerable volumes of soybean oilcake and oil, and there is still considerable scope for production increases in order to substitute these imports. In fact, South Africa's domestic soybean production is only a third of the country's crushing capacity.
In the 2016/2017 marketing season, South Africa's soybean production is expected to decrease by 27% year-on-year, leaving room for increases in oilcake and oil imports.
Moreover, the country is the largest importer of soybean oilcake in Sub-Saharan Africa, accounting for an average of 72% of import demand. According to the Protein Research Foundation, South Africa's soybean oilcake requirements in 2015/2016 will be 1,5 million tons, 55% of which would have to be imported.
Significant growth in oilcake and oil demand have been driven, to a large extent, by increasing demand for animal feed, which in turn has been stimulated by increases in the demand for high protein food, more specifically within the growing middle class. In this article, we briefly explore the soybean market structure by reflecting on its production and trade trends.
Production perspective
Soybean is produced throughout the country, but significant production takes place in the Free State and Mpumalanga provinces. South African soybean production has always varied throughout the years, but mostly above the domestic demand (see Graph 1). However, from the 2013/2014 production season, demand outstripped production on the back of increasing demand from the newly established crushing plants (see Table 1).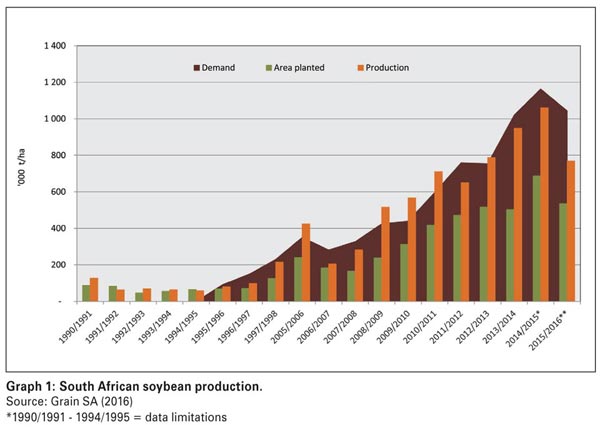 This gap is expected to widen in the 2016/2017 marketing season due to lower expected production on the back of a drought.

Soybean production grew by 63% between the 2011/2012 to 2014/2015 production seasons. At the same time, the area planted increased by 57%. The key underlying factor behind this growth was the demand from the crushing plants. It is important to highlight that of the estimated 2,2 million tons plus of total crushing capacity, about 1,3 million tons are dual – meaning that it can crush both sunflower seeds and soybeans (see Table 1).
Moreover, the crushing plants are not yet crushing at full capacity. The highest crushing reached so far was 62% of the monthly rate in July 2015 and December 2015 (see Graph 2). The reason for this might be attributed to the current higher prices as well as some mechanical issues within the firms, as some were still in their final stages of construction.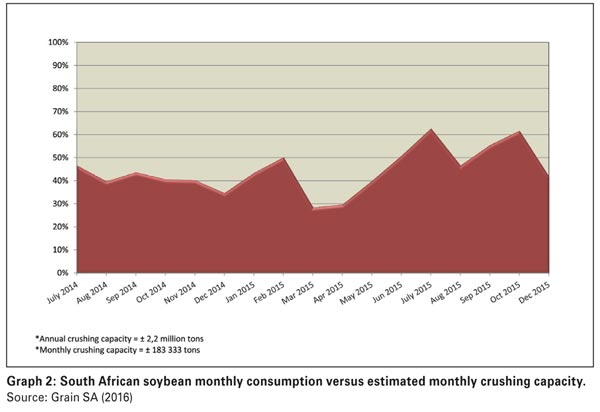 Closer look at production
South Africa's 2016 total summer crop is expected to decrease by 24% year-on-year. Of these, soybean production is expected to decrease by 27% year-on-year to 768 560 tons. This expected decrease in production is due to the current drought conditions which have led to a decrease in area planted as well as possibilities of lower yields.
Nonetheless, over the past twelve years the soybean crop showed significant growth when compared to maize, sunflower seeds and groundnuts (Graph 3). Of all the aforementioned crops, groundnuts is the only crop that showed significant decrease, due to a decrease in yields and domestic demand, particularly in the edible peanut market.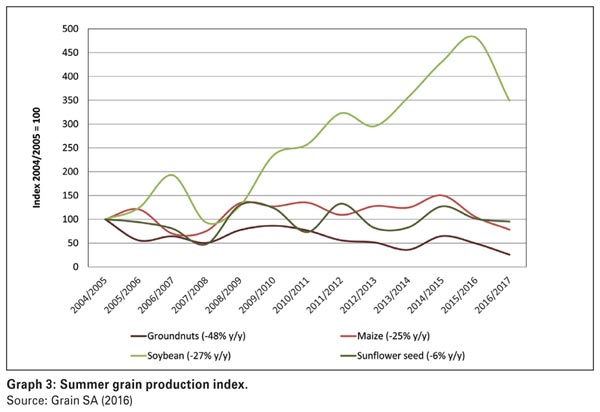 Over these years, soybean yield levels did not show any significant changes. With the exception of 2016/2017, national yields averaged at around 1,21 tons per hectare. It is worth noting that the crop increase in 2015/2016 would possibly have been higher than the estimated 1 million tons' production, as the area planted increased 37% year-on-year. However, this increase was overshadowed by the current drought conditions.
Trade perspective
South Africa's 2016/2017 soybean imports are estimated to be at the highest levels in years due to expected significant drop in domestic production. However, imports of soybean oilcake have been decreasing. Graph 4 represents the past five years of South African oilcake imports. From 2010 to 2014, South African oilcake imports have decreased by 47%.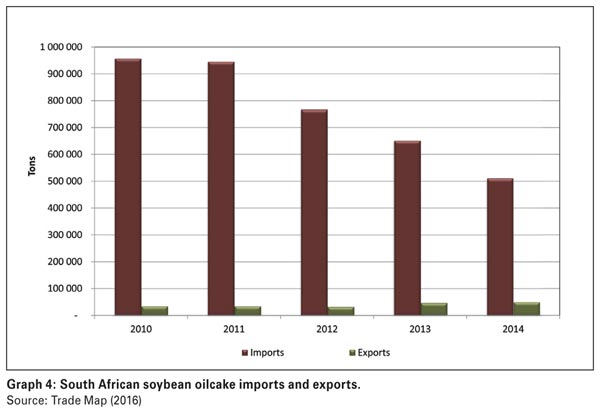 This is positive for the economy and displays a positive gain from the investments made in the processing industry (crushing plants). From 2012 to 2014 South African oilcake imports decreased by 33%. This was during the period when some of the new crushing plants came into effect.
The import decreases show positive results from the investment made in pursuing the governmental import replacement strategy. Nonetheless, South Africa still imports significant volumes of oilcake. The 2014 oilcake imports amounted to 511 014 tons, which is a 41% share of domestic consumption (see Graph 4).
The leading suppliers to South Africa were Argentina, with a share of 99% (506 900 tons) and Malawi with a share of 1% (2 814 ton). There is still capacity to increase production and reduce these imports.
South Africa is a small player given the soybean oilcake export market. In the past five years the industry has exported an average of 39 443 tons of oilcake. All exports were destined for the African markets, mainly Botswana, Mozambique, Namibia, Lesotho and Angola.
South Africa also imports significant volumes of soybean oil. According to Trade Map (2016) data in 2014, South Africa's soy oil imports totalled 171 068 tons. However, it is worth mentioning that this was a 37% lower than the volume imported in 2010.
Like soybean oilcake imports, soybean oil imports also showed a decreasing trend (see Graph 5). The leading soybean oil suppliers to South Africa are Spain with a share of 44% (75 679 tons), Argentina with a share of 27% (46 727 ton), the Netherlands with a share of 21% (35 969 tons), Romania with a share of 4% (6 493 tons) and Brazil with a share of 3% (5 517 tons).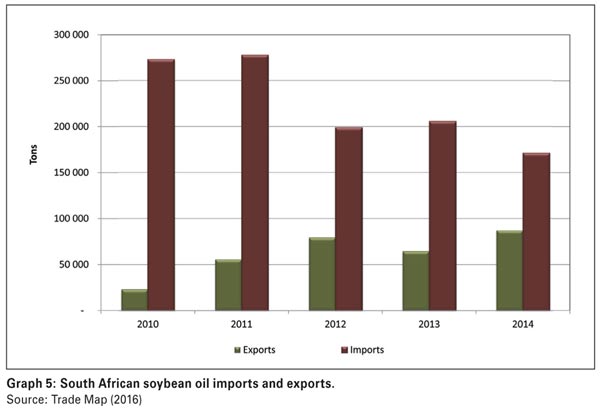 South Africa also exports soybean oil to the African markets. The average for the past five years is 61 947 tons. In 2014, the leading suppliers were Zimbabwe with a share of 61% (53 541 tons), Zambia with a share of 36% (19 198 tons), Malawi with a share of 4% (3 416 tons), Swaziland with a share of 4% (3 369 tons) and Lesotho with a share of 4% (3 263 tons).
Conclusion
The South African soybean industry is negatively affected by the current drought. Nevertheless, the industry has grown significantly and there remains a potential for further growth to utilise the crushing capacity.
Investments made as part of import replacement have yielded positive results; imports for both soybean oilcake and oil have decreased significantly. But, there is still a need to substitute the current imported quantity with domestic production. It is important to highlight that any production increases from the current crop size might have an impact on the price levels, and therefore, the profitability of the crop.
Disclaimer
Everything has been done to ensure the accuracy of this information, however Grain SA takes no responsibility for any losses or damage incurred due to the use of this information.
Publication: March 2016
Section: On farm level