Soilborne diseases of soybean and management strategies to control these diseases
March 2017

YARED TEWOLDEMEDHIN and SANDRA LAMPRECHT, ARC-Plant Protection Research Institute (PPRI), Stellenbosch
Soybeans are grown in most parts of the world and are a primary source of vegetable oil and protein. They are also grown in South Africa and are an important oilseed crop where approximately one million tons were produced on 687 300 ha during the 2014/2015 growing season.
Soilborne diseases, though, are an economically important constraint in soybean production and among the most widely distributed diseases of soybean. Under field conditions favourable for disease development, yield losses can be significant.
Several microorganisms have worldwide been associated with soilborne disease problems in soybean. For example, in the United States, 38 fungal taxa were isolated from diseased soybean seedlings in Mississippi and twelve fungal taxa were isolated in Florida.
In soybean-growing regions of the world, Fusarium, Macrophomina, Phytophthora, Pythium, Rhizoctonia, Sclerotium and Sclerotinia are reported among the main fungal genera causing soilborne diseases.
Surveys
In South Africa, in order to investigate the causal agents of soilborne diseases of soybean, we conducted surveys in cultivar trials and producers' fields for three years (2010/2011 – 2012/2013 soybean growing seasons).
The surveys were done in six provinces that were identified as the most important soybean growing areas. These include the Free State (Bethlehem, Bothaville, Clocolan and Villiers), KwaZulu-Natal (Cedara, Dundee, Normandien, Vryheid and Winterton), Limpopo (Groblersdal and Koedoeskop), Mpumalanga (Delmas, Dirkiesdorp, Grootvlei, Kinross, Middelburg, Morgenzon and Wonderfontein), Northern Cape (Vaalharts) and North West Province (Brits, Potchefstroom and Rustenburg).
These localities represent three climatic areas, i.e. cool, moderate and warm. Plant and soil samples were collected thrice from each cultivar trial or farm: Two weeks after planting, at the flowering and at the pod filling stages of soybean plants.
Most important pathogens
In order to determine the importance of soilborne diseases, bioassays were conducted under glasshouse conditions. In the glasshouse bioassays, the soil collected from each area was split into two and one part was pasteurised in order to eliminate soilborne fungal pathogens (the biological component of the soil) in the soil while the second part was left untreated.
Survival of soybean seedlings planted in pasteurised soils were significantly higher than those planted in non-pasteurised soils collected from all areas (Photo 1).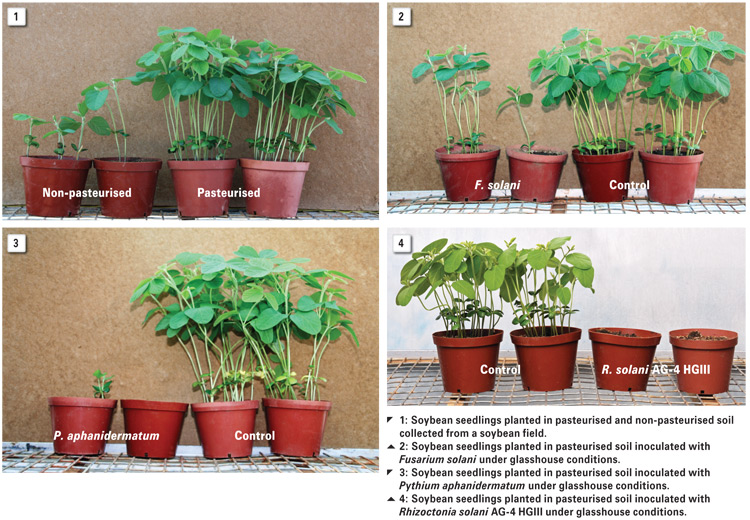 Isolations were made from diseased soybean plants that were collected from all the areas sampled. It was found that 71 fungal species were obtained from soybean crowns, hypocotyls, cotyledons and roots.
A large number of isolates representing each species from different genera were tested to determine their importance in causing disease on soybean plants under glasshouse conditions. Of the 71 fungal species, Fusarium (F. begoniae, F. graminearum, F. oxysporum, F. solani) (Photo 2), Pythium (P. aphanidermatum, P. heterothallicum, P. irregulare, P. ultimum) (Photo 3) and Rhizoctonia solani (AG-2-2 IIIB, AG-4 HG-III) (Photo 4) caused root rot and/or damping- off, Sclerotium rolfsii is reported to cause southern blight and Diaporthe/Phomopsis spp. complex are causal agents of stem blight in South Africa.
Seed treatment trials
In glasshouse experiments six fungicide seed treatments were evaluated against the most important soilborne pathogens of soybean. ST1 (a.i. mefenoxam), ST2 (a.i. fludioxonil + mefenoxam), ST3 (a.i. azoxystrobin + fludioxonil + mefenoxam), ST4 (a.i. thiabendazole + azoxystrobin + fludioxonil + mefenoxam), ST5 (a.i. penflufen + prothioconazole + metalaxyl) and ST6 (a mixture of ST1 [a.i. mefenoxam] + ST2 [a.i. fludioxonil + mefenoxam] fungicides) were evaluated as seed treatments for their effects on survival, growth and root rot of seedlings in soil infested with Fusarium spp.
(F. begoniae, F. graminearum, F. oxysporum, F. solani), Pythium spp. (P. aphanidermatum, P. heterothallicum, P. irregulare, P. ultimum), and R. solani (AG-2-2 IIIB, AG-4 HG-III).
Results of the effect of fungicide seed treatment on survival of soybean seedlings grown in soil infested with important soilborne pathogens showed that pre- and post-emergence damping-off of soybean caused by important soilborne pathogens of soybean can be effectively controlled by ST3, ST4, ST5 and ST6.
However, ST4 and ST5 are more effective against Fusarium spp. Although seed treatment with ST1 was effective in reducing damage caused by Pythium species, it was not effective against other soilborne pathogens of soybean. On the other hand, ST2 was effective in reducing damage caused by R. solani AG-2-2IIIB and AG-4 HGIII and although it reduced damping-off of soybeans caused by Pythium species, in most cases it was not as effective as ST6 (Photo 5).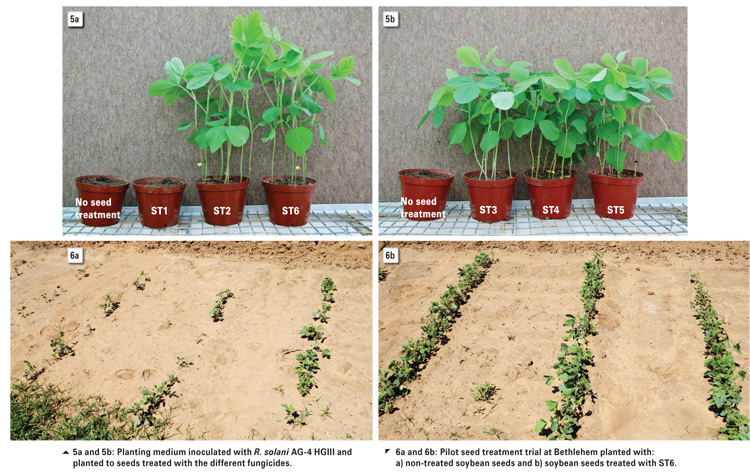 Pilot field trials
The results of this study, which were done under glasshouse conditions, need to be verified under field conditions to be considered reliable. For this purpose, commercially available fungicides that were evaluated under glasshouse conditions will be used to test their ability to control soilborne diseases of soybean under field conditions.
In a pilot trial one fungicide (ST6) was used as seed treatment and treated seeds were planted in three areas (Bethlehem, Brits and Groblersdal).
Soilborne diseases
Evaluation of the pilot field trial after six weeks of planting showed that the seed treatment significantly improved soybean seedling establishment (36%) compared to the untreated control (Photo 6).
Conclusion
In other countries, it is clear that integrated management strategies that at least include seed treatment, resistance/tolerance and proper crop rotation are essential to sustainably manage soilborne diseases of soybean.
Although management strategies have been tested in other countries, they have not been properly tested and applied in South Africa. Among the fungicides evaluated, potential fungicides suitable and effective as seed treatment on soybeans were identified.
In order to verify these results under field conditions, cultivars with tolerance/resistance against important soilborne pathogens of soybean needs to be identified, as well as pre-crops (rotation crops) that are either non-host or have some degree of tolerance/resistance to the soybean pathogens evaluated.
The ideal practice in combating the soilborne diseases of soybean is to combine the best of the three strategies. This will ensure the sustainability of the management practice with considerably lower input cost.
Acknowledgements
We thank the Protein Research Foundation and Agricultural Research Council (ARC) for supporting this research. Special thanks to Annelie de Beer for providing soybean seeds and planting the pilot field trials and Alta Schoeman and Thabo Phasoana for technical assistance.
Publication: March 2017
Section: Focus on