ELBÉ HUGO EN MARLENE VAN DER WALT, LNR-INSTITUUT VIR GRAANGEWASSE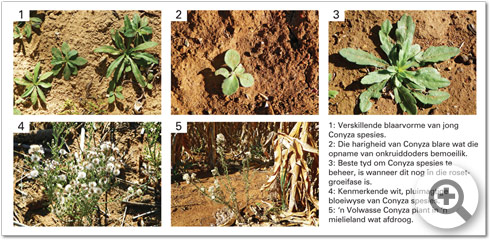 Daar kom ongeveer 15 verskillende Conyza spp. in Suid-Afrika voor waarvan eintlik net drie ekonomies belangrike onkruide is. Hierdie onkruide staan in die volksmond bekend as armoedskruid of dan ook vaalskraalhanse. Dit is geharde, semi-houtagtige onkruide wat slegs deur saad versprei kan word.
Die algemeenste spesies wat in gewasse voorkom, is Conyza canadensis (Kanadese skraalhans) en C. bonariensis (kleinskraalhans) en C. albida (vaalskraalhans).
Alhoewel jong blare van Conyza saailinge heldergroen is, vertoon ouer blare van volwasse plante meer grysgroen. Hierdie onkruide word veral uitgeken aan hulle vaal voorkoms en kenmerkende wit, pluimagtige blomme.
Blaarrante is getand en is harig, wat die opneem en binnedring van naopkoms onkruiddoders bemoeilik. Conyza spp. kan egter maklik beheer word met 'n vlak grondbewerking, maar toenemende getalle van die onkruid kom voor waar minimumbewerking en bewaringsboerdery toegepas word. Dit is hoofsaaklik 'n winteronkruid en ontkiem laat in die seisoen wanneer gewasse al fisiologies ryp is en nog voor oes, wat beheer feitlik onmoontlik maak. Die beheer van skraalhanse het dus baie uitdagings, maar produsente moet waar hoë infestasievlakke voorkom, beheer toepas voordat die onkruide kans kry om in die winter te blom.
Chemiese beheer kan toegepas word met na-opkoms doders soos paraquat, 2,4-D, MCPA en glifosaat. Die beste beheer word verkry met 'n tenkmengsel van glifosaat en 2,4-D of MCPA wanneer onkruide nog in die roset-vorm is.
Skraalhanse is hardnekkige onkruide en wisselvallige beheer word verkry met na-opkoms doders. Swak chemiese beheer word ook verkry met na-opkoms doders wanneer plante te groot raak en begin saadskiet.
Wat die beheer van skraalhanse verder kompliseer, is dat daar reeds in 2003 onkruiddoderweerstand van Conyza spp. in Suid-Afrika aangeteken is, veral teen paraquat en glifosaat. Produsente moet dus op die uitkyk wees dat wanneer chemiese beheer op die regte tyd, teen die regte dosis toegedien word en swak beheer steeds verkry word, die nodige chemiese maatskappye in kennis gestel moet word om weerstandige Conyza populasies te ondersoek.
Vir meer inligting, kontak Elbé Hugo by HugoE@arc.agric.za of (018) 299-6298.