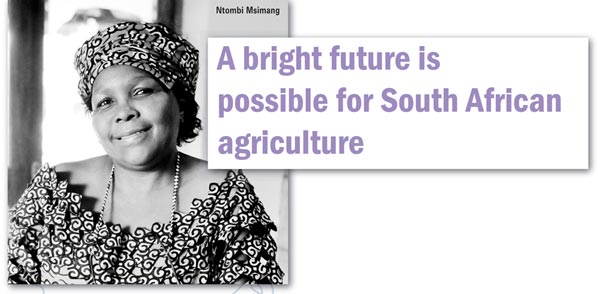 LOUIE ESTERHUYSEN, SA GRAAN/GRAIN CONTRIBUTOR
As a woman very actively engaged in the agricultural sector, Ntombi Msimang does what she can to ensure that the future of agriculture in South Africa remains relevant, sustainable and competitive.
Ntombi has been involved in agribusiness for most of her working life, albeit on the financial side. Very early in her career she worked as an intern for the Tshaneni Irrigation Scheme in Swaziland. She also worked for the Tobacco Board of Zambia, as well as Amiran Agroindustries in Zambia and Kenya. For the past five years, though, she has been the CEO of Peulwana Agricultural Financial Services, managing a revolving fund that gives input loans to agricultural entrepreneurs.
It is a fact that agriculture as a sector, especially at primary level, depends mainly on an ageing population. In the rural areas, this population is mostly female. The challenge presented by the lack of productive land and resources over decades, has made this problem more acute for the majority in South Africa.
Ntombi believes that the marked effort going towards encouraging women and youth to be active participants in agriculture as espoused by government, if sustained, will pay off. The opinions of women and youth are being sought more and more during the planning as well as the implementation of agricultural policies.
Research is vital

The escalating cost of farm inputs and the increasing debt burden on the producer are issues, among others, that need urgent attention. Agriculture as was practiced even a decade or two ago is not competitive today.
Research and development on new varieties, methods and the use of bio-technology are key to improved yields and competitiveness.
"Continuous research is not optional, it is imperative," Ntombi said. It follows therefore that funds spent on research and development are funds well-spent.
Food security

"South Africa suffers from spacial food insecurity," says Ntombi.
"Women bear the brunt of food insecurity, so investment in agricultural infrastructure as envisaged in the Strategic Infrastructure Programmes (SIP 11) of the NDP could not have come at a better time. Since formal investment in rural areas seems to be lagging, it falls on government to invest in rural areas so as to ensure food security and the stimulation of the rural economy by encouraging affordable market access for excess production and commercial agriculture".
Exploring the links between household food security through massification of rural production, market access for excess food as well as poverty reduction, may just be the answer. Time will tell.
Meanwhile, despite what may look like insurmountable challenges, all agree that agriculture remains the sector that can provide and sustain quality jobs. Each stakeholder needs to put their shoulder to the wheel, and focus on one goal – an enabling environment for farm owners to be competitive and sustainable and farm workers to have decent jobs and livelihoods. The one can't do without the other.
Current directorships
Managing director – Peulwana Agricultural Financial Services (Pty) Ltd
Chairperson – National Agricultural Marketing Council (NAMC)
Chairperson – Agri Sector Unity Forum (ASUF)
Director – African Farmers' Association of South Africa (AFASA)