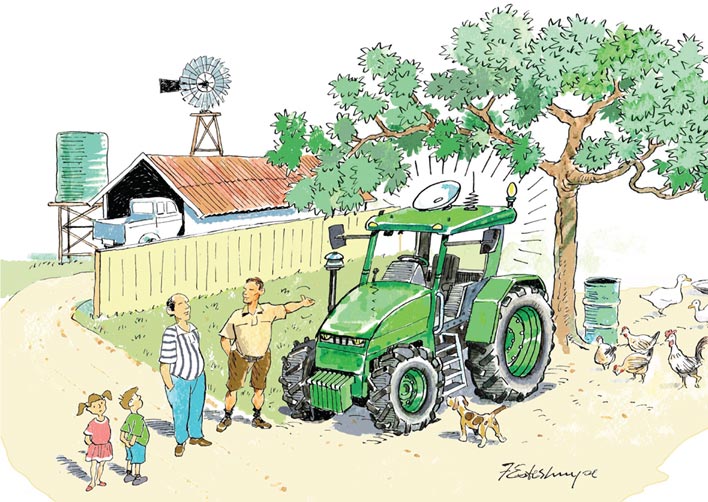 Beste Grootneef
Die anderdag het familie uit die groot stad besoek by ons afgelê. Kyk, die plaaslewe was vir hul 'n openbaring teenoor wat hul gewoond is. Dit het sommer met die intrapslag 'n hele tydjie geneem om hul te kalmeer ná die ritteltit van die sinkplaatgrondpad tot by ons.
Ná die eerste koffie-kuier, het ons so bietjie of die werf rondgeloop en trekkers en implemente deurgekyk. Dit is nou maar net so, almal hou daarvan om aan 'n trekker se wiel te staan en skop. Die span wou toe weet wat kos so 'n groen trekker en planter. Eers moes ek verduidelik dat die goeters op die planter amper meer kos as die yster self – dit is nou die GPS en hidroulika wat sorg vir presisieboerdery. Selfde vir die groen trekker met die geel bal op die dak. Dit alles is nodig om via satelliete met trekker en planter te praat.
Die wind was behoorlik uit hul seile toe ons noem dat die trekker en planter elk omtrent R3 miljoen kos – dit is nou toe ons laas in ysters belê het. Die pennie het eintlik eers in die blikkie geval, toe Stadsneef opmerk dat 'n trekker op sy eie méér kos as die huis waarin hy bly. En dit is nou nie om windgat te wees nie, dis eenvoudig wat tegnologie in desedae kos, indien jy graan wil produseer.
Die besoekers was ook totaal stomgeslaan toe ons hul wys dat ons die trekker en planter via satelliet met GPS-koördinate kan rig om te doen wat nodig is – net die omdraai sukkel nog!
Die volgende vraag was oor hoe groot 'n plaas dan moet wees om lewensvatbaar te kan boer. Toe ons begin gesels het oor wat 'n ekonomiese eenheid in ons omgewing beteken, het die oë eers gerek. Stadsneef wou toe weet hoekom die regering dan altoos sukkel om plase en boere kleiner te maak, terwyl die praktyk daarbuite sê dit moet groter. Op daardie vraag het ek ook nie 'n antwoord gehad nie.
Ons het ook gesels oor hoeveel werkers tans 'n heenkome op die plaas vind. My somme het gewys dat toe ons in die 1980's begin plant het, ons omtrent een werker vir elke 25 ha nodig gehad het. Nou, met die nuwe ysters en tegnologie, benodig ons ongeveer een werker vir elke 250 ha. Dis ook nie elke hierjy wat agter 'n trekker of stroper se stuur inklim nie...
Die aand oor 'n glasie wyn en 'n vuurtjie, het Stadsneef gebieg dat hy nou die eerste keer so effe meer van boerdery verstaan. En dat hy respek het vir 'n mieliepit, om nie te praat van die graanmanne wat dit produseer nie.
Ou Neef, dalk moet ons 'n paar ministers en die generaal nooi om mooi te verduidelik waarom party van hul planne eenvoudig nie sal werk nie. Nie omdat boere dwars gebore is nie, maar omdat die wêreld van graanboerdery nie kleiner word nie, maar groter. Ons kompeteer immers teen die ryk Yanks in die wêreld- en plaaslike markte. En dit is nie so eenvoudig soos om 'n pakkie mieliemeel in die winkel te gaan koop nie – die pit moet eers in die meule val. En oorsese mieliepitte sal baie meer kos as wat ons klompie graanmanne hier in die Vrystaat bymekaarmaak.
Die anderdag moes ek vinnig stad toe vir besigheid. Tussen die gedrang by 'n rooi robot sien ek sowaar 'n mielieplant wat op 'n manier tussen twee sementblokke opgekom het. Dié is sekerlik van 'n pit wat van 'n vragmotor op pad meule toe afgewaai het. Dit is toe dat ek dink, dat ons maar soos die mielieplant moet aanhou groei en stoei, maak nie saak waar ons geplant is nie. Want Afrika is nie vir sissies nie.
Groete op die Oosgrens.
Kleinneef
Lesers is welkom om 'n e-pos aan Kleinneef te stuur by kleinneef@graingrowers.co.za.