Removal of VAT crucial for industry's survival
August 2018

PETRU FOURIE, research co-ordinator and production cost analyst, Grain SA
The sorghum industry was overwhelmed by Finance Minister Nhlanhla Nene's decision to appoint an independent panel of experts to review the current list of zero-rated value-added tax (VAT) items. Sorghum is one of those items on which VAT is currently levied. This happened after the 2018 Budget speech in which an increase in VAT from 14% to 15% was announced: The first increase since 1994.
Sorghum meal competes directly with maize meal and the VAT on sorghum makes sorghum products less competitive than maize products. This limits consumers who want to diversify with products in the same food basket – specifically consumers in the lower income group.
Grain SA, with the support of the sorghum industry, submitted a proposal and appealed to Treasury to consider the zero-rating of sorghum and sorghum meal, as the industry is faced with numerous challenges which can lead to its demise.
While writing this article, Grain SA has not yet received any feedback on the outcome of the request that sorghum should be zero-rated.
Problem statement
South Africa prides itself as being the most food secure country on the African continent. However, on household level, the country is still lacking, mainly due to the affordability levels of some food products. While sorghum features well in terms of quality, safety and availability, the affordability remains a key concern.
This is regrettable as sorghum has numerous health benefits and has a big role to play in a more balanced diet, particularly among the lower living standards measure (LSM) groups, who don't have the buying power to access additional nutritious supplements. These facts led to Grain SA and the sorghum industry believing that a relief in terms of VAT on sorghum related foods can have a far more positive contribution in improving South African households' food security.
The unfair impact of VAT on sorghum and sorghum meal products compared to other grain and oilseed commodities puts the consumption of sorghum at a disadvantage to substitute products. Consequently, the VAT on sorghum also contributes to the decrease in consumption as it has an impact on consumer prices.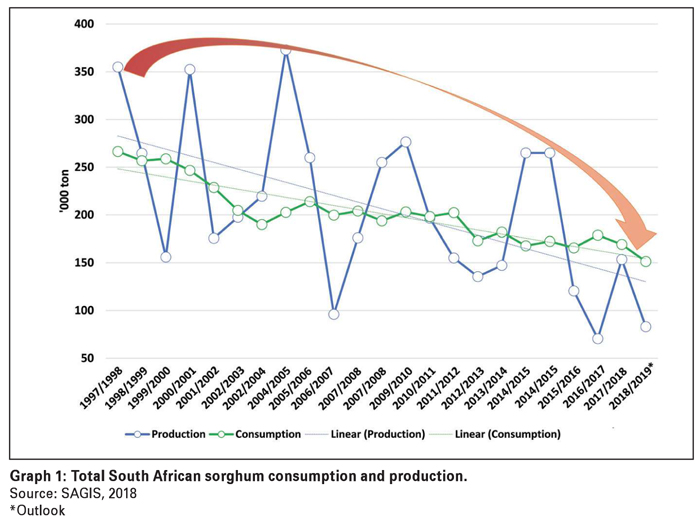 Consumption and production
Sorghum is indigenous to Africa and is the staple food for a big part of the South African population. It is mainly used for human consumption as malt, sorghum meal and sorghum rice and is successfully used as a substitute for maize as an energy source.
Over the past three years the average annual commercial consumption of sorghum was approximately 171 500 tons, of which 155 600 tons were utilised for human consumption (as malt and meal) and 8 700 tons for animal feed. The average share of the food market in total sorghum consumption over the past three years is approximately 94% - 95%, of which the biggest percentage is for meal.
Graph 1 depicts total local grain sorghum consumption and production from 1997/1998 to 2018/2019, in marketing seasons. The downward trend in both consumption and production is very worrying for industry role-players and the downward trend in consumption has been identified as one of the single most important aspects which needs to be addressed to establish growth in the industry. The annual commercial consumption of sorghum during the 1997/1998 marketing season was approximately 266 500 tons. This decreased with a calculated 115 200 tons to the current total consumption of 151 300 tons. The concern is that with the present rate of decline, sorghum may in the near future not be consumed anymore.
The total sorghum production in South Africa also decreased from 355 000 tons during the 1997/1998 season to 83 070 tons in the 2018/2019 production season, which is the second smallest crop to date. The smallest crop occurred two seasons ago – when South Africa was challenged with a terrible drought. This constitutes a decrease of 271 930 tons during this period. From Graph 1 it is clear that sorghum production in South Africa is also in a constant downward trend.
Nutritional value
Table 1 displays the nutritional values of sorghum compared to substitute products. The nutritional values per 100 g of sorghum porridge (Mabella) are compared with those for 100 g of rice, super maize meal, bread, millet and potatoes.
Sorghum has additional nutritional benefits compared to the other products – it contains the highest zinc and iron per serving which proves that sorghum has numerous health benefits and has a big role to play in a balanced and diverse diet (BFAP, 2018).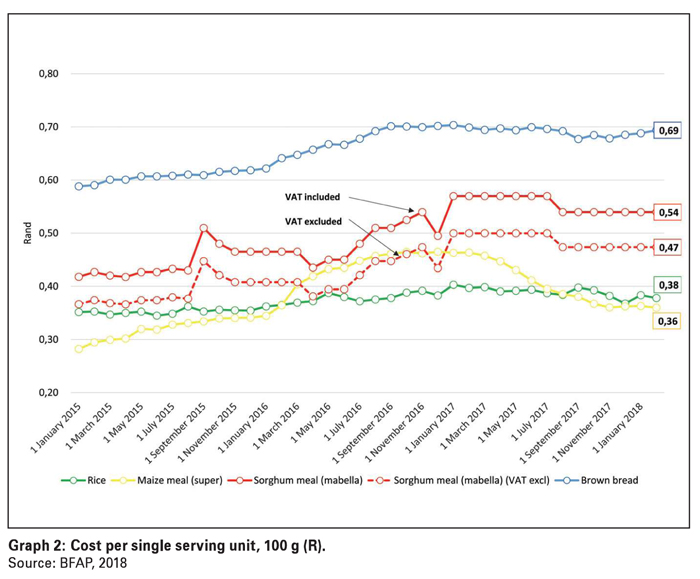 Graph 2 shows the cost (R) per 100 g serving unit of sorghum meal compared to super maize meal, bread and rice. It is again clear that sorghum meal is more expensive compared to the substitute products due to the VAT on sorghum meal. The graph also illustrates how the price of sorghum meal will compare against the other products in case the VAT on sorghum were to be removed.
Diversify within the same food basket
The economic climate is an important determinant of consumer demand preferences and consumers easily switch to cheaper substitute products such as maize meal and rice. It is important to broaden the product range for consumers in lower income groups. Sorghum is a good alternative product.
With the removal of the VAT, sorghum and sorghum products will be able to compete against substitute products in the zero-rated value chain. As sorghum products currently need to compete with substitute products on a price basis, with the VAT removal consumers will have a bigger base of products to choose from.
It is expected that with the removal of the VAT, sorghum's competitiveness will improve compared to that of other products and have a positive impact on the consumption of sorghum as a substitute product.
Sorghum trade perspective
South Africa used to be a net exporter of sorghum, but is, specifically the past few years, becoming more dependent on imports to fulfil our local demand. Every season when insufficient volumes of sorghum is locally produced South Africa needs to import sorghum – currently mostly from the USA. The ultimate aim should be to be 'self-sufficient' and to have a good balance between local consumption and local production. Hopefully, with the removal of the VAT, this situation will change.
Conclusion and appeal
Although Grain SA hopes that sorghum will be zero-rated, we believe that the removal of the VAT would be of advantage not only to low-income consumers, but to all South Africans as sorghum is an indigenous crop to Africa and is mainly used as a traditional staple food by many South Africans.
Grain SA applied for the zero-rating of sorghum and sorghum meal in order to grant the industry the opportunity to revitalise itself and to boost the consumption of the product. The successful turnaround of the sorghum industry, with government support, may prevent further job losses and economic development opportunities. The outcome of this will be communicated.
Publication: August 2018
Section: Spotlight on Sorghum