RANKENDE ONKRUIDE: 'n Kopseer in mielieproduksie
September 2016

ELBÉ HUGO en MARLENE VAN DER WALT, LNR-Instituut vir Graangewasse, Potchefstroom
In meeste gevalle word produsente eers bewus van rankende onkruide wanneer dit teen volwasse plante begin oprank. Rankende onkruide is strawwe kompeteerders vir voedingstowwe – en veral sonlig – en sal dus teen enige gewas begin opkruip op soek na sonlig.
Hulle kan sodoende die gewas versmoor en verhoed dat plante normaalweg fisiologies ryp word, met gevolglike opbrengsverliese. Verder kan hierdie rankende onkruide, waar plante al wel koppe gevorm het, die oesproses aansienlik bemoeilik.
Die mees algemene rank-onkruide in Suid-Afrika wat probleem onkruide in mielieproduksie kan word, is purperwinde (Ipomoea purpurea), akkerwinde (Convolvulus arvensis) en wilde bokwiet (Fallopia convolvulus).
Hierdie onkruide het uitgebreide wortelstelsels met diep-groeiende penwortels. Al drie spesies plant met saad voort. Akkerwinde is 'n meerjarige plant en kan ook met ondergrondse risome voortplant.
Akkerwinde en wilde bokwiet kan maklik met mekaar verwar word, omdat albei dieselfde dowwe donkergroen, pylvormige blare het.
Wilde bokwiet se blare het egter 'n meer hartvormige basis, terwyl akkerwinde se blare meer driehoekig vertoon. Hierdie twee kan wel maklik onderskei word van purperwinde wat helder groen, hartvormige blare het.
Akkerwinde en purperwinde het groot wit, ligte pienk of pers blomme, terwyl wilde bokwiet amper onsigbare klein, wit blommetjies in die oksels dra. Hierdie rankende spesie kan tot 1 000 saadjies per plant produseer en kan vir tot tien jaar in die grond oorleef. Beide akkerwinde en purperwinde is geklassifiseer as kategorie 1-indringerplante wat beteken dat dit, waar dit voorkom, beheer moet word om verspreiding te beperk.
Die beheer van rankende onkruide is 'n uitdaging – veral waar dit reeds begin rank het. Plante moet so vroeg as moontlik beheer word, rondom die vier- tot sesblaar-stadium. Hierdie spesies is bekend daarvoor dat hulle 'n hoë toleransie vir onkruiddoders het.
Daar is wel onkruiddoders vir die beheer van dié onkruide in verskeie gewasse geregistreer. Die etiket-instruksies moet egter baie noukeurig deurgelees word om te bepaal of die spesifieke onkruide wel in die tabel van onkruidbeheer gelys word.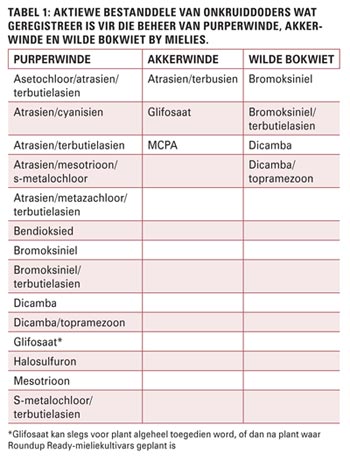 Om effektiewe beheer te verseker, sal daar ook in meeste gevalle baie spesifieke voorskrifte ten opsigte van die dosis wees. Tabel 1 lys die aktiewe bestanddele van onkruiddoders wat geregistreer is vir die beheer van bogemelde rankende onkruide by mielies.
Hierdie rankende onkruide kan verder ook groot probleme in koring en suikerriet veroorsaak. Meganiese bewerking kan vroeg in die seisoen, wanneer hierdie onkruide nog klein is, gedoen word. Hoe groter die onkruide, hoe moeiliker gaan dit beheer word.
Akkerwinde het ook ondergrondse risome en bewerking kan die probleem dikwels eerder vererger omdat nuwe plantjies vanuit die gebreekte risome onder die grond kan uitgroei. Daar word voorgestel dat, waar hoë infestasievlakke voorkom, 'n diepbewerking gedoen word om sodoende saad diep genoeg te begrawe.
Die beste beheer sal verkry word indien meer as een beheermaatreël gebruik word, byvoorbeeld 'n kombinasie van diepbewerking en chemiese beheer wat deurgaans opgevolg moet word reg deur die seisoen.
Hierdie rankende onkruide kan veral 'n probleem raak en welig tussen rye van gewasse wat nie 'n digte blaredak vorm nie, groei. Rywydtes en plantpopulasie kan dus ook, waar moontlik, gebruik word om hierdie rankende plante te beheer en infestasievlakke te verlaag.

Soos met enige ander onkruid moet rankende onkruide nie toegelaat word om te blom nie, anders sal die probleem oor tyd net vererger. Hierdie drie onkruide besit ook die vermoë om dwarsdeur 'n groeiseisoen te ontkiem. Dié wat dus die eerste rondte van beheer (meganiese of chemiese beheer) vrygespring het, kan ernstige probleme láát in die seisoen veroorsaak.
Vir enige verdere navrae kontak dr Elbé Hugo by HugoE@arc.agric.zaof Marlene van der Walt by VDWaltM@arc.agric.zaof 018 299 6100.
Publication: September 2016
Section: Focus on