RALPH SWART What you put in, you will get out
July 2016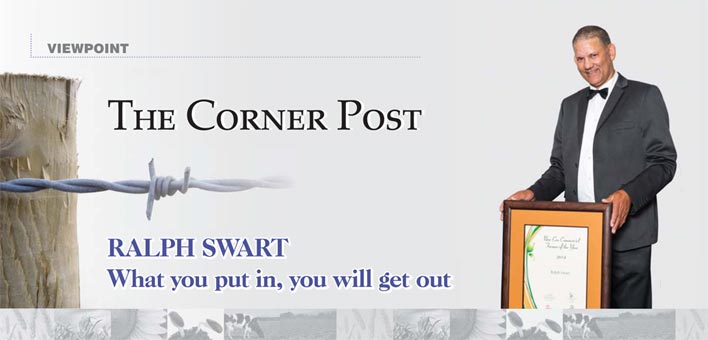 According to the dictionary 'passion' is defined as 'a strong feeling of enthusiasm or excitement for something'. If you use the name Ralph Swart and agriculture in one sentence, the word passion has to be included, as this farmer from the Western Cape is enthusiastic, excited and passionate when it comes to farming. He believes his passion is the reason which has led to his successful farming career. In 2014 Ralph became the first ever winner from the Western Cape to receive the Grain SA/Absa New Era Commercial Farmer of the Year award.
His farming career began as a young boy where he assisted his father and grandfather on their farm. This is how his passion was ignited – watching people he loved, work passionately to make a living. 'I loved growing up on the farm around the tractors and implements and looked forward to each new day on the farm,' he shares a childhood memory. To Ralph there was never another career. 'Farming is in my blood. It is what keeps my heart beating,' he adds enthusiastically. He worked for his father on the farm and gradually took over the business until he started farming on a small scale on his own 38 years ago – on only 2 hectares, with one cow and ten sheep.
He is the third generation farming on the same land in Elim, which he rents from the Moravian Missionary station. Like his forefathers he was born and raised here with an inherent love for the land. Although he farms on a much larger scale than his grandfather and father, he adds that their hard work laid the foundation for his farming career and their passion ignited his desire to become a successful farmer. As religion is important to this family he adds, 'I always ask for God's guidance before I attempt something'.
The knowledge he has gained about farming he copied from others and learnt through his own mistakes. 'I was always curious and learnt a lot by simply watching what others were doing," he says, but adds that Grain SA, USAAA and the Western Cape Department of Agriculture has made the road a lot easier for emerging farmers. According to Ralph attending workshops, courses and study groups – and having the guidance of a mentor – is a much simpler way to gain the necessary knowledge than by trial and error. Ralph would also like to extend a special thank you to the Department of Agriculture which through CASP funding, assisted him to take the next step to become a fully-fledged commercial farmer.
Ralph farmed alone for many years, but eight years ago his wife Preline and two sons, Leaan and Jacques, joined him to make this team a strong family team on the farm. They see him as their manager and mentor. In 2010 they decided to register as Ralph Swart Boerdery CC, but trade as Swart Boerdery.
With the help of Ralph's mentor, Kosie van Zyl, they managed to realise one of his biggest dreams in 2015 when they purchased their own land, a 950 hectare farm in the Stormsvlei district between Swellendam and Riviersonderend in the Overberg.
They secured the purchase with a loan from the bank and no financial support from the state. Here and on the land they lease in Elim they produce wheat, barley, triticale and oats and also farm with 140 Nguni cattle and 1 800 Dohne Merino ewes. A four-year crop rotation cycle has been implemented – firstly wheat, then barley and triticale. During the fourth year livestock graze on the field.
Although the sheep component of his farming operation has proved to be the most profitable, Ralph takes pride in knowing that he is playing a part in food security in South Africa with the crops they are producing. After a visit abroad he realised what the advantages of conservation farming was and started implementing these practises. Instead of ploughing and sowing, minimum tillage planters are used to plant directly into residue from previous years. Ralph and wife, Preline also serve as members of the Overberg LandCare committee.
To Ralph no challenge is too big to handle. His motto is: 'If someone else can do it, you can do it too!' He is always ready to assist others when they need help and readily shares the following advice with emerging farmers:
Be passionate: Farming is not easy and definitely not something you can attempt without passion and knowledge. Cultivate a passion for farming in your children from a young age as this will benefit you in the future.
Work hard: You get out of farming what you put into it. That's how life works. The success you achieve is equal to the effort you put in.
Persevere: Keep on, keeping on. This is a 24/7 job and you always have to be ready. It is not an eight to five regular job with a salary at the end of the month and an annual bonus. Show your children that good things come to those that wait.
Diversify: Don't put all your eggs in one basket. Produce more than one crop and add a livestock component to your farming enterprise. Don't neglect your livestock as livestock can make troubled times easier.
Be focused: Focus on doing the right thing at the right time.
Perhaps the words of the 26th president of the USA, Theodore Roosevelt, best sums up who this family man Ralph Swart is: 'Do what you can, with what you have, where you are.' He started on a small scale, making the most of what he had, exactly where he was born and raised and turned a humble beginning into a success story. He dreams of owning more land, expanding the livestock component of his farming operation. His wish for emerging farmers is that they too can obtain a piece of land to call their own and that the process of land reform will move faster. For his children he envisions a future where they can one day share with their children what they have learned from him.
This month's edition of The Corner Post was written by Louise Kunz, Pula Imvula contributor.
For more information, send an email to louise@infoworks.biz.
Publication: July 2016
Section: Pula/Imvula