MAZWI DLAMINI, Mahlathini Organics, ERNA KRUGER, Mahlathini Organics and HENDRIK SMITH, Grain SA
Conservation agriculture (CA) provides an attractive alternative for smallholders where environmental and economic stresses have reduced grain production considerably. As a result, a long-term project has been launched in two smallholder pilot study areas to investigate and promote the use of CA for sustainable crop production.
These smallholder projects have been funded and established under the umbrella of the new CA Farmer Innovation Programme (FIP) at Grain SA and the Maize Trust, through collaboration between the SaveAct Trust, Mahlathini Organics, the Maize Trust and Grain SA.
Their aim is to apply innovation systems and processes assisting smallholder farmers in growing maize and legumes using CA practices. This article deals with the first study area in Matatiele, Eastern Cape Province.
Using vibrant community structures and partners as project platforms

SaveAct is a non-profit organisation working in the microfinance and rural development sector within South Africa. SaveAct's achievements in building sustainable livelihoods through financial education were recognised in April 2013 when it received a Concept Award from the PlaNet Finance Group and the Citi Foundation.
Their primary role is to facilitate and support the establishment of community-based and -managed savings and credit groups (SCG's). According to SaveAct's model, members of the community self-select voluntarily to form a group and save money in the form of share purchases.
Savings are invested in the loan fund, from which members can borrow and repay with an applicable service charge or interest. Loans can be used to start small businesses (farming enterprises, tuck shops, etc.), build or renovate homes, or to pay school fees and buy food, etc.
SaveAct's work is based on three phases:
Setting up and putting into operation the savings and credit groups.
Financial education.
Enterprise development.
All three phases include training and ongoing mentoring processes. These groups provide a strong organisational backbone to initiate any innovation process and hence were identified as an ideal platform to launch a CA-FIP project among their smallholder members, in this case focussing on agricultural enterprise development with CA as best practice.
Mahlathini Organics is a non-profit consulting group based in Pietermaritzburg, an organisation that mainly seeks collaboration for pro-poor innovation, centred on agricultural activities. Mahlathini Organics has inter alia been working with SaveAct in Matatiele and Bergville for over three years, to assist beneficiaries in establishing informal enterprises after assisting with financial and business startup and management education.
In this instance, they aim to help farmers to save money in their groups, lending those monies as start-up capital for their enterprise interests, and as a result, generating income. This translates into growth in revenue from the profits earned as well as decreased dependency rates on government pensions and remittances from family members.
The CA-FIP project in Matatiele was formally launched in October 2013 and served the need from Grain SA to establish these projects on vibrant local farmer structures supported by resourceful partners, whilst fulfilling the need of the SCG members for innovative and sustainable ways of producing maize, after they have been recognising maize as a viable commodity.
Matatiele study area – a closer look

The project was introduced to the Matatiele smallholder farmers in the Pontsheng, Lubisini and Khaoue villages, for whom maize is an important staple food crop. Maize is dried and used as chicken feed, maize stalks are cut and piled as cattle feed in winter due to a lack of grazing and maize is also dried and threshed for sale in town. For one of the project participants, Mrs Sibongile Suthu, maize is a very important crop for her family.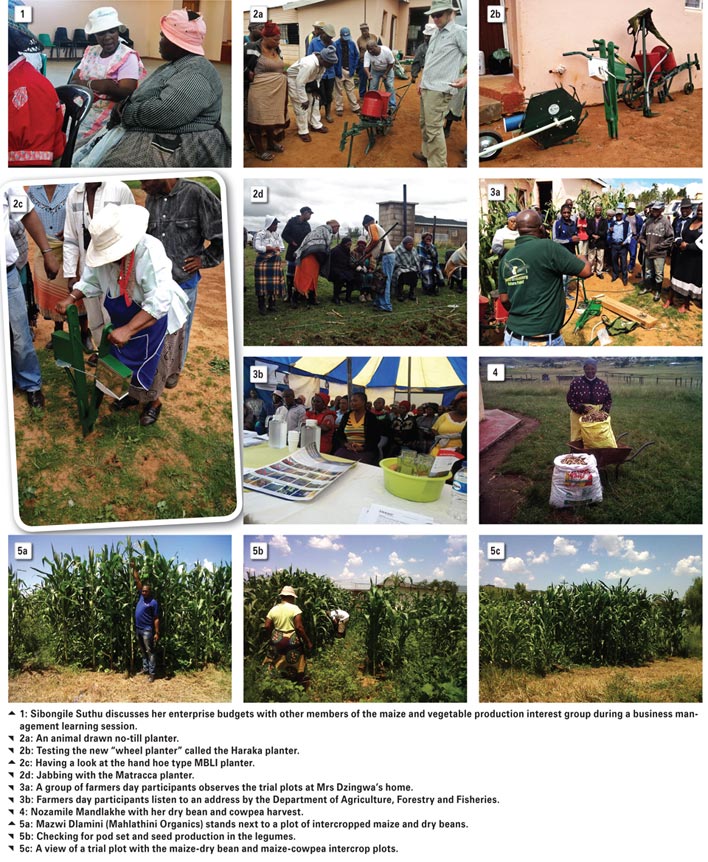 The story of Sibongile Suthu

Suthu (53) is a single mother and heads a household of nine members. Born and bred in the Pontsheng area, she provides for her family through selling vegetables and maize that she grows in her field. She is a member of the Mazincede SCG which she joined in 2011 (Photo 1).
The main reasons she joined the SCG, is because it acts as a safety net for her and her entire family, particularly her children attending school and college. It also provides finance for her small enterprise.
Suthu says: "I grow vegetables primarily for consumption in the household. I also grow maize that I sell to local community members and in town. Producing maize is costly for me, especially hiring the tractor in addition to the weeding being labour intensive. I sell my maize green at R10 a cob and the rest are sold dry in 5 litre containers at R25 for 5 litres."
She was very keen to join a group of SCG members interested in improving their crop production practices through CA.
Volunteering farmers as key innovators

The CA-FIP process involves volunteers within SCGs and enterprise interest groups undertaking to do CA trials alongside their normal production practices. The CA practices introduced to them, comprised planting without ploughing using specialised hand planters, retaining the crop residues on the soil surface and crop diversity, i.e. intercropping and crop rotations.
A high crop density approach (i.e. narrow rows and higher plant populations) was followed to reduce soil water loss from evaporation and to suppress weed growth, whilst accelerating soil health improvement. The volunteering "CA groups" joined in an ongoing learning process throughout the season, using trials as "field laboratories" and their group meetings as social learning events.
A number of practical and interactive training workshops were organised and the groups, who were dominated by women, were more than eager to try out different planters, with most participants preferring the Matracca and MBLI planters as they deposit seed and fertiliser simultaneously, reducing labour. (Photos 2a to 2d)
A special event in Matatiele to celebrate and share

The Grain SA CA Farmers Day held in Khauoe on 27 April 2014, was a day of note as participants who did trials demonstrated their CA practices and shared their experiences with the broader community, including people from Malosong, Andries, Khauoe, Jabulani and Khoapa-Taung areas.
Smallholder farmers in and around Matatiele and a range of stakeholders, gathered for this major awareness event. The day mainly aimed to give an overview of the pilot project, to share information and provide participants with an opportunity to share their experience with the rest of the community (Photos 3a and 3b).
Key stakeholder representatives attended the farmers day, which included the Department of Agriculture, Forestry and Fisheries, the Masangane HIV/AIDS Project, Lima Rural Development Foundation, Matatiele Advice Centre, Afritrac, SaveAct, Mahlathini Organics and Grain SA.
Stakeholders also shared their CA experiences and results from other areas. The highlight of the day was when farmers testified on how their trials performed during the first growing season of the project. In addition, they testified to non-participants on the growth, colour and size of maize grown in trials compared to that done conventionally.
Farmer experiences

For Mrs Nozamile Mandlakhe (Photo 4) and her neighbours, growing food is an important livelihood activity, supplementing their part-time work of roadside clearing. Mandlakhe wanted to see if any food would grow from her weed dominated field. Herbicides were sprayed on her 400 m2 plot and maize, dry beans and cowpeas were planted using hand hoes and the matracca (jab planter).
"At that stage people nearby had come to see this nonsense of sowing seeds straight into the weeds", she said to the group. As time went on, she would get people walking into her home asking how come crops grow in such conditions. For her this was also an experience as she has never seen anything of this nature.
Maize kept on growing taller and taller, beans and cowpeas also grew strong within thick grass mulch. At the end of it all, she harvested 10,97 kg dry beans and 3,87 kg cowpeas respectively from her trial plot of 100 m2. She was amazed to see an almost full bag of dry beans, produced in such a small plot.
"I have just more than 10 kg of beans that will see me through for the next four to six months and I have saved over R150 given that a 5 kg bag of beans costs me R75 at the supermarket," she said.
In the SCG group she stressed that they should work together to grow food and with the SCG's financial savings back-up, they could collectively buy fertilisers and other inputs, which will allow them to grow enough food from their own backyards.
Better prospects for smallholders in Matatiele

Less than one year after the pilot CA-FIP project was launched in a few smallholder communities of the Matatiele district in the Eastern Cape, the general feeling among the participants is that it has first and foremost successfully provided an opportunity for local people to engage with the principles and practice of CA.
Through this farmer-centred innovation process, they have learned how to apply CA and have seen some initial benefits of these practices, resulting in a growing interest from surrounding farmers and/or fellow SCG members (Photos 5a to 5c).
The Mahlathini Organics/Grain SA facilitation team will now have a much stronger foundation to continue the following phase of CA implementation in the area. This attempt will be boosted by the community's growing interest as well as their commitment, collective efforts and most importantly, increased food production for better household food security and health.