Profitability at the top of Grain SA's list for 2019
January 2019


JANNIE DE VILLIERS, CEO
It is always a challenge to write the Point of View for the January edition. Not only is the due date for the column at the end of November, but it is a time of the year when the weather has a major influence on how we will enter the new year.
The interval between the end of November and the middle of January, when the column will be read, is enormous, and so much can happen in the meantime. At the time of writing, the western areas had not had any rain, and the planters were waiting glumly in the sheds. The eastern Free State had not finished planting, and the nights remained cold – despite the sweltering days.
The southern regions had finished their harvest and had a slightly optimistic view of 2019, as there had been a breakthrough in the wheat grading at year-end. At least there is one good reason why 2019 should be a better year for the wheat industry! They have been last in line for so long that they almost didn't make it.
Unfortunately, Grain SA has no influence on the weather, except by making sure that research is at the level where we at least know which method is the best in order to neutralise the volatility and instability. The implacability of nature leaves grain producers very vulnerable.
I hope that 2019 will give direction to land reform. At some stage all the pains and discussions of 2018 have to come to a head. Organised agriculture submitted our best plan to the Presidency at the end of November 2018 in order to place agriculture on a growth trajectory. In order for this to happen, we need each other, and that is why Grain SA is going all out to provide agriculture with a few new building blocks.
Profitability is at the top of our list for 2019. There are many matters demanding attention, but if we miss the one about profitability, the rest are of little value. Every kilogram per hectare is now critical, as is every rand per ton in cost or price.
There are no guarantees that 2019 will be a better year, but after 2018 we are all stronger emotionally. We had an extremely challenging 2018. Yet we survived. A grain producer not only requires a strong financial balance sheet, but also a strong emotional one. Our marriages, families and communities also require this. We spend many hours on our businesses, but focus very little on our own development. We should attempt to build greater capacity to address all the challenges. Make sure that your programme for 2019 contains an investment in your own skills so that you can be a better producer, spouse and parent. Looking at this period in our country's history, it seems that the people skills are what help us to succeed in these challenging times.
Grain SA aims to move as close to our members as possible again this year so that we can know exactly where we can make a difference. We also want to employ all our knowledge, resources and relationships to find solutions to these challenges. Taking the lead in stormy times like these requires not only bravery, but also infinite wisdom. Please don't stop praying for our leaders. We are with you in this battle.
All the best for 2019!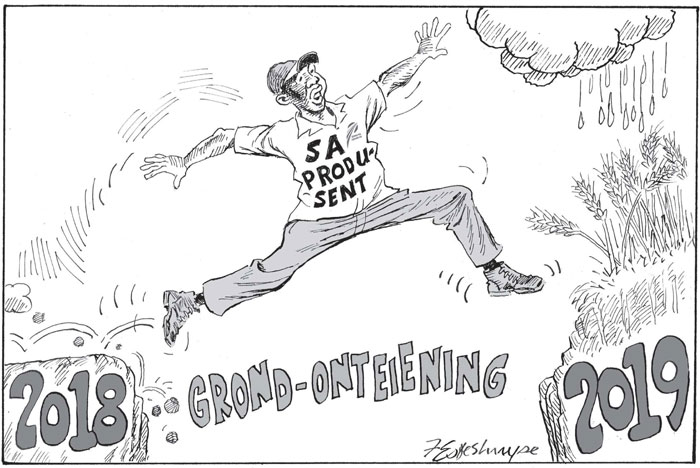 Publication: January 2019
Section: Features