Precision farming: The future of agriculture
June 2016

LOUISE KUNZ, SA Graan/Grain contributor
A precision farming congress which has been presented by the North-West University's Potchefstroom campus for the past few years, took place on 22 April 2016. The aim of this congress was to bring together producers, agricultural companies, agricultural service providers and academics, to discuss the role of precision farming.
During the congress experts focused on what precision farming entails, as well as products and services that are available in the market. The future of precision farming was also discussed under the congress' theme, 'The role of precision farming towards 2020 – ensuring food security in South Africa.'
The future of food security
The keynote speaker was Mr Jannie de Villiers (CEO: Grain SA) who focussed on the future of food security. He mentioned that food security is the result of sustainable grain production and that the availability of food should be the responsibility of the market, with prices driving the production and consumption.
Grain SA strives towards a grain sector where maize can be produced profitably at export parity prices. In an effort to sustain profitable production, producers need to use the latest technology available – from seed to chemicals and mechanisation to training.
'Our agricultural practices have to adapt to the changes and new measures becoming more and more important,' De Villiers said.
According to him finance for subsistence farmers working stateowned and communal land also forms an integral part of the future of food. The competition for land between the agricultural and mining sectors further impacts negatively on food security.
For South Africa the biggest challenge remains the affordability of food. The maintenance of infrastructure is also critical for imports, exports and reaching every corner of rural areas with food.
The digital future of agriculture
Mr Andrew Bennett (technology development manager: Asia/ Africa, Monsanto) looked into the development of agriculture since the 1960s from the time of the first green revolution up to the 2000s when advanced information technologies made their appearance. In agriculture the adoption of innovative breeding and seed technologies has been seen, as well as advanced mechanical planting processes like Auto Steer and precision planting.
Farming digitally should mean quick answers to questions about optimal planting densities, variable planting and water and nutrient deficiencies. The adoption of digital tools will give a much better understanding and accuracy of predictions versus the current way of fragmented data and data sources.
An international perspective
One of the international experts at the congress was Mr Hans Stiekema (regional manager: Ag Leader, Europe, Middle East and Africa) who mentioned that with the growing population, worldwide food production will have to increase. In Holland all producers use precision farming and across Europe there is a high level of precision farming practices to be seen.
'South African producers will have to begin to produce more with less impact,' he added. 'Be competitive, be better than your predecessors – be precise.' To him it is more about decision farming than precision farming as producers have to make the decision, after which agricultural service providers can supply the tools.
'Reduce the cost, increase the benefits and take care of the environment. You cannot manage what you don't measure,' he concluded.
Remote sensing
Mr Boet van Tonder (owner: TL Precise) and Mr Pierre Roland (business operations director for Europe, Africa and the Middle East: GeoSYS, France) shared their expertise about remote sensing in precision agriculture with congress attendees. Remote sensing is generally used for the collection of data for an area from a distance, typically from satellites.
They concentrated on spatial quality and the use of consistent resolutions to make the inspection of identified areas possible through multiple in-season images. For data to be processed, crop and seeding dates are essential. Weather data is also needed for accurate assessments and problem areas to be identified.
The scale of focus
Ms Astrid Hattingh (Handrid Consultants), an independent soil consultant in GIS, precision farming and other soil related aspects, shared her knowledge about GIS applications by using practical experience. Why do producers obtain different results using similar farming practices?
The answer lies in the soil. When an area is analysed, the influence of geology, topography, soil forms and the underlying material have to be investigated to explain the spatial variation of the area. Once the reasons for the spatial distribution patterns are understood, producers will be able to better understand soil reactions and help them make informed decisions.
Precision soil tillage
According to Mr Martiens du Plessis (manager: Precision Farming, NWK) the primary purpose of soil tillage is to create a suitable soil environment for plant roots to grow optimally. Soil compaction is still one of the most important yield-limiting factors in sandy soils. It can be identified effectively by means of a penetrometer test. The detrimental effect of soil compaction can be managed efficiently using GPS technology in a traffic control system.
Auto pilot systems make it possible to restrict compaction to specific tracks, with the rest of the field being loose and suitable for optimal root growth. A permanent traffic control system within an accurate GPS correction signal, provides a solution for compaction control in no-till systems.
Climate change
Well-known weather expert, Mr Johan van den Berg (manager: Specialised Crop Insurance, Santam Agriculture) looked into factors which influence the climate. To him it is important to distinguish between climate change and climate variability. Climate change refers to long-term permanent changes over thousands of years, while climate variability is the variability around the mean over shorter periods of time. The difference in yield is a result of climate variability and not climate change.
Water management in precision farming
Mr Dup Haarhoff (executive manager: Research and Precision Farming, GWK) said that water management is probably the most important input for precision farming under irrigation. The basics must be in place before precision farming can take place: Proper management of runoff water, good tillage practices and effective irrigation systems.
Monitoring by making use of a spatial view of an area is important in order to do effective water management. He told producers not to get lost in the detail of scheduling, but to think practically. He concluded by saying the success of a proper water management system is dedicated personnel with a proper in situ control system.
Various companies displayed products and technology that can be used in precision farming. Two local producers, Mr Jaco Botha (Ottosdal) and Mr Armand de Villiers (Fochville) also shared their experience in precision farming. The congress ended with a panel discussion on precision farming.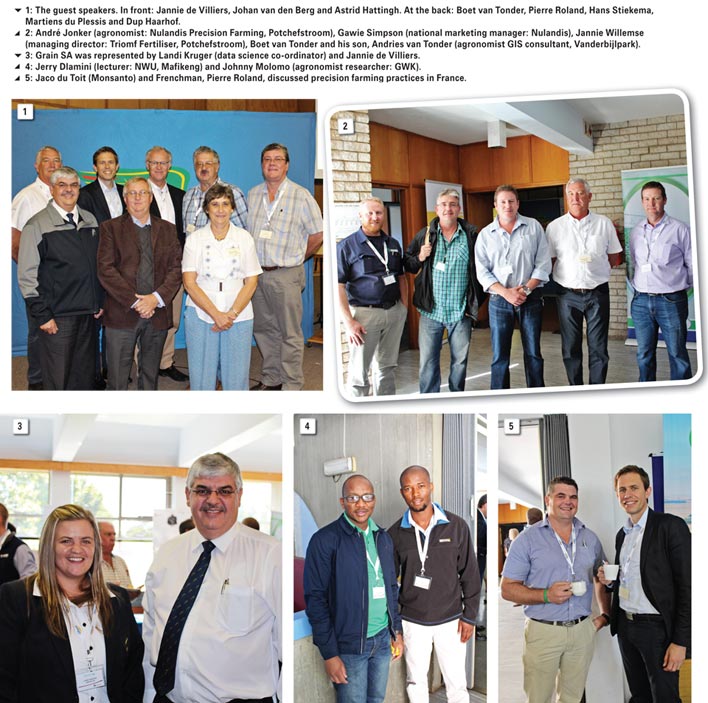 Publication: June 2016
Section: Relevant