Poultry sector master plan to uplift grain industry
September 2020

The poultry sector master plan has been developed in close partnership between government and several stakeholders in the industry, from poultry farmers, processors, exporters, importers and organised labour. It provides a framework for a determined effort to grow the output (and jobs) in the industry through some of the measures that will be implemented over a number of years.
Significantly, it sets out a new, joint vision across the value-chain, identifies five pillars that underpin the vision and creates a Poultry Sector Master Plan Council to monitor and drive implementation of the pillars.
The poultry sector plays a key role in South Africa, providing an important affordable source of protein for millions of households. It adds value to the maize and soybean crops, serving as a key customer for the farming sector. This industry has low barriers to entry and is an important sector for food processing, value-adding and job creation throughout the country.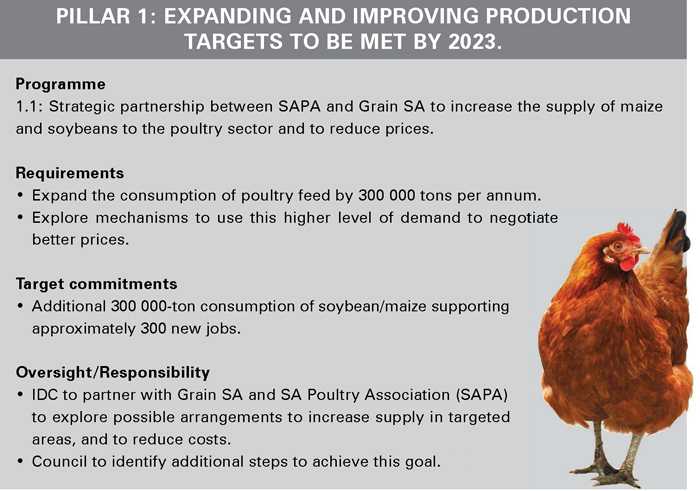 CHALLENGES
The challenges faced by the poultry sector include costly feed, the small scale of production, which makes South Africa a target for exports, market conditions and trade agreements have also brought significant quantities of low-priced chicken products into our market. There is also an inability to export to available markets due to sanitary and phytosanitary requirements. Transformation also remains a challenge throughout the value chain of the sector.
There is a need to expand the poultry sector and avoid losing local capacity. The aim is therefore to contain imports. In addition, there should be decisive action against unfair forms of trade and any attempts to dump poultry products in our market.
PILLAR ONE
Out of the five pillars identified on the master plan to further develop and support the local poultry sector, pillar one relates to the grain sector and how grain farmers can be involved in uplifting the poultry industry. This relates to the expansion of production in maize and soybeans.
Publication: September 2020
Section: Pula/Imvula