Potential Commercial Farmer of the Year (100 ha, but producing less than 250 tons)
Two heads are better than one
November 2018

LOUISE KUNZ, SA Graan/Grain editorial team and HELENUS KRUGER (photo)
Two heads are better than one, as you have a better chance of coming up with a strategy that will help you overcome a challenge if you learn to source ideas from each other. This holds true for Free State farmer, Mr Paulus Mosia, the second winner of the Grain SA/Bayer Potential Commercial Farmer of the Year award.
Mosia is an active member of the Edenville Study Group. He and his wife, Nomasonto, have attended many study group meetings, information days and training courses. Nomasonto is actively involved in the farming operation, a farmer in her own right and her husband's right hand.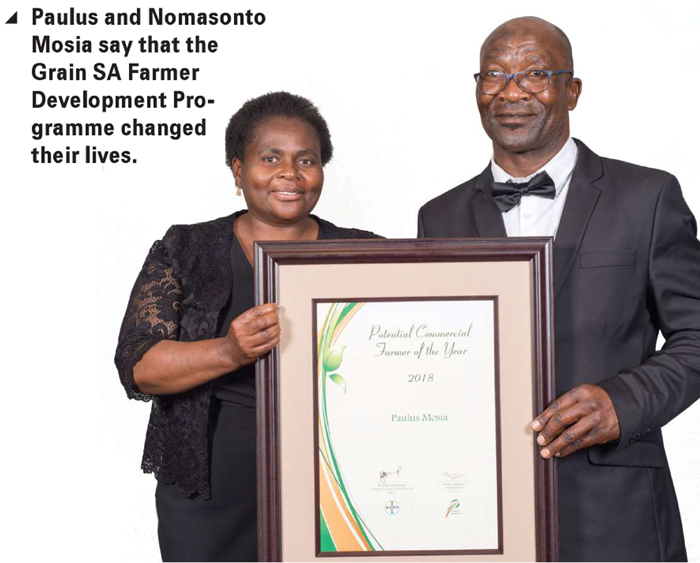 Neighbour Francois Fivaz also forms an integral part of Mosia's farming operation. He constantly gives farming guidance and helps him with his budget plan for the next season. At the award ceremony, Mosia thanked all the 'extra heads' who have been instrumental in his success: Fivaz for providing advice and expertise with regards to soil and implements, Grain SA for their support to emerging farmers and all stakeholders who have joined hands with Grain SA to help make dreams come true. 'I also want to thank my beautiful wife and daughters,' he said at the end of his speech.
Mosia joined a study group in 2007, where he was introduced to the Grain SA Farmer Development Programme. This gave him new hope for his farming goal. In 2008 he was given a 200 ha farm, Sterkwater, by the Department of Rural Development and Land Reform as part of the PLAS Programme. The next step towards achieving his goal is to obtain a title deed. This will help him to obtain financing so that he can grow his herd and expand on crop production.
Publication: November 2018
Section: Grain SA