PNS 25 Jaar-verhaal in koffietafelboek saamgevat
December 2016

RUTH SCHULTZ, SA Graan/Grain medewerker
Deel van die Proteïennavorsingstigting (PNS) se 25ste bestaansjaarvieringe verlede jaar was die saamstel van 'n 25 Jaar-gedenkboek wat handel oor die ontwikkeling van die PNS.
Dié spogpublikasie is op 4 Oktober aan verskeie gaste uit die bedryf tydens 'n kaas-en-wyngeleentheid in Pretoria bekendgestel. Elke gas het 'n eksemplaar ontvang om huis toe te neem.
Mnr Gerhard Scholtemeijer, voorsitter van die PNS en redakteur van dié publikasie, het tydens die bekendstelling sy dank aan almal in die bedryf met wie die PNS verbintenisse het, uitgespreek.
"Sonder almal se ondersteuning, belangstelling en bydraes sou hierdie boek nooit kon verskyn nie. 'n Groot deel van die geskiedenis wat in hierdie boek vervat is, is te danke aan almal van julle se bydraes. Ons vertrou dat hierdie besondere gees van samewerking vir nog baie jare volgehou sal word," het hy gesê.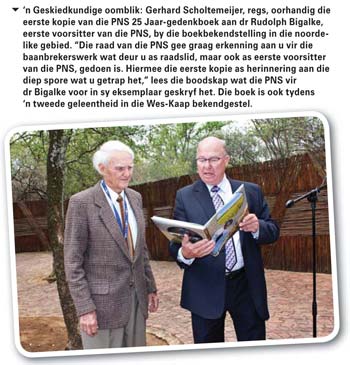 Die 180-blad, hardeband-koffietafelboek bestaan uit tien hoofstukke met 17 onderafdelings en 'n addendum wat al die projekte wat die PNS oor die jare befonds het, bevat. In Hoofstuk 3 word daar meer inligting gegee oor die PNS se ontstaan en ontwikkeling en hul buitelandse betrokkenheid, asook die vismeelindustrie.
In die daaropvolgende drie hoofstukke wat handel oor kanola, sojabone en lupiene word die PNS se bydrae en rol in hierdie drie bedrywe bespreek. Voorts behandel 'n paar outeurs die onderskeie PNS-vennootskappe wat oor die jare met instellings, organisasies en departemente ontstaan het.
Hoofstuk 8 handel oor die verbetering in proteïenverbruik vir dierevoeding, terwyl daar geskryf word oor die ontstaan en ontwikkeling van die PNS-webtuiste, beursskema en prestasie toekennings in Hoofstuk 9. In die slothoofstuk gesels Scholtemeijer oor die PNS se toekomsvisie.
The Development of the Protein Research Trust is in samewerking met Infoworks Media Publishing uitgegee en sal volgende jaar ook in 'n blaaiboekformaat op die PNS-webtuiste beskikbaar wees.
Publication: December 2016
Section: Relevant