Plesier is van korte duur
March 2017


Daar word na 2017 verwys as 'n beter landboujaar, maar 'n moeilike ekonomiese en politieke jaar. Landbou is beter weens die reën wat geval het, maar graanprodusente se uitdaging het van opbrengs na prys verskuif.
Sommer vroeg in die jaar het die skote geklap oor die vraag of daar winsgewend teen uitvoerpariteit geboer kan word. Dit bly 'n droom. Só het die pendulum oornag van 'n droogtejaar na 'n nat jaar geswaai. 'n Normale jaar sal jy nie sommer in hierdie land
beleef nie.
Almal is dankbaar oor die reën en skitterende oeste wat op die lande staan, maar die nuwe seisoen se pryse het ons soos 'n dief in die nag oorval. Dit is nie dat ons die besigheid nie ken of verstaannie, maar dit sou darem aangenaam gewees het as ons vreugde oor die reën langer kon hou. Jannie du Toit het in een van sy liedjies gesing: "Gee en neem net wat daar is. Dankbaar eet van elke skewe snytjie brood, wat liefde is."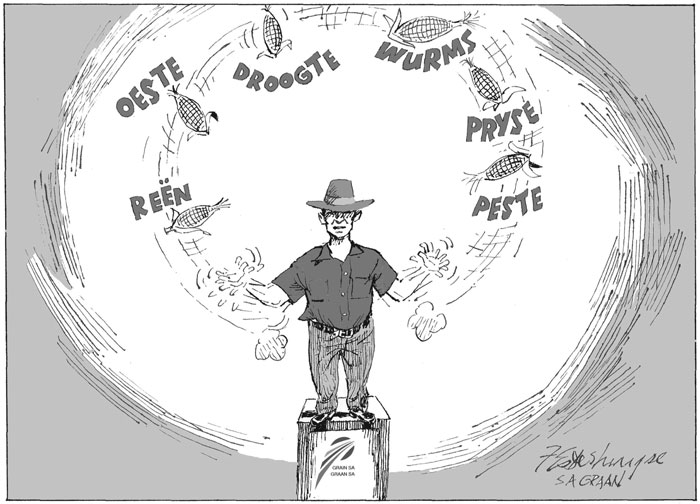 Klimaat is seker die mees onvoorspelbare element van graanproduksie – selfs die Amerikaanse president is meer voorspelbaar! Die ou manne het ons geleer dat die produksietoestande in die weste die oesgrootte bepaal. Die reënval in die ooste is en bly meer betroubaar, maar hulle produseer nie genoeg vir die land nie.
Die vraag is of ons hierdie uitdaging met navorsing en tegnologie kan bemeester en of ons dit eerder in kombinasie met produksieverskuiwings na die Oos-Kaap en selfs KwaZulu-Natal moet doen?
Die eerste droogte- en hittebestande mielielyne het reeds met behulp van die Departement van Wetenskap en Tegnologie die land binnegekom. Hopelik sal die wetenskaplikes iets op die tafel hê voor die volgende ernstige droogte.
Daar is ook dae wat my gedagtes terugdwaal na Egipte in die dae van die tien plae. Net toe ons glo die droogte is oor, toe storm 'n weermag wurms ons. Hierdie tipe rampe is hard op die land se dienslewering – só word bepaal of jy gereed is om krisisse te hanteer. Ek vertrou dat teen die tyd wat jy hierdie lees, ons kundiges reeds die pes geïdentifiseer het en die nodige chemiese middels geregistreer is om dit te bestry.
Aan die mielieprodusente wat die nuwe jaar erg omgekrap betree het weens die persepsie rakende die oesgrootte waarvoor ek verantwoordelik was, bied ek graag verskoning aan. Na al die jare se interaksie met die media, bly dit steeds riskant om jou professionele opinie só te bewoord dat dit nie skeef aan die ander kant uitkom nie.
Graan SA, as organisasie, kan egter min doen aan die oesgrootte. Dit is ons taak om die mark met die beste inligting tot ons beskikking te bedien en die uiteindelike besluite aan die markdeelnemers oor te laat.
Publication: March 2017
Section: Features