Perspective on the 2019/2020 soybean season
December 2019

This article gives a perspective on the 2019/2020 soybean season for both international and local markets.
GLOBAL SOYBEAN PERSPECTIVE
Global soybean output for 2019/2020 is expected to tentatively drop by 5%, due to the smallest harvest expected in the USA over six seasons, with gains elsewhere only offsetting this drop marginally. Although growth is expected to remain below average, consumption for 2019/2020 is anticipated to expand to a new high, reflecting an increase in demand for countries like Argentina, Brazil and China.
Trade on the other hand has scaled up due to higher import forecasts for several countries including China and improved export prospects for major producing countries however, the drop in Argentina's soybean needs, counter balances it all. In terms of global stock levels, the drop in USA production will significantly reduce US carryover stocks, with major exporting countries expected to have halve of their inventories, leaving global stocks nearly 22% smaller year on year.
LOCAL SOYBEAN PERSPECTIVE
Figure 1 indicates supply and demand over the years and specifically for 2019/2020. Demand is projected to increase, with increases attributed to soybean crushing, feed and seed, while exports are expected to decrease significantly compared to the previous season. Very little local stock levels are expected at the end of the season; about half compared to last season (28 February 2020).
Due to increased investment in the soybean-processing sector, soybean expansion can also be attributed to increased processing capacity, with ever-increasing volumes enabling South Africa to replace imported oilcake.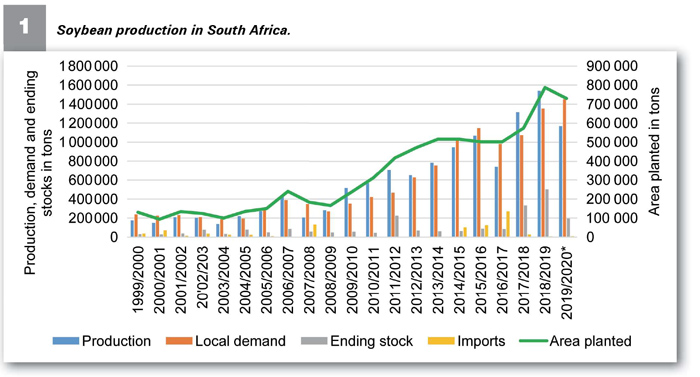 Publication: December 2019
Section: Pula/Imvula